Patriots
Bill Belichick advocates for Josh McDaniels, Matt Patricia as coaching candidates
"I think a list of coaching candidates that didn't include them would be incomplete."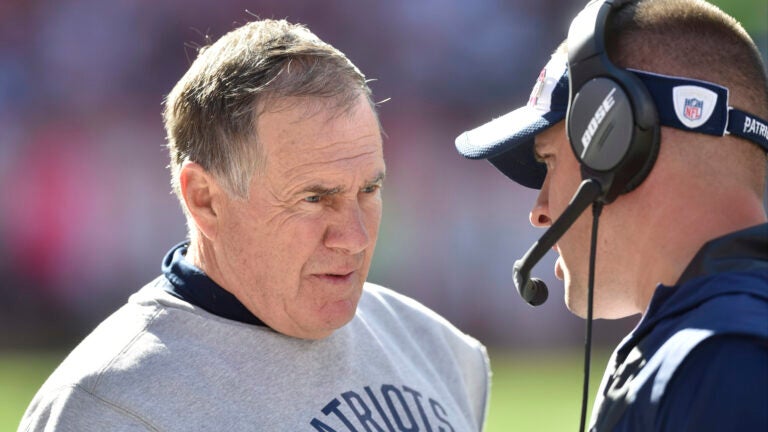 Bill Belichick isn't trying to keep his stable of accomplished assistants off the NFL's coaching carousel.
In a conference call with reporters on Tuesday, Belichick supported both offensive coordinator Josh McDaniels and defensive coordinator Matt Patricia as strongly as he could in their potential efforts to become head coaches elsewhere.
"I think both Josh and Matt are great coaches," he said. "[They] should absolutely be on any head coaching list. I can't imagine that there are many other coaches that could present a resume equal or comparable to theirs. They've done a great job here for a sustained period of time so a great track record. I think, I personally think, that a list of head coaching candidates that didn't include them would be incomplete."
His strong praise comes for both coaches leading units which currently rank in the league's upper echelon: McDaniels' offense is sixth in points scored, while Patricia's defense is third in points allowed. Patricia appeared on the NFL Career Development Advisory Panel's list of potential coaching candidates for 2017 vacancies, ProFootballTalk reported on Sunday.
And the Patriots' head coach also put forward the name of his player personnel director, 40-year-old Nick Caserio as a candidate for general manager openings.
"A similar comment on the general manager thing with Nick [Caserio], which I don't know if he was or wasn't included. I think somebody told me that he wasn't included, so I would have the same comment for him. He does a tremendous job as well. I can't imagine any list not having those three people."
All three New England assistants have been the subject of rumors before — with McDaniels having already accrued head coaching experience in Denver. The trio was also part of the Patriots' 2014 Super Bowl season.