Patriots
Tim Tebow says Bill Belichick cost him a million dollars
Tebow was promptly cut within a matter of weeks.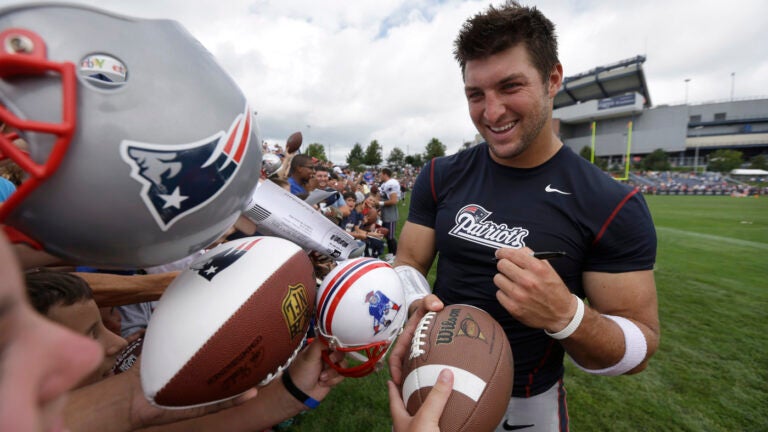 Tim Tebow was cut by the Patriots at the end of training camp in 2013, yet he's still provoking discussion about his time in New England three years afterward.
In a released excerpt of Tebow's new book, "Shaken," the former quarterback alleged that Bill Belichick once convinced him to turn down a million-dollar single-day product endorsement. Tebow, who claimed that he quickly agreed not to do the endorsement in an attempt to convey goodwill to his new coach, was promptly cut within a matter of weeks.
Here's the excerpt, via a tweet from ESPN sports business reporter Darren Rovell:
In new book, "Shaken," Tim Tebow says Bill Belichick convinced him to turn down a one day appearance for $1 million before cutting him pic.twitter.com/2t5wABythn

— Darren Rovell (@darrenrovell) November 29, 2016
In an interview on "Fox and Friends" for a book promotion earlier in the week, Tebow also discussed what his goals were when he joined the Patriots:
And, for me, I felt like, 'Hey, going to the Patriots was gonna be a dream come true.' Play under Tom Brady, and then when he retires, we'll go play for Belichick and win a bunch of Super Bowls, and that was my goal. That's what I thought was gonna happen, and then you get cut and it's like, 'Hey, what do I do next?'
Tebow was 26 when the Patriots cut him in 2013. He signed another NFL contract with the Eagles during the 2015 preseason, but was cut before the regular season.