Patriots
Bill Belichick has a lot of thoughts about the Rams punter. Seriously.
"This guy looks like as good a player as I've ever seen at that position."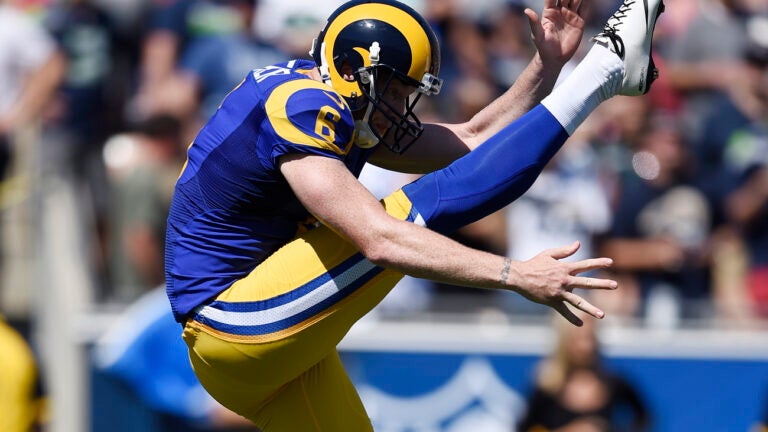 Ask Bill Belichick about the recent presidential election, and the Patriots coach has little to say.
But ask him about the Los Angeles Rams punter and… actually you don't even have to ask.
Unprompted, Belichick kicked off his weekly press conference Wednesday by first lauding the talents of the Rams' star punter, Johnny Hekker. From the beginning (emphasis ours):
So this is obviously a Ram team that we don't know very well, so we've spent a lot of time here the last couple of days here trying to get familiar with their players, their schemes and so forth. I'd start with saying a very talented team. They have a lot of very good players, a lot of explosive players in all three phases of the game. Let's start with the kicking game; I mean Hekker is a tremendous weapon. This guy looks like as good a player as I've ever seen at that position. He's a tremendous weapon in his ability to punt the ball, punt it inside the 20, directional kick it, involved in fakes, can throw, can run, very athletic.
Indeed, the fifth-year punter from Oregon State has been a bright spot in what has been an otherwise dreary inaugural season in Los Angeles for the Rams.
Hekker is averaging 46.7 yards per punt, with a net average of 44.9 yards (which would break the single-season record he set in 2013). Earlier this month against the Jets, he boomed a punt 78 yards—on the fly. And he's also known to show off his arm for a fake punt, or two.
**FAKE PUNT ALERT**

Johnny Hekker is a punter
Punters aren't supposed to scramble and sling 20-yard passes #STLvsGB http://t.co/4MBBjIeKCy

— NFL (@NFL) October 11, 2015
Of Hekker's passing attributes, Belichick is well aware.
"He's dangerous," the Patriots coach said Wednesday, when asked about the punter some say is the Rams' most valuable player this season.
"I mean, he's like a quarterback," Belichick continued. "He can throw, he can run. You've got to defend him like you'd defend one of those guys."
Later during the press conference, Belichick didn't go so far as to put Hekker among the all-time great punters, but said the 26-year-old was a "weapon."
Q: You've praised punters before like Ray Guy, Thomas Morstead and Dave Jennings. Who else is in that discussion as greatest punters?

Belichick: Those guys are all in the discussion.

Q: Is there anyone else you'd include in that group?

Belichick: No, those guys are all in that discussion and they were all great players. I'm not taking anything away from them. [Sean] Landeta – I mean I have a lot of personal interaction with Sean. But I mean this guy, [Johnny Hekker], this guy is a weapon. I mean he's not a good player; he's a weapon.
During a conference call Tuesday, Belichick elaborated even further on the "tremendous" player.
Hekker is a tremendous punter. He can change field positions, so they're very explosive there. They're aggressive in the kicking game whether it's running fakes, keeping the defense off balance when they're kicking the ball or with their return game when they're getting the ball. They're very explosive to score.

[…]

He's a tremendous punter and a tremendous athlete. Like [Pat] McAfee from Indianapolis, he can do a lot of things besides punt the ball, so when you have those kind of explosive players and dynamic players, you build around them and give them an opportunity to do it.
Ever the field position guru, Bill Belichick's affinity for punters is well documented, and the usually short-spoken coach has given some notably long answers on the subject.
Too bad the Rams have Hekker locked up for four more years.