Patriots
Does Rams coach Jeff Fisher still think Danny Woodhead is on the Patriots?
"You've got to deal with [Brandon], in addition to Danny."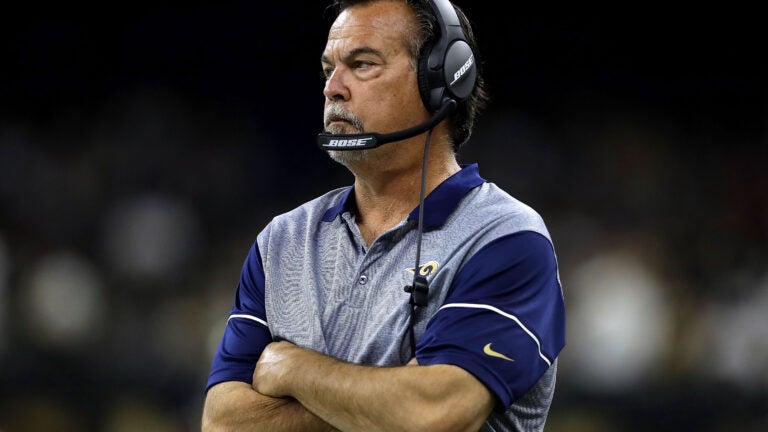 Ahead of his team's upcoming trip to New England, Los Angeles Rams coach Jeff Fisher produced an odd moment during a Wednesday conference call with reporters when he appeared to confuse the names of Patriots running backs.
Asked about the Patriots' usage of three different running backs in the team's offense, Fisher started by praising LeGarrette Blount.
"I have a place in my heart for LeGarrette, because I gave him a start, and I have great respect for him," said Fisher, who signed Blount as an undrafted free agent in 2010. He was cut before the start of the season.
Fisher then began describing the other Patriots running backs, and seemed to confuse players' names.
"I've been impressed with Brandon and what he's done out of the backfield," Fisher said. "You've got to deal with him, in addition to Danny. You've got playmakers all around, so we have to play sound defense."
Brandon is possibly a reference to Patriots running back Brandon Bolden, who has only a single carry in 2016 (for four yards). He is primarily used on special teams.
The reference to "Danny" is potentially a nod to former Patriots running back Danny Woodhead, who left the team after the 2012 season to sign as a free agent with the San Diego Chargers.
In 2016, the Patriots offense uses Blount as well as running backs James White (who is second on the team in receptions through 11 games) and Dion Lewis.
Here's audio of the press conference. No follow-up questions were asked about who was meant in the reference to "Danny."