Patriots
26 thoughts on the Patriots' victory over the Rams
Tom Brady's record 201st career win was about as suspense-free as it gets.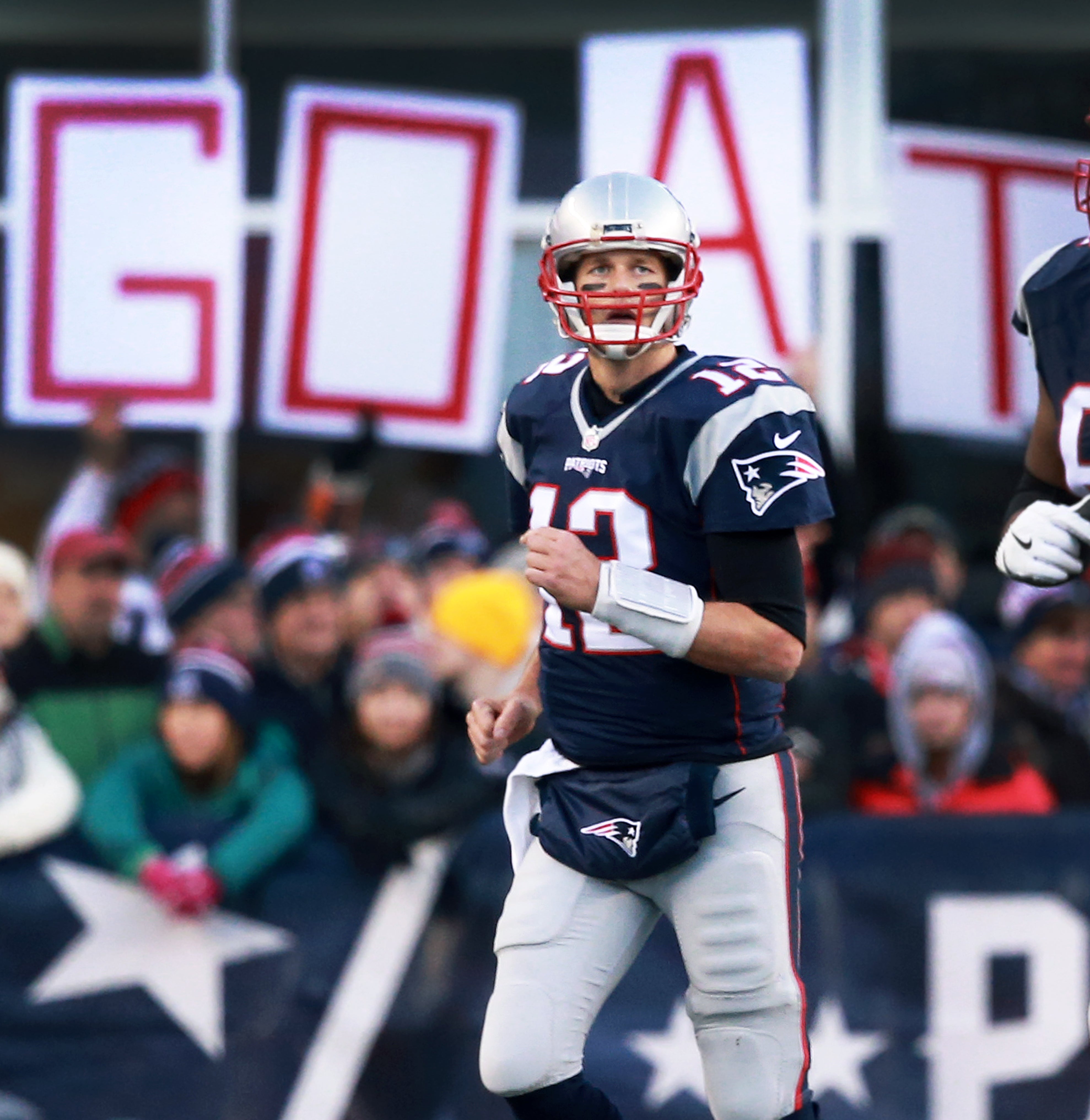 COMMENTARY
As expected, playing the Los Angeles Rams turned out to be a decent remedy for a bummer of a week in Foxborough. In their first game since losing superb tight end Rob Gronkowski for the season, the Patriots took out their frustrations on their overmatched opponent. The Patriots took an early 14-0 lead and cruised to a 26-10 victory in a game utterly lacking in suspense. The victory was the record 201st of quarterback Tom Brady's career and the 10th of the season for the Patriots, marking 14th straight season they will have won double figures. Not a bad way to begin the post-Gronk portion of the season.
There might have been some small frustrations along the way for Brady and the Patriots. After scoring touchdowns on two of their first four possessions—a 43-yard run by LeGarrette Blount and a gorgeous 14-yard pitch-and-catch for a touchdown to Chris Hogan—the Patriots had to settle for four Stephen Gostkowski field goals on later scoring possessions. Brady got that scowl on his face—you know the look—from time to time when it was clear his frustrations were percolating.
But for the most part, there was little to complain about. Brady was on point, the tone was set early in the running game (the Patriots had 117 yards on 20 carries at halftime), and the defense, unleashed against inexperienced Rams quarterback Jared Goff, got to wreak some havoc for once, collecting four sacks and a pair of interceptions while holding the Rams to 162 total yards.
Blount (18 carries, 88 yards, 1 TD) is showing no signs of wear despite setting a career-high in carries already this season (212). Perhaps even better, Dion Lewis (38 total yards on nine touches) is starting to look as electric as he did before his knee injury a little more than a year ago, even if his stats don't yet confirm it. This might be their most versatile running attack since Corey Dillon and Kevin Faulk teamed up for more than 2,200 total yards in 2004.
For a back presumed as a bruiser first and foremost, Blount sure busts out some impressive open-field moves from time to time. He turned around Rams safety Maurice Alexander twice on his 43-yard touchdown run in the first quarter, which came on a 4th-and-1 play. It wasn't quite Barry Sanders turning Harlan Barnett into a one-man carousel during one of the Hall of Famer's most famous runs, but it was one that will show up on the Patriots' year-end highlight reel for sure.
Wait, Jeff Fisher has had a contract extension in the bag all season? The same Jeff Fisher who hasn't won a playoff game since 2004? I'm at the point where I don't just believe he has compromising pictures of the various bigwigs in the league and Rams' front offices. I now believe he has all of them in the same photo.
Fisher's last playoff win came on January 3, 2004, a 20-17 victory over the Ravens, who were quarterbacked by Anthony Wright. The next week, his Titans lost to the Patriots in the divisional round, 17-14.  Again: He hasn't won a playoff game since. The Patriots have won 18 playoff games in that span, including three Super Bowls. No wonder he seems to loathe Bill Belichick.
Enjoyed the Fox broadcast team of Kevin Burkhardt and John Lynch, and not only because it was break from the usual and overly familiar Simms-Fouts-Green triumvirate of CBS analysts. Burkhardt is starting to get deserved recognition as one of the rising stars of the business, equally adept at play-by-play and studio work. (He was the expert ringleader of Fox's excellent and chaotic baseball studio show during the postseason. Can you imagine trying to rein in Pete Rose?)
And Lynch—everyone's favorite Patriots safety from the 2008 preseason—just keeps getting better, though I'm sure his hackneyed Deflategate joke early in the game turned some fans off. Lynch shared a piece of information from Belichick—that the Patriots were going to go after Goff because he watches the pass rush—that was more insightful than anything I've heard from any network color analyst regarding the Patriots since Simms's early years of relative coherence.
Lynch also shared an interesting anecdote about facing the Patriots in the 2000 preseason while he was with the Bucs. Lynch said Tampa Bay defensive coordinator Monte Kiffin told his players that the Patriots coaches were really high on their fourth quarterback. He didn't mean Michael Bishop.
As unpolished as he is, you can see the promise in Goff. He has a quick release and throws strikes (though his accuracy abandoned him after he'd been hit about 20 times). He didn't get a whole lot of help from his receivers, a stone-handed cast that isn't about to remind anyone of Torry Holt and Isaac Bruce. However, I figured Goff wasn't completely up for the challenge of playing in New England—let alone against New England—when I noticed he was wearing a Rob Johnson-style headband on the sideline in warmups.
My math may be faulty, but after Cyrus Jones's fumble on a Johnny Hekker punt in the first quarter, that made four fumbles in 15 return opportunities for him this year (eight punts, seven kickoffs). Off the top of my head, I can't think of a Patriot less-trustworthy with the ball since, I don't know, Jon Vaughn in the early '90s.
Hekker had a decent day, averaging 53 yards per on eight kicks. But after the way Belichick raved about him this week, I guess I figured he'd be hitting coffin corner kicks from 70 yards. Then again, he did have a 76-yarder.
Even the Rams' ''creative" plays were uninspired. Early in the third quarter, they went to the wildcat, with a direct snap to Todd Gurley … who ran straight up the middle for 3 yards. The Rams might have a terrific offense in three years, if Goff develops, Gurley (11 carries, 38 yards) finds his mojo, and they bring in a couple of receivers with functioning hands. But right now, it's a hapless unit.
Per the broadcast, Rams lineman Greg Robinson has 29 penalties the past two years. How is this guy not on the Raiders? I doubt Greg Robinson-Randall had that many penalties in his career.
Malcolm Butler's first-half interception of a pass that ricocheted off Lance Kendricks's hands was his second of the season, tying him with Jamie Collins for the team lead. If that doesn't hammer home the point about the defense's season-long struggles in forcing turnovers, I don't know what would.
There's no way Butler would fall for Antonio Brown's pizza-sauce-on-the-face trick from that goofy Papa John's commercial. Totally would believe it with Darrelle Revis, though.
Jabaal Sheard deflected a Goff pass that led to Kyle Van Noy's first interception as a Patriot in the third quarter, and nearly had a pick of his own earlier in the game. Maybe there's hope for him to salvage this season yet. He seems to be trying to do so.
There have been a couple of offseasons in which the Patriots have added multiple talented wide receivers. They did it in the '02 draft with Deion Branch and David Givens, and of course before the 2007 season when they acquired Randy Moss and Wes Welker. It's apparent now that they did it again, albeit to a somewhat less-impactful degree, this offseason. Chris Hogan, who made a 180-degree turn look effortless in hauling a first-quarter touchdown pass, and Malcolm Mitchell (eight catches) have added quality and depth to their already potent passing game.
Gostkowski had the unblemished game we've been waiting for, hitting all four of his field goal attempts—including a 48-yarder—as well as both of his extra points. The next step is to make the good day carry over to next week, and then the week after that …
Skip Bayless works for Fox now? Really? Wouldn't have known that if not for the promo during what seemed like every break. I just assumed he was out of sight and mind because Stephen A. Smith threw water on him and he melted into a puddle.
The Rams' offensive coordinator is a man named Rob Boras. Rob Boras has apparently forgotten he has Gurley at his disposal. Rob Boras's offense had 25 total yards at halftime. If Fisher is looking for a scapegoat, Rob Boras will eventually qualify.
Perhaps it's because the Patriots honored the 2001 Super Bowl champions Sunday and they were already in the front of our mind, but when Brandon King—the current No. 36—came flying in to drive the pile backward on a first-half kickoff, my first thought was of the old No. 36 who used to similarly rattle piles of bones from his safety position.
Yes, it ended badly here for Lawyer Milloy, but who doesn't remember that guy well? He was big part of getting this started. It was great and appropriate to have him lead the '01 Patriots onto the field during the halftime celebration.
The decision to use Pat Summerall's introduction from Super Bowl XXXVI to reintroduce the 2001 Patriots was an inspired touch. All these years later, they're still taking the field as a team. Save for the quarterback, who of course is still taking the field with the team.
Brady was 17 years old when Fisher became a head coach in the NFL. Brady has 28 more wins as an NFL quarterback (201) than Fisher has as a head coach (173). I think his lead is safe.