Patriots
Foxborough football coach 'honored' to be referenced in Belichick's 'burns'
"I think it was pretty awesome that we are even on the radar screen."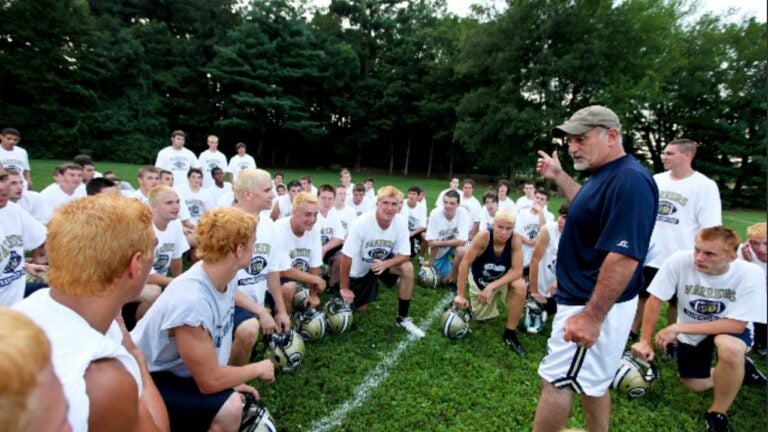 When Bill Belichick is looking to motivate his players, he references another local team with a Hall of Fame coach.
"I'm going to go down the street to Foxborough High School and find someone to take the snap," Belichick once told former Patriots backup quarterback Zac Robinson when the latter was struggling with his fundamentals. Over the years, Robinson hasn't been the only Patriot in Belichick's tenure to fear being replaced by a high schooler from ten minutes "down the street." Foxborough High School is a go-to Belichick "burn."
As noted in a recent piece from The Ringer, Belichick's "sick burns" (jokes directed at his own players) not only involve Foxborough High School more often than not, but are a staple of his motivational strategy.
Indirectly, Belichick is praising his fellow Foxborough football team. Their fundamentals, in his analysis, are sound.
So what does the coach of Foxborough High School's football team think of being referenced by his Patriots counterpart?
"I take that as a compliment," said Foxborough coach Jack Martinelli in a recent interview. "I think it's pretty awesome that we are even on the radar screen."
Martinelli is a legend in his own right, with over 250 career wins in 35 seasons as the coach of Foxborough High School's football team. In 2011, Martinelli was inducted into the Massachusetts High School Football Coaches Association Hall of Fame.
Yet to be referenced alongside the Patriots has a special meaning for the longtime high school coach.
"Being mentioned in the same breath with the Patriots and coach Belichick is, to me, an honor in any shape or manner," Martinelli explained. Belichick and Martinelli have met before, though the latter said that coaching fundamentals didn't come up in their conversation.
"No, I was too nervous to talk about that," Martinelli said. "It awesome to meet him, kind of like dying and going to heaven, you know? A couple of my assistants have neighbors who are on the coaching staff, and they spent time with the receivers coach and talk football that way."
And the school itself has been involved with the Patriots many times over the years.
"This past season, [the Patriots] invited a group of us to run the CBS pregame play with Deion Sanders and Bill Cowher," said Martinelli. "They've been more than gracious to us as a program and to the town in general. I have only great things to say about the Krafts and obviously Belichick and the whole team."
Martinelli said that he's been aware of Belichick's usage of Foxborough High School in his motivational techniques for a while now. It doesn't surprise him, since it's not dissimilar from his own style.
"I know it's part of his bag of coaching tricks," Martinelli noted. "In fact, sometimes on a much lesser scale, we as high school coaches would say something similar. If things weren't going well, I'll tell them, 'I'm going to get the freshman offensive center, or I'll go down to midget football and get those kids to come up here.'"
"It probably does the same thing, whether to a young player or on the pro level, college level, it gets their attention faster than trying to explain things sometimes."
Martinelli, no stranger in motivating players year after year, concurred with Belichick that football is often a game of fundamentals. In that regard, he has a high opinion of the Patriots.
"I would say as complicated as the game is on that level, it still comes down to the real basics of the game, which they do better than anybody," Martinelli explained.
But would Martinelli, if asked, come help coach the Patriots on fundamentals?
"Of course!"
That said, he sees it as obviously unnecessary. The results, Martinelli concluded, speak for themselves.
"The product he's put on the field with Tom Brady and his coaching staff and all the players is probably the best that there's ever been for this length of time in NFL history."