Patriots
41 thoughts on the Patriots' dismantling of the Jets
Bill Belichick gets his 200th win as Patriots' coach, and it comes without much suspense.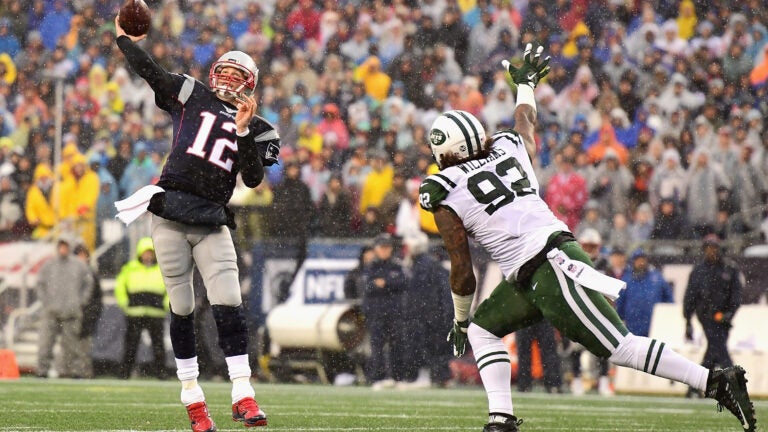 COMMENTARY
The perception is that Bill Belichick isn't one to pause and appreciate a milestone, and that's probably true on most in-season occasions. But I bet the Patriots' 41-3 dissection of the pathetic Jets Saturday one means more than a little something to him: With the victory, he became just the fifth coach in history to collect 200 wins with one franchise.
The other four? George Halas, Don Shula, Tom Landry, and Curly Lambeau, all of whom are easily recognized by their surname alone. Given Belichick's appreciation of and knowledge of professional football history, that has to be enormously satisfying company to keep.
Maybe one of these casual Fridays he'll regale us with a history lesson on each of them. Well, except for Shula, whose hypocritical envy of Belichick's modern success has been unbecoming for a while now. We already know what he's about.
Had to be a satisfying way for Belichick to get that 200th win, too – against the loathsome Jets, for whom he was the HC for the franchise's most hopeful 24 hours since Namath's knees were healthy. I doubt beating down that franchise ever gets old for him.
And what a thumping it was. The Patriots entered as a 14-point favorite. They led by nearly double that number (27-0) at halftime, and probably could have doubled that number by game's end had they been feeling especially vindictive (instead of only selectively so – more on that in a minute).
It was such a stomping that the greatest suspense was wondering when Belichick would pull Brady – and we were playing that parlor game before halftime. As it turned out, Belichick went to relief pitcher Jimmy Garoppolo late in the third quarter with the Patriots up 34-0. It was Garoppolo's first action since injuring his shoulder in Week 2.
For all of the oh-no-this-is-a-blowout-we-need-story lines chatter between Ian Eagle and Fouts on the broadcast regarding inactive Jets second-round pick Christian Hackenberg, I'll guarantee you they don't have a QB prospect on their roster that matches up to Jacoby Brissett, let alone Garoppolo.
Brady finished 17 of 27 for 214 yards and three touchdowns. Not spectacular, because he didn't need to be, but extraordinarily efficient and effective. There is no doubt in my mind that he should be the NFL Most Valuable Player this season. None, four-game absence be damned.
The Jets? They played like it never rains in New Jersey. They played like this is Week 16 and they get to go their separate ways after the game. They played like they took the over. They played like their paychecks are the same win or lose – wait, that part is actually true. It's just that mail-it-in-jobs are rarely so obvious or shameful.
One of the most embarrassing moments of the day for the Jets came on the play (singular) when they actually scored. Facing fourth down from the 12 and down 41-0 with about six minutes left, they sent out Nick Folk to kick a 29-yard field goal rather than taking a shot at a touchdown. It spared them the shutout, but it didn't save their pride.
Dion Lewis (16 carries, 52 yards) looked quick and jittery even if his stats don't suggest as much. And LeGarrette Blount (20 carries, 50 yards, two 1-yard TD runs) did his bulldozer thing to helpful effect. The Patriots' running game – in no small part to a cohesive line and the good health of fullback James Develin – is in excellent shape as the schedule heads deeper into December.
He'll never admit it, but I'm convinced Brady threw to Matt Lengel on the touchdown that put the Patriots up 17-0 for two reasons: 1) He was giving Lengel a generous Christmas gift – his first career reception and TD for a hardworking player who has had such a winding journey that he was once part of Northeastern's now-defunct program. 2) Jets corner Juston Burris was in coverage, and he had been chirping all day. Good way to get a bull's-eye slapped on you, kid.
Malcolm Mitchell was wide-open over the middle on the play. And on the replay it appeared as though Brady saw him. Instead he threw a dart to Lengel, who made a nice catch with Burris in fairly tight coverage. The lesson: Don't tug on Superman's cape, young fella, because this Superman has a laser-rocket arm and takes satisfaction in using it to humble the brash.
Burris kept talking even in the fourth quarter, when the Jets were down 34-0. He's a good player, but the individual celebration in the midst of an embarrassing team defeat was bush league Chris Canty kind of stuff. How did he never play for the Jets?
Thought this might be a day where Cyrus Jones would get a second (third? fourth?) chance for redemption on punt return duty. Then I looked out the window, saw the raindrops hitting the puddles, and figured this might not be the day to do it.
Belichick said as much on the radio pregame show, noting that ball protection would be a, if not the, priority. Not exactly Jones's specialty so far. Maybe next week. He did get some run at cornerback late in the game, though.
The Jets' highlight, if there was one? Sheldon Richardson dropped a just-starting-to-accelerate LeGarrette Blount with a lefty clothesline on the Patriots' first possession. Can't recall Blount ever being taken down so abruptly, and doubt we ever see it again.
Julian Edelman appeared to be wide-open in the corner of the end zone on the Patriots' first possession, but either Brady didn't see him or had some Christmas Eve compassion for Darrelle Revis, who was the lone Jets defensive back in the vicinity. OK, he didn't see him.
Nice to see Malcolm Butler double his season interception total to four with a pair of picks. He tipped and collected a Bryce Petty mallard on the Jets' second possession, then snagged a Ryan Fitzpatrick (8 for 21) sideline heavy later on. Butler doesn't have huge numbers this year, but as a steady and sometime excellent corner, he should have made the Pro Bowl. Not that there's a major chance he'd be playing in it.
I'm going to accidentally call Michael Floyd Chris Floyd for as long as he's here, so you should probably get used to it. I doubt it will be for long. Floyd had his first catch as a Patriot in the fourth quarter, a 6-yard slant from Garoppolo.
I wouldn't have believed Brandon Marshall even made the trip if the stat sheet didn't tell me he had two catches for 28 yards. Wonder if he's even more intrigued about playing for the Patriots now.
It won't get much notice in the aftermath, but Chris Hogan's 22-yard reception on third and 4 on the Patriots' second possession was one of the best pure catches of the season. It's raining, Brady throws a fastball, and Hogan goes full extension while in stride to catch it with his hands. Not exactly a low degree of difficulty there.
Stephen Gostkowski (2/2 field goals, 5/5 extra points) is back. Has been for a few weeks now. We can move on from that overwrought what-about-the-kicker story line now, right?
Wonder if CBS would fire its play-by-play guy on the spot before the second half kickoff if he somehow made the egregious mistake of neglecting to mention Robert Kraft before halftime.
I loved Dan Fouts as a bearded '80s quarterback, and like him as an analyst, but opposing defensive backs could use a tire iron and a taser on Julian Edelman and he would say, "No harm, no foul, Ian."
Fouts had an amusing line on Patriots coach Matt Patricia: "He's what Santa Claus looked like in his 30s." Hey, it's true.
Eric Rowe got his first interception as a Patriot in the second quarter, leaping high to snare a deep sideline throw intended for a well-covered Marshall. He's had his ups and downs this year, but at worst he's a big and competitive corner. Those guys aren't easy to find.
Rough if abbreviated day for Petty, who didn't complete a pass (0 for 3) before getting knocked out of the game while tackling Malcolm Butler after his fumble recovery early in the second quarter. He acknowledged this week that he'd never really played in the rain before. In a way, he still hasn't.
Elandon Roberts's fumble-forcing shot on Jets running back Khiry Robinson felt like the first play he'd made since Jamie Collins was traded at the end of October. The Patriots linebackers played well even as the best among them, Dont'a Hightower, missed the game with a knee issue. This was the rare occasion when he wasn't especially missed.
As for Robinson, the fumble came on his first carry of the season. If that isn't Peak Jets, I don't know what is. Actually, this whole afternoon was an exercise in Peak Jets, wasn't it?
James White must make those wheel-route catches consistently in practice, because the Patriots keep going back to it even though he seems to catch one of every four in a game.
Actually, the biggest you-can't-stop-us I've seen in a long time came when Brady hit White for a 25-yard touchdown pass right before the half, boosting the lead into full-on rout territory at 27-0.
The catch – not on a wheel-route, mind you – capped a four-play, 87-yard drive that included a Jets pass interference penalty on a bomb to Mitchell. It took all of 1 minute and 5 seconds, and it was impressive in its execution as well as its vengeance.
It was rather unlike the Patriots to try to score in that situation – typically they'd just take a knee and be cool with going into the locker room up 20 at the half. Instead, Brady dropped the hammer.
Have to suspect the Jets did something to tick them off, whether it was calling a timeout to stop the clock and almost dare the Patriots to go for it, or all of the mutual yapping between Edelman and the Jets' assistant coaches in the first half.
I really thought Todd Bowles was a good coach. The Jets went 10-6 last year and seemed to be trending the right way. He may still be a good coach. But he's got a roster of talented, underachieving nitwits out to prove otherwise, and there's no immediate way to fix it.
They probably have to fire him. They can't clear the premises of every one of their high-priced malcontents like Sheldon Richardson, Muhammad Wilkerson, and Darrelle Revis, but something clearly has to change. And it's not going to be their biggest problem: the owner.
I've said this before, I'll say it again, and eventually, you'll all say it with me: The Chandler Jones trade is already a good one based on how they deployed the draft picks (Joe Thuney, Malcolm Mitchell). And it's only going to look better as Mitchell develops.
Had to laugh at official Gene Steratore's explanation of a late Jets false start penalty: ''Everyone but the center." Even the refs couldn't resist some efficient mockery.
And Scott Zolak had a spot-on line about it on the radio broadcast: "Ed Hochuli would name every player who moved and explain exactly what they did."
I know nothing about sugar plums or why people might hallucinate them. But I know this after the Patriots' sixth straight win: It's completely appropriate for Patriots fans to have visions of Super Bowl trophies dancing in their heads Saturday night.