Patriots
Bill Belichick's first Patriots press conference in 2000 looks bizarre in retrospect
There were jokes, smiles and even an endorsement from Dan Shaughnessy.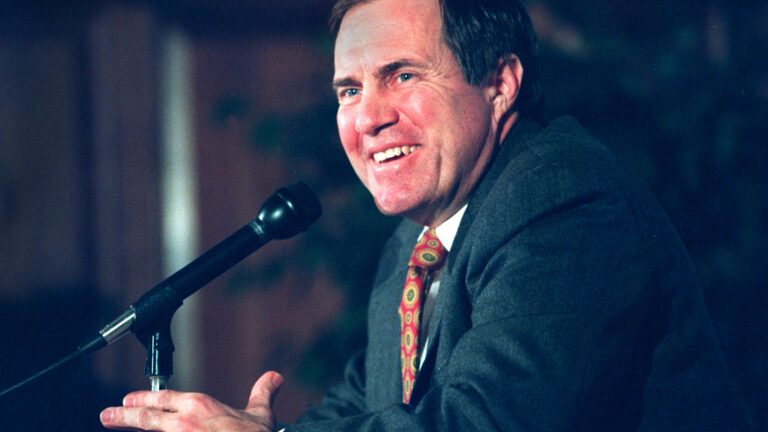 In a single press conference, Bill Belichick began with a joke, thanked reporters, and appeared to genuinely laugh multiple times. It was, taken as a whole, a seemingly un-Belichickian performance, the likes of which New Englanders have rarely seen since.
It was Jan. 27, 2000.
In a hastily arranged press conference, Belichick was introduced as the new coach of the Patriots. All these years later, after four Super Bowl victories and 14 division titles, Belichick's press conference demeanor is as established as his record of success.
Thanks to WBZ-TV sports producer Joe Giza, we have video of the debut press conference:
From the #WBZ archives: Bill Belichick named head coach of the #Patriots January 27, 2000 pic.twitter.com/kZ2xVP2hQp

— Joe Giza (@JoeGiza) December 20, 2016
Set against the backdrop of one of the most heated chapters in the Jets-Patriots rivalry, Belichick opened by joking that he hoped this press conference would "go a little better than the last one I had." It was a reference to his abrupt resignation as head coach of the Jets only weeks earlier. After only 24 hours on the job, Belichick announced his resignation from the Jets at what was supposed to be his introductory press conference, stunning the football world.
Afterward, a contentious battle carried on for several weeks, as Belichick lobbied the NFL commissioner and then (after the commissioner rejected his plea) the legal system. The story is well known at this point, given the history between Bill Parcells and Robert Kraft. The "border war" between the two teams had never been hotter than during that period.
This made its resolution, with Kraft and Parcells burying the hatchet, the story of the day in 2000. Belichick was, to an extent, a proxy war in the greater conflict that began with Parcells' departure from New England to New York after Super Bowl XXXI and ran through a rich timeline of clashes (notably Curtis Martin's free agency).
Newspapers in 2000 focused heavily on the Kraft-Parcells relationship, even in stories specifically written about Belichick's hiring. Obviously, given the draft pick compensation, it was not a normal coaching hire. That Parcells played the "unfamiliar role of peacemaker" in the negotiations was noteworthy, particularly when he phoned Kraft to tell him it was "Darth Vader calling":
January 27, 2000: Robert Kraft on Bill Parcells calling him to end their "border war" – check out the name that comes up! #Patriots #WBZ pic.twitter.com/yVhZ3t4tR9

— Joe Giza (@JoeGiza) December 20, 2016
Other notable observations from the press conference:
Belichick actually thanked reporters for being there. While unconfirmed, it's fair to say that the Patriots coach has essentially not repeated such sentiment ever again.
Kraft described Belichick by saying, "I believe he's the most capable person at this point in time to help us win next year." This is ironic, considering that the 2000 season was Belichick's only sub-.500 year with the Patriots.
In case you thought Belichick has only become stereotypically morose at press conferences during his time with the Patriots, consider a line from Dan Shaughnessy's column the day after the introduction: "The Cleveland media despised 

Belichick

, and the feeling was mutual." Apparently, Belichick's buoyant mood at this press conference was an all-around aberration.
Shaughnessy also had one other prescient passage in his column from January 28, 2000. He described Belichick's handling of the media, accurately predicting the coach's eventual (and perpetual) strategy of "not saying anything" to reporters, and how it would be received by Patriots fans as long as he won:


"It matters not if Belichick gives good interviews or cooperates with the New England media. His Jet resignation press conference (which has been compared with the Farrah Fawcett meltdown on Letterman) indicated he might be better off not saying anything, and Kraft can always send Belichick to a friendly media consultant (Belichick is already getting Kraft brownie points by referring to the owner as 'Robert'). What matters is winning football games."

According to Globe reporter Michael Vega's account from January, 2000, Kraft's decision to pull the trigger on the trade of draft picks for Belichick was influenced by the tragic injury of running back Robert Edwards. Having seen the team's star rookie running back blow out his knee at a Pro Bowl beach football game, Kraft understood that even a successful first-round pick wasn't as stable as having the right coach:


"And so, for a No. 1 draft choice, we can bring in a man who I feel certain will do something rather than with the uncertainty of the draft pick."

When Belichick was first introduced, it wasn't clear if he would be given control over both coaching and personnel decisions. Part of Belichick's dispute with the Jets had officially been about having full control, yet he downplayed that aspect at his Patriots introduction. Eventually, of course, he fired incumbent personnel vice president Bobby Grier and replaced him with Scott Pioli.
Inevitably, there was at least one hot take written after Belichick's hiring that doesn't look great now: