Patriots
5 reasons the Patriots took down the Dolphins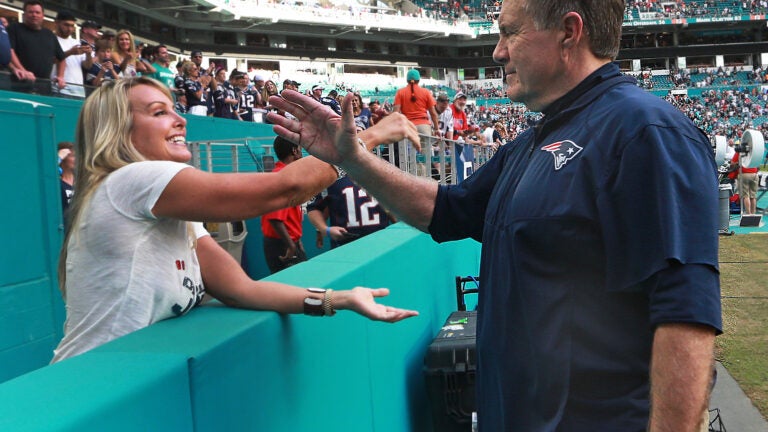 COMMENTARY
The Patriots on Sunday became the seventh team in NFL history to finish the regular season unbeaten on the road – and, as a reward, if they play away from Gillette Stadium again this season it'll be at Houston in Super Bowl LI.
Here are five takeaways from a 35-14 defeat of the Dolphins that secured the Patriots the No. 1 seed in the AFC playoffs for the sixth time in franchise history, earned home-field advantage by closing with seven straight wins and finishing 14-2, and saw Tom Brady set a league record with a ratio of 28 touchdowns to two interceptions:
ATTITUDE ADJUSTMENT
After a week of group-speak and assumptions, it took the Patriots all of three plays to prove that they were serious when saying they were treating this regular season's finale more seriously than they had when faced with a similar situation last January. A year ago, with a chance to wrap up home-field advantage with a win, the Pats appeared to prioritize keeping Brady away from contact by running the ball on almost every down, and limiting the passing game to dump-offs during the early going.
Sunday, to the contrary, on the initial third down of New England's opening series, Brady tucked the ball and took off when no receivers came open. He scrambled up the middle, and even with a defender in pursuit, he didn't give himself up with a slide. Instead he made a dive to get the necessary yardage – and continued a possession that eventually turned into seven points.
With that it was clear that the quarterback wasn't under any sort of maintenance mandate, or ordered to be careful about the thigh ailment that landed him on the injury report leading up to the game. It also made clear that the Patriots valued the No. 1 seed, an honor that would not only mean the AFC Championship game would be in Foxborough, but perhaps almost as importantly would also mean the dangerous, third-seeded Steelers team would need to win twice before earning the right to take on the Patriots. The benefits are obvious. And so was the fact Bill Belichick recognized them.
ONE-SIDED COACHING MATCHUP
It's not a stretch to think the Patriots and Dolphins could face off again in a couple of weeks. And if they do meet in the divisional round, among the more interesting angles could be whether Adam Gase and his coordinators can do a better job of getting Miami prepared after being dominated by Bill Belichick and his coaches early in both regular season matchups.
Back in Week 2 the Patriots opened up a 24-0 lead late in the second quarter, and they would've duplicated that feat Sunday if they'd punched in a goal-to-go opportunity on their penultimate series of the first half. New England picked up 17 of the game's first 18 first downs. Even after flight troubles forced the Pats to cancel their usual Saturday night meetings, they came out sharp, efficient, with an effective plan for every facet of the game.
The Dolphins, remember, had won nine of 10. They were feeling good. They were at home. And they arguably had as much to play for as the Patriots did, given that a win could've meant going to Houston next week instead of Pittsburgh. But for the first 25 minutes of play, in particular, New England smacked Miami with a reminder of who still reigns in the AFC East. And while the Dolphins were ultimately competitive later in both contests against Belichick's club, it's a reminder that could resonate again in a couple weeks if Gase and his staff can't devise a better gameplan from the start.
FLOYD IS A BIG BOY
When the Patriots claimed Michel Floyd off waivers, there was some sports radio caterwauling about the decision from a football perspective that suggested New England didn't need to add the baggage brought along by his drunk-driving arrest because they had enough depth at receiver.
Sunday presented the counterargument. Floyd was pressed into prominence by the injury that forced Malcolm Mitchell to sit, which counters any argument that the Pats couldn't have used some depth at the position, and with that opportunity the ex-Cardinal delivered a couple of plays that spoke to the physical differences between Floyd and the team's other options. None of New England's receivers are soft. And Chris Hogan is bigger than some might believe. But at 6-foot-2 and 220 pounds, Floyd is the type of physical beast who's capable of dragging four defenders into the end zone (as he did in Sunday's first quarter) and capable of devastating a defender with a de-cleating block like he made to spring Julian Edelman for a 77-yard touchdown.
Floyd is still getting acquainted with the Patriots system, as was apparent when his confusion forced Brady to burn a timeout early Sunday. But given what he can bring, even if Mitchell and Danny Amendola are healthy enough to contribute in the postseason it's hard to envision a scenario in which Josh McDaniels and the Patriots can't find a way Floyd will be able to help.
FLOWERS COULD BE A BREAKOUT STAR THIS POSTSEASON
After being the 101st player drafted, Trey Flowers flashed in the 2015 preseason. In fact it was while registering a sack of Packers quarterback Aaron Rodgers that he suffered the shoulder injury that would ultimately limit him to one game in what might've otherwise been a more productive rookie season.
Coming off that injury it took Flowers some time to establish himself as a core member of the Patriots defense in his sophomore campaign, as he played more than 60 percent of New England's defense snaps in just one of the team's first eight games, then played less than a third of the snaps in three straight games leading into the Patriots' bye. Since then, however, Flowers has been a major part of what the Pats have done defensively – with Sunday's start-to-finish excellence showing why his ascension has him in line to be a breakout star of the forthcoming postseason if the Patriots go deep.
Flowers began his day by stunting two runs and forcing a misthrow by putting heat on Dolphins quarterback Matt Moore, and ended with him hitting Moore's arm on another pass attempt. It bookended his second consecutive five-tackle game, and though he didn't record a sack at Miami, he did finish the regular season with a team-high seven QB takedowns. His speed creates a mismatch when he's asked to rush the passer from inside, though Flowers continues to look increasingly dependable regardless of where he's deployed along a diverse defensive line that enters the postseason looking like a real strength for the Patriots.
BIG PLAYS BODE WELL
In a win-or-go-home postseason, games can often come be decided by which team makes the big plays, and when they make them. So if Sunday is a harbinger of where the Patriots are at as the playoffs approach, New England is in a good place.
In a game where the start figured to set the stage, Logan Ryan's first-quarter interception enabled the Patriots get out to a quick 17-0 lead. When the Dolphins closed within six points, Brady and Edelman (with the help of Floyd) struck fast for a back-breaking score. Then when Miami was still in contention, and marching, Devin McCourty forced a fumble in the red zone and Shea McClellin carried it away from danger.
The Patriots had the answers when they were asked to respond Sunday, and have regularly for the length of their current winning streak. In their last loss, to Seattle, they came up one play short of tying the game at the end of regulation – and were at the time struggling to create turnovers. Subsequently they managed 15 takeaways over the past six tilts, and Brady's attack has repeatedly complemented its defense with timely daggers. If that carries into the conference tournament, that would likely be too much for an inferior opponent to overcome.