Patriots
The statistical case for Tom Brady as 2016 NFL MVP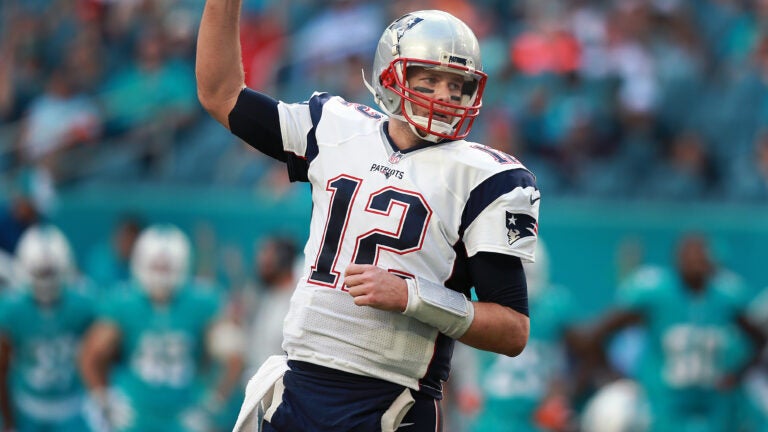 COMMENTARY
Tom Brady has been bandied about as a candidate for Most Valuable Player this season, despite the notable handicap of missing four games. His chief competition appears to be Matt Ryan, though Aaron Rodgers, Ezekiel Elliot, Dak Prescott and others find themselves in the discussion. So, does Brady deserve the award?
Let's take a look.
I'm going to focus mostly on Ryan and Brady, but first a note of disqualification for Rodgers. Rodgers and the Packers lost six games this year. Now, in baseball sabermetrics, we don't hold that sort of thing against the best players. It's not Mike Trout's fault that the Angels are terrible, for instance. The same is not true of quarterbacks.
In NFL history, there have been 61 players who have won MVP or co-MVP honors. By position, it breaks down as 40 quarterbacks, 18 running backs and three other — defensive tackle Alan Page in 1971, kicker Mark Moseley in 1982 (yeah, I don't know either) and linebacker Lawrence Taylor in 1986. Let's look at the breakdown of losses for the quarterbacks and running backs. We'll use losses as the statistic of choice because wins are skewed by the fact that the NFL season hasn't always been 16 games long.
There are two important takeaways here. First, quarterbacks are held to a different standard than running backs. If you have a truly transcendent season as a running back, you can win the MVP as long as your team manages to squeak over .500. But if you're a quarterback, you better have led your team to a great record – 75 percent of quarterback MVPs were on teams with zero-to-three losses, while it is only 56 percent for running backs. Second, to drive that point home, no quarterback has ever won MVP on a six-loss team, which would make Aaron Rodgers a historical outlier. Do you think Rodgers did enough to become just such a historical outlier? Was he so much better than Ryan and Brady that those six losses can be overlooked? I don't see that case at all, but you're obviously entitled to your opinion.
Next, a brief word on those who think the Patriots are just as good without Tom Brady as they are with him. In the first four Brady-less games of 2016, the Pats averaged 210.8 passing yards per game. In the remaining 12 games under Brady, the team averaged 288.8 yards per game. That's 78 more, if you're scoring at home. The same is true in terms of total offense yards: 346.3 yards without Brady, 399.6 with him. Simply put, the offense was much better this season with Brady on the field.
Now, let's take a look at Brady vs. Ryan. Ryan obviously has him when it comes to cumulative stats like passing yards, touchdowns, etc., based on the fact that Ryan played 16 games and Brady only played 12. That's not where we can make objective comparisons. We need to look at rate stats, and even on a rate basis, Ryan has edged out Brady in a lot of categories. Ryan beats him in traditional metrics like yards per game (309 to 296.2), yards per attempt (9.26 to 8.23) and completion percentage (69.85% to 67.36%). Both are in the top five in each of these three categories, though Ryan and Brady only rank first and second, respectively, in yards per attempt.
The pair also rank in the top five in some advanced metrics as well. ESPN's QBR (or total quarterback rating), which adjusts for opponents, finds Ryan first at 83.4 and Brady second at a near-identical 83.1 (for context, the 15th-rated passer, Russell Wilson, had a 63.1 QBR, and the worst passer, Case Keenum, had a 43.8 QBR). Football Outsiders' similar stat, called DVOA (which stands for Defense-adjusted Value Over Average), tracked Ryan as the best in the game through week 16, with a DVOA of 38.3%. Dallas' Dak Prescott came in second at 31.3% and Brady followed closely at third-best at 30.9%. The next-best QB, Drew Brees, was down at 24.7%. In other words, Ryan, Prescott and Brady were far and away the NFL's best by DVOA. Ryan also bests Brady in the easier-to-calculate Touchdown % — literally the percentage of a quarterback's throws that go for a touchdown. Ryan's 7.1% was best in the league, with Rodgers (6.6%) and Brady (6.5%) following relatively closely behind before a big gap (Marcus Mariota was fourth at 5.8%).
Ryan's TD%, while superlative for 2016, doesn't come close to breaking any records. It ranks as 23rd-best all time (among passers with at least 400 passes attempted in a season), which is obviously pretty great, but not any sort of epic achievement.
Brady did make an epic achievement, and it is the one area where he clearly bests Ryan. For the season, Brady's interception percentage, which is the opposite of TD% — the percentage of passes thrown that went for interceptions — was a minuscule 0.46%. This was not only the best INT% for 2016, but of all time (again, with a minimum of 400 attempts). And this isn't some sort of record that he set just because he started four fewer games than the rest of his competition. Prescott, who also had an all-time great INT% this season, started all 16 games and only attempted 27 more passes than did Brady. And this isn't the first time Brady has been ultra-efficient: The player with the second-best INT% of all time is also Tom Brady, from 2010, when he was also the NFL MVP.
Brady's two INTs were also historic in the bulk sense. There have only been seven players to attempt at least 400 passes in a season and toss five or fewer interceptions:
As you can see, it is actually eight seasons, because Brady has done this twice, both in 2010 and 2016. Brady was as efficient this season as an NFL quarterback can possibly be.
Of course, the interception stats don't take away from Ryan's slight edges in the many offensive categories we've already discussed. And there is a temptation to give Ryan extra credit for his statistics when you consider just how bad the Falcons' defense has been. By both traditional and advanced statistics, Atlanta's defense has been a bottom-10 unit, while New England's has been middling to great. But I'd argue that another unit that factors more into the equation of how much credit the quarterback should get: the team's running game. Through Week 16, Football Outsiders ranked the Atlanta passing attack as the best in football, while New England ranked second. But there was a far larger disparity in terms of rushing rank: Atlanta's was rated eighth best, while New England's was 19th.
For the entire 2016 season, Atlanta's rushing attack — led by Devonta Freeman and Tevin Coleman — averaged 4.6 yards per carry, fifth-best in the NFL. New England's averaged 3.9 yards per carry, which ranked 24th in the NFL, and 14th out of 16 AFC teams (only the San Diego Chargers and Denver Broncos averaged fewer yards per carry). Leading Patriots rusher LaGarrette Blount tallied that same 3.9 yards per carry average. Teams simply didn't need to be as respectful of New England's ballcarriers this year as they did Atlanta's, and that had to have made Ryan's job easier than Brady's.
Finally, and perhaps most importantly, there is the age factor. Brady became just the 16th quarterback to attempt 100 or more passes in his age-39 season (or older), and just the seventh player to start at least 10 total games from age-39 on. Of those seven, no one has a better completion percentage than does Brady. Brett Favre and Warren Moon both played into their 40s, so they have him on bulk stats. But in terms of overall touchdown percentage and yards per game, as well as QB rating in any individual 39+ season, Brady comes out on top. Favre's 2009 season with Minnesota is in the discussion, but Brady basically just put up the best season for a quarterback his age in NFL history.
Tom Brady and Matt Ryan both played excellently this season and both are deserving of the league's MVP award. Ryan was slightly better than Brady in several offensive categories, but given the fact that Ryan is eight years younger and had a better rushing attack at his disposal, his degree of difficulty wasn't quite as high as Brady's. Furthermore, Brady put together a historically efficient season in terms of interceptions, limiting interceptions better than anyone in the game has ever done, besting his own marks from 2010, when he was the league MVP. Finally, Brady only lost one game at the helm of the Patriots this season, whereas Ryan lost five. Ryan would be just the fourth quarterback from an 11-5 team to win MVP (the last of which was Rich Gannon in 2002). It is for these reasons that Brady is a slightly better choice for league MVP than Ryan.