Patriots
Pats enter playoffs with unprecedented passing efficiency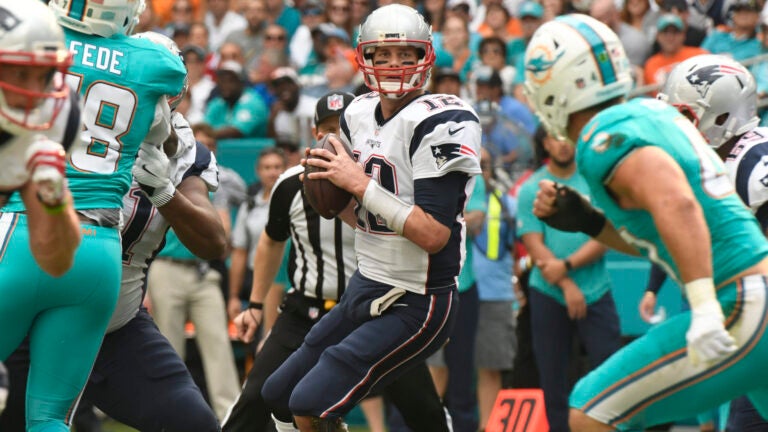 FOXBOROUGH, Mass. (AP) — With Tom Brady under center, the Patriots have always had one of the NFL's best passing games. But New England is starting its playoff run with unprecedented efficiency.
The Patriots set an NFL record this season by throwing just two interceptions . The previous record for fewest interceptions in a season since the 1970 merger was five.
It's not that they're avoiding throwing — New England is fourth in the league with 4,308 passing yards. The two interceptions , both by Brady, came on 550 team pass attempts, setting a new NFL single-season low rate of 0.4 percent.
The lower numbers overall highlight a trend across the league thanks to rule changes and new offensive strategies. The league-wide interception rate of 2.3 percent in 2016 was the lowest of any season in NFL history, surpassing the previous mark of 2.4 percent in 2015.
This is the first year that any team finished with an interception rate of less than 1 percent, as the Vikings finished 2016 at 0.9 percent. New England's interception rate is three times lower than that of the next closest teams.
In 12 games, Brady set another NFL record for touchdown to interception ratio with 14 scores for each pick. He's still hard on himself about the turnovers.
"Those two that I threw, I wish I wouldn't have thrown those," he said.
The next best touchdown to interception ratio this season belongs to the Cowboys' Dak Prescott at 5.8 to 1 (23 TDs, four INTs). For perspective, Brady led the league in 2015 with a 5.1 to 1 interception rate (36 TDs, seven INTs).
Recent rule changes have specifically helped quarterbacks and receivers.
Interceptions have in turn fallen each of the last two years with more protections to prevent quarterbacks from getting hit. It's given them more time to operate in the pocket and increased the likelihood that defenses break down. Those few extra seconds also have afforded Brady and others time to check down, throw the ball away or run rather than force a risky pass.
"You're just trying to make good decisions back there with the ball," Brady said. "I think what it comes down to is you try to practice those as much as you can and you try to make those decisions on the field that are going to impact the season, and turnovers are a big part of the reason, at least for our team, why we've won and lost."
Patriots coach Bill Belichick said the team has been fortunate to avoid many of tipped balls and dropped passes that often lead to turnovers.
"When you throw it a decent amount there are things that can go wrong that you have to try to avoid," he said.
Brady is also helped by production from the running game.
LeGarrette Blount has rushed for a career-high 1,161 yards and 18 touchdowns. New England and Atlanta are the only teams in the top 10 in the league in both rushing and passing yards.
With defenses forced to respect the run, receivers are open more often for Brady.
Because of that, offensive coordinator Josh McDaniels said he considers the lack of interceptions to a "team statistic."
"It comes down to understanding how valuable taking care of the football is and being able to make great decisions under pressure in a split-second," McDaniels said. "I think our team values the football. We talk about how important that is to winning each week."
That formula will be easier if the Patriots continue to jump on teams early, helping Brady relax. During its current seven-game win streak New England has won by an average of 16 points.
"It's nice when you're playing with leads because you don't have to necessarily force the ball into certain areas where the coverage may be really tight," he said. "But it's going to be the same formula for next Saturday night — not turning the ball over, making good decisions with it."
___
For more NFL coverage: www.pro32.ap.org and http://twitter.com/AP_NFL
___
Follow Kyle Hightower on Twitter at http://www.twitter.com/khightower