Patriots
Pick 6? Not even. A look at 2 who picked off Brady this year
"Those two that I threw, I wish I wouldn't have thrown those."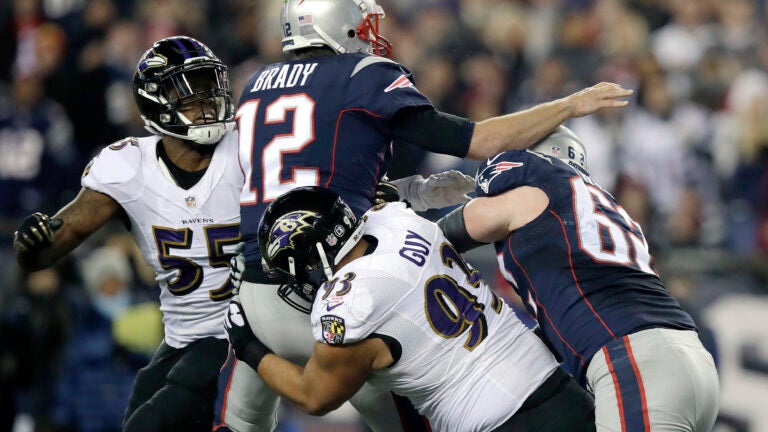 FOXBOROUGH, Mass. (AP) — Let's look at the really bad throws Tom Brady made this year.
It shouldn't take that long.
The four-time Super Bowl champion was intercepted only twice in 2016. With his 28 touchdown passes, that's the best ratio in NFL history.
That makes Brady one of the favorites to be the leaugue's Most Valuable Player for a third time — even though he missed four games while serving his "Deflategate" suspension.
But nobody's perfect.
So The Associated Press talked to the two opponents who caught Brady napping this season, Seattle's DeShawn Shead and Baltimore's Eric Weddle, about being in such an exclusive group:
HOW DID IT HAPPEN
The Patriots had thrown the ball an NFL record 258 times without an interception this season — that's between Brady and Deflategate subs Jimmy Garoppolo and Jacoby Brissett — before Brady took a first-down snap at his own 36 in the second quarter of New England's Nov. 13 game against the Seahawks. He scrambled right and then left to avoid the pass rush before heaving the ball long.
Shead cut in front of receiver Malcolm Mitchell and just waited for the ball to come down.
"I remember that play ," Shead said this week. "I know they extended that play. I actually kind of got stumbled up on the play with the receiver on the outside and then I finally got my balance back on and I turned around and looked up and see the receiver running, but then I see Tom throw the ball kind of away from the receiver. So I turned around and adjusted to the ball and went up and grabbed it."
Four weeks later, with the Ravens in town, Brady danced in the pocket on a third-and-goal at the 2, pump faked, and then forced the ball toward Chris Hogan , who was double-covered in the left side of the end zone.
"We were in man and I was freed up, kind of showing on the edge to discourage the run," Weddle said. "He dropped back and I'm just looking to help. The receiver kind of did an in (pattern), and when he pivoted back out, I kind of peeked and saw. So I burst that way and he kind of just threw it up. He got hit and forced it up, and I was there."
WHAT THEY HAD IN COMMON
Both were dumb throws, as Brady admits.
Brady had eluded the rush and had space to throw it away against Seattle. Against Baltimore, he would have been better eating the ball and turning it over to kicker Stephen Gostkowski for a short field goal attempt.
"Those two that I threw, I wish I wouldn't have thrown those," Brady said this week as New England enjoyed a bye in the first round of the AFC playoffs. "You're just trying to make good decisions back there with the ball."
But neither was especially costly.
The Seahawks went five-and-out and punted the ball; the Patriots went 81 yards on the next drive for a touchdown. The Ravens, who were already trailing 16-0, also failed to score off Brady's turnover.
WHAT WAS DIFFERENT
Shead's came on first down on a long pass between the 30-yard lines. Weddle's was on a short pass in the end zone, costing New England a chance at a short field goal.
Most important: the Seahawks won their game, beating New England 31-24. The Ravens lost 30-23.
"It was a turnover for our team," Shead said. "It was an opportunity to help win the game, and we ended up winning the game."
In his fifth year in the league — his first as a full-time starter— Shead has one other interception, picking off Arizona backup Drew Stanton in garbage time of the 2015 regular-season finale. This one was a victory in a rematch of the 2015 Super Bowl.
"It definitely means a lot to me," he said.
ONE TO REMEMBER
The fact that it was Brady didn't hurt, either.
"To have the opportunity to get an interception from the best quarterback to arguably play this game, I take a lot of pride in that," Shead said.
But he has some advice for defensive backs facing Brady in the playoffs: "Don't go looking for interceptions."
"You just play your coverage and be on your man and play great technique and the ball will come to you," he said. "There's no specific instruction of trying to intercept Tom Brady, or any quarterback, in general. But when you have your opportunity and are in position, look for the ball."
And, if it comes to you, enjoy it.
"I've been trying to get him my whole career," said Weddle, who has 23 interceptions over 10 NFL seasons. "So it's one important memory, that's for sure."
___
AP NFL website: www.pro32.ap.org and www.twitter.com/AP_NFL
___
AP Sports Writers Kyle Hightower, Dave Ginsburg and Tim Booth contributed to this story.