Patriots
Every coordinator Bill Belichick has lost to head coaching hires
Matt Patricia could soon join the list. And Josh McDaniels might etch his name on it for a second time.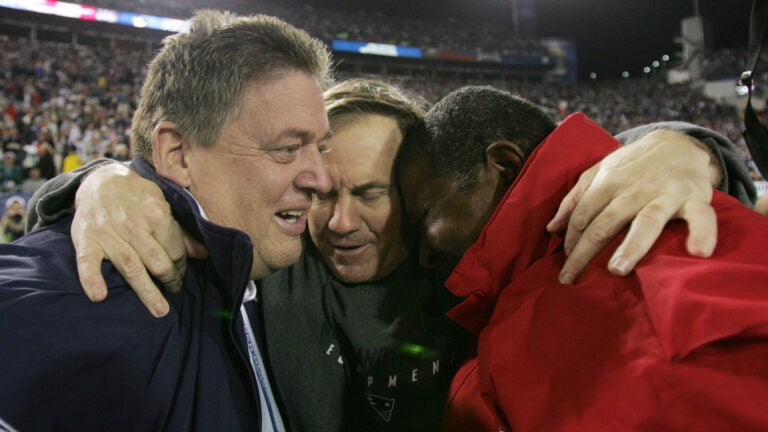 As impressive as it's been for Bill Belichick to continuously churn out winning seasons as head coach of the Patriots amid perpetually changing rosters in the salary cap era, it's worth noting that he's also had to deal with an ever-changing cast of coaches.
With the exception of Dante Scarnecchia (who has been the offensive line coach for all but two years of the Belichick era), the Patriots have seamlessly overcome numerous coaching changes. While failure is usually the driver of change among coaching staffs, success can also prove costly. Assistant coaches on Belichick's perpetually winning teams have been eyed greedily at both the college and NFL levels.
Given the flurry of rumors regarding the future of both offensive coordinator Josh McDaniels and defensive coordinator Matt Patricia, Patriots fans can take stock in the fact that this is a familiar issue. Even the prospect of losing both top coordinators in the same offseason is not new for Belichick.
Let's make a quick review of coaches who have left Belichick staffs in the past for head coaching positions:
Nick Saban: Before he was a legend in the state of Alabama, Saban was the defensive coordinator for Belichick's Browns from 1991-1994. He helped Belichick achieve his first winning season as a coach in 1994, going 11-5 and defeating Bill Parcells' Patriots in the playoffs. Soon afterward, Saban left to become coach of Michigan State, where he would begin his long run of success in the college ranks (starting with the recruitment of Plaxico Burress).
Romeo Crennel: Crennel left after the Patriots won Super Bowl XXXIX, capping a remarkable run in which he oversaw a defense winning three of four Super Bowls. Crennel, who won two Super Bowls with the Giants (like Belichick), left New England in 2005 to coach the Browns. Despite going 10-6 in his third season, Crennel couldn't turn things around in Cleveland. Still, 10-6 record in 2007 remains the Browns' last winning season.
Charlie Weis: Like Crennel, Weis left in 2005 after guiding the Patriots' offense to three Super Bowl victories. And like his defensive counterpart, Weis didn't experience the same success at his next stop. Taking the reins at Notre Dame, he went 19-6 in his first two seasons, but slumped afterward. He was fired after a bowl-less 2009 season in which the Irish went 6-6, though he was still getting paid by Notre Dame until recently.
Eric Mangini: Mangini was defensive coordinator for the Patriots for only one season after Crennel before he too left for greener pastures. Named head coach of the Jets, his relationship with Belichick famously deteriorated amidst a divisional rivalry. Mangini's role in launching the Spygate episode was also notable. Yet despite posting two winning seasons in three years with New York, he was fired after the 2008 season when he failed to make the playoffs.
Josh McDaniels: McDaniels is looking to become the first member of this list to appear on it twice, having left the Patriots once already following the 2008 season. The Broncos hired the young offensive coordinator, and the 2009 season could not have started better. Jumping out to a 6-0 record, including an overtime win against Belichick's Patriots, McDaniels looked a success. But  a dismal 2-8 finish to the season cost Denver a chance at the playoffs. Going 4-12 in his second season, McDaniels was fired.
Bill O'Brien: In one year as offensive coordinator, O'Brien helped the Patriots reach the Super Bowl. Assuming the responsibility of the coordinator position in 2011, O'Brien's offense scored 513 points. Tom Brady experienced one of his finest years, throwing for a career record 5,235 yards. Using the success of his single season as a catapult, O'Brien left to take over at Penn State, replacing Joe Paterno. He was immediately thrown into the repercussions of the school's child sex abuse scandal, guiding the team through NCAA sanctions. O'Brien went 15-9 in two years at Penn State before leaving to become coach of the Houston Texans.