Patriots
A New York sports writer looks back on writing 'Patriots will regret hiring Belichick'
"It was my version of Pete Carroll throwing the ball at the goal line."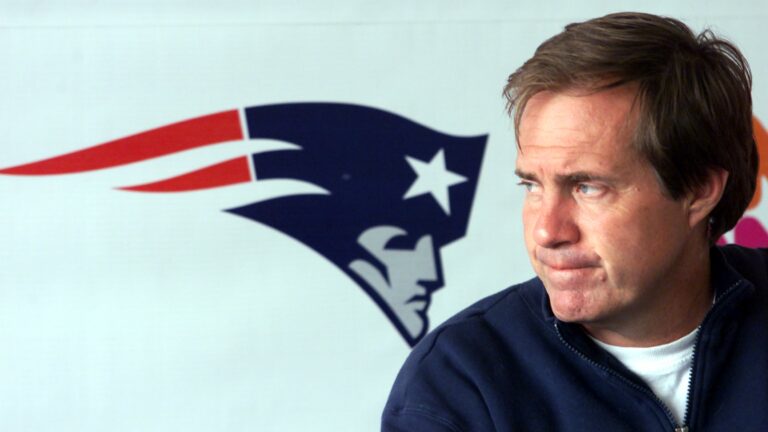 On January 28, 2000, as the sports world perused newspapers discussing the Patriots' introductory press conference for Bill Belichick, a particularly forceful headline appeared alongside many of those news stories. Given that it was attached to the byline of nationally syndicated columnist Ian O'Connor, the headline ended up in numerous newspapers all over the United States that day. It read:
The content of the article reflected the stark picture painted in its headline. O'Connor stated that, "Bob Kraft's wildest gamble has nothing to do with ends and safeties, and everything to do with the middle-aged mess he hired to coach them."
To the modern viewer, this looks ludicrous. It reads like the "Dewey defeats Truman" of sports headlines. Naturally, it's easy to hold this view in 2017, where we know Belichick as a four-time Super Bowl champion and arguably the greatest coach in football history. Yet while it's easily forgotten, doubting the hire of Bill Belichick was actually a perfectly legitimate position once upon a time. Coming off his 36-44 Cleveland tenure and an acrimonious departure from the Jets, Belichick was far from a sure thing.
But what does O'Connor think about his pointed article after 17 years? He was recently gracious enough to respond to a few questions about the particular January column from 2000. His answers were fascinating:
As a columnist, there are bound to be moments like this, where in retrospect you might want to have one back. Have there been other notable examples like this one that you can think of?
Ian O'Connor: Sure. I thought it was a bad idea when the Yankees replaced Buck Showalter after the '95 season. Brian Cashman agreed with me at the time, but he was an assistant GM who was overruled. Joe Torre was a thrice-fired manager who had never won a playoff series, and Showalter had done a very good job rebuilding a wreck of a franchise. So given that I thought Torre and Belichick were mistakes waiting to happen, the Yankees and Patriots would be down eight combined championships today had they shared my viewpoint. But who's counting?
I've asked other writers about what they remember from their columns the day after Belichick was hired, and many of them don't remember too much. Do you remember what your thoughts were from that period? Is there anything specific that led you to your mindset in the piece?
IO: The Jets fiasco really inspired it. Given his four losing seasons out of five in Cleveland, and the fact he was fired on relationships there as much as he was on results, and the fact he'd just executed the most bizarre escape from New York of all time, I didn't think he had the human relations skills to lead an organization. I've never been more wrong. I don't recall mine being a wildly unpopular opinion at the time in Boston, New York, or even in the league offices, where some were advising Robert Kraft not to hire him. People in the Giants organization who adored Bill as an assistant also thought he would fail in New England. But I've pieced together thousands of columns over 30 years, and in terms of expressed opinion/prediction versus ultimate outcome, that's probably the worst one I've ever written. It was my version of Pete Carroll throwing the ball at the goal line.
What did you think after Belichick went 5-11 in his first year? Do you remember any specific thoughts about him having vindicated your belief that the Patriots would regret hiring him?
IO: I was standing on the sideline with a couple of other writers the day Mo Lewis put that hit on Bledsoe, and Belichick was about to go to 5-13 overall with his $100 million quarterback down and out. In trots a certain sixth-round pick looking like Ichabod Crane, and I remember thinking that Belichick was in deep you-know-what. I wrote about Joe Andruzzi that day, and his amazing firefighting family in the wake of 9-11, or else I likely would've written something unflattering about the losing coach.
And then, conversely, when did you first realize Belichick might succeed in New England? Was it the night he won Super Bowl XXXVI, or perhaps before that?
IO: I think when the Patriots won the Tuck Rule game in the snow, and then went into Pittsburgh and won with Bledsoe after Brady got hurt, you could [tell] what was happening with his program, and how it was so team-centric. Immediately bouncing back from the 2002 hangover with a second Super Bowl title in '03 told you Belichick was suddenly the best coach in the league.
Where do you rank Belichick now in the all-time discussion of head coaches? Did you ever think that would even be a topic of discussion back in 2000?
IO: As a football graduate of St. Cecilia (N.J.) High, where Vince Lombardi learned how to coach, I was always a card-carrying Lombardi guy. But I think Belichick has surpassed him as the best NFL coach of all time. It's just so much harder to maintain excellence now than it was in Lombardi's time. It's interesting: Like Torre, Belichick needed that one special player to come along to allow his hidden greatness as a head coach/manager to surface. Jeter and Brady – once a pair of skinny kids who had accepted full rides to Michigan — were the perfect centerpieces for the selfless dynasties Torre and Belichick built.
If presented with the same circumstances in regards to the Belichick-Patriots hire in 2000 (in the context of his failure in Cleveland and departure from the Jets), would you write the same column if it happened in 2016?
IO: Seventeen years older, and hopefully a little bit smarter, I think I've learned to hedge a bit more on the forecasting front. Either way, I'm currently researching a book on Belichick, in part, because I'm fascinated by how he became what he became. My penance.