Patriots
Unconventional Preview: Patriots-Texans looks like a mismatch, and it probably will be
In their playoff opener, Patriots are heavy favorite against team they shut out in Week 3.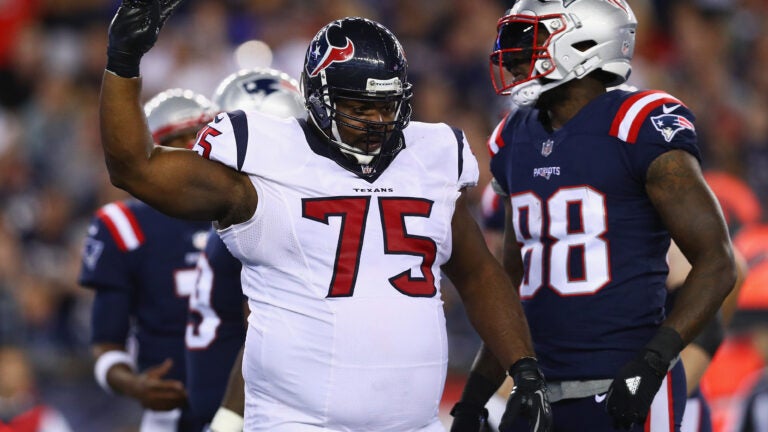 COMMENTARY
Welcome to Season 5, Episode 17 of the Unconventional Preview, a serious-but-lighthearted, occasionally nostalgia-tinted look at the Patriots' weekly matchup that runs right here every weekend.
I'm trying to buy it. I'm trying to buy it when Bill Belichick says of their opponent in the AFC Divisional Round, the Houston Texans: "This will be a big challenge for us this week to be able to compete with them."
I'm trying to buy it when Tom  Brady says, "There is nothing easy about this game for our offense."
I'm trying to buy it when Julian Edelman says it's the best team they've played all year, even though the Patriots always speak highly of every opponent — especially those opponents they are expected to clobber. And oh, are they ever  supposed to clobber the Texans: They are 16-point favorites, having shut them out way back in Week 3, 27-0, with rookie Jacoby Brissett at quarterback.
You hate being overconfident or cocky about any opponent, especially come the playoffs, where one no-show ends the season. The Texans do have some real strengths, including the league's top-ranked defense.  But the reality, as much as we fight the urge to deny it, is this: A Texans victory would be an all-time playoff upset. And the chances of that happening are roughly the same as J.J. Watt dodging and eluding every camera aimed his way.
It's a good thing the Patriots aren't overconfident. Because some among us have found the expectation of a rout impossible to resist.
Kick it off, Gostkowski, and let's get this thing started …
THREE PLAYERS I'LL BE WATCHING NOT NAMED TOM BRADY
Vince Wilfork: Can this be right? NFL.com has our favorite icebox-disguised-as-a-nose-tackle with 43 total tackles during his two seasons with the Texans — 21 last season, and 22 this year. Seems like he would have more, doesn't it? I could swear that at least twice a game a running back gets swallowed up in his Maytag torso for a regrettable 1-yard gain. The stats may not be all that impressive nowadays — Wilfork doesn't have a sack since 2012, the year before he blew out his Achilles' — but he has played all 32 games since joining the Texans two years ago, and his teammates will vow that he's an important cog in their top-ranked defense. As far as second acts go, it's a successful one, especially for an ex-Patriot. Wilfork, who is 35 now, has indicated that he may retire after the season. It would be appropriate if his final game took place at Gillette Stadium, the scene of many great triumphs during his time here. And should he retire, that would leave Tom Brady, Adam Vinatieri,  and Ben Watson (who missed this season with a torn Achilles') as the only active players remaining from the 2004 Super Bowl champs.
Nate Solder: This, from Andy Benoit's Patriots-Texans piece on theMMQB.com titled "Jadeveon Clowney is the Texans' Only Hope."
Jadeveon Clowney gives the Texans their only realistic chance of pulling off an all-time upset at New England on Saturday night. Nobody on the Patriots can block the third-year dynamo; they'll have to neutralize Clowney schematically.
I agree with the first part: To prevail, the Texans need to win the turnover battle by at least two, maybe three. (Maybe four.) Their best hope for doing so is that Clowney morphs into 1982 Lawrence Taylor and forces a fumble (or a poor throw) with a hit from Brady's blindside. However, I'm not sure I agree with the second part. It's gone mostly unnoticed, but Nate Solder has had an excellent year at left tackle. He has not allowed a sack since the loss to Seattle in Week 10; since then, the Patriots have faced the Rams, Ravens, and Broncos among other teams, all of whom were presumed to have a strong defensive line and a potent pass rush. Clowney, the No. 1 pick in the 2014 draft who is a menace now that he is finally healthy, had a huge interception in the wild-card round win over the Raiders, and finished the season with six sacks. He's really good, and he must be accounted for at all times. But let's remember that Solder, the guy who will be charged most often with blocking whim, has had a hell of a year himself.
LeGarrette Blount: If there's any genuine mystery heading into the weekend, it's the condition of Blount, the tough and dependable running back who set a franchise record with 18 rushing touchdowns this season. He missed practice the past two days because of illness, leaving the facility Thursday after reportedly showing up for an early workout. Blount has had a four- and a three-touchdown game in the playoffs in recent seasons, and as the hardest runner among their three-headed running back monster that also includes Dion Lewis and James White, he figures to play his usual important role against a top-ranked Texans defense that is just 12th in the league against the run. The Patriots can probably survive and advance without him, but here's hoping we don't have to find out.
GRIEVANCE OF THE WEEK
My hunch with the Class Reunion of the Credentialed and Sanctimonious — aka the Pro Football Hall of Fame voters, who gather in the buildup to the Super Bowl to decide this year's Canton inductees — is that they're going to elect two players who had preseason end-of-career cameos with the dynastic Patriots (Torry Holt, John Lynch) but put Ty Law on hold for at least another year, if not more. I'm so sure that Law, who made the cut to the final 15 candidates, is going to be passed over that I'm already annoyed and it hasn't even happened yet.
There should be no doubt in any Patriots fan's mind that Law is deserving a bust that looks nothing like him and a mustard colored jacket, aesthetically hideous prizes that mean the world because of what they represent. He was a five-time Pro Bowl selection, a two-time first-team All-Pro, intercepted 53 passes, took seven back for touchdowns, and was still a viable cornerback into his mid-30s. That's a fine resume. He belongs in this class, along with LaDainian Tomlinson, Terrell Owens, Kurt Warner, and maybe Lynch.
It's Law's team achievements — or I should say, his vast contributions to the Patriots' unprecedented run of success in the free-agency era — that should put him over the top. Law was three-time Super Bowl champion, and while he was injured when the Patriots beat the Eagles in Super Bowl XXXIX, that's balanced by his MVP-caliber performance in the franchise's first championship victory. In Super Bowl XXXVI, Law picked off a Kurt Warner pass and returned it for a touchdown, giving the Patriots a 7-3 lead and confirmation of their belief that victory could be theirs. He also physically dominated Rams receivers during that game — Holt among them — and established his reputation as a cornerback who as at his best in big games against lauded opponents.
Peyton Manning, who was picked off by Law three times in the 2003 AFC Championship Game and was tormented by him on other occasions, has joked that he should be Law's presenter on the day he is inducted. That day should be sooner rather than later. I'm sure presenter Ron Borges will make a compelling case for Law to his other voters, just as he did when Andre Tippett was finally elected. Here's hoping the credentialed and the sanctimonious actually listen.
PREDICTION, OR HAVE THE TEXANS CONSIDERED ASKING PEYTON MANNING IF HE WANTS TO REPLACE BROCK OSWEILER FOR OLD TIMES' SAKE?
All right, I'll answer the only question about this game that matters: Is there any way the Texans can pull off the upset? The answer is a conditional yes. They can win, but they need more than one improbable thing to happen. They need all of the following improbable things to happen. These are the conditions: Jadeveon Clowney needs to channel Von Miller from last year's AFC Championship Game, the Texans need to hit on every useful trick play in their playbook (not unlike the Patriots against the Ravens in the divisional round two years ago), the Patriots need to finally miss Gronk, the Texans need to be plus-3 (or plus-4) in the turnover battle, Bill O'Brien needs to recognize a weakness in Tom Brady that he never noticed during his time as the Patriots offensive coordinator, Dave DeGuglielmo needs to pull a bloody game-day coup on Dante Scarnecchia and reclaim the offensive line as his own, and the game needs to be played in the thin air of Denver. We don't know everything that will or won't happen — but we know this ain't being played in Denver. Patriots 37, Texans 10.