Patriots
34 thoughts on the Patriots' victory over the Texans
Performance is sloppy at times, but Tom Brady and Co. advance to sixth straight AFC Championship Game.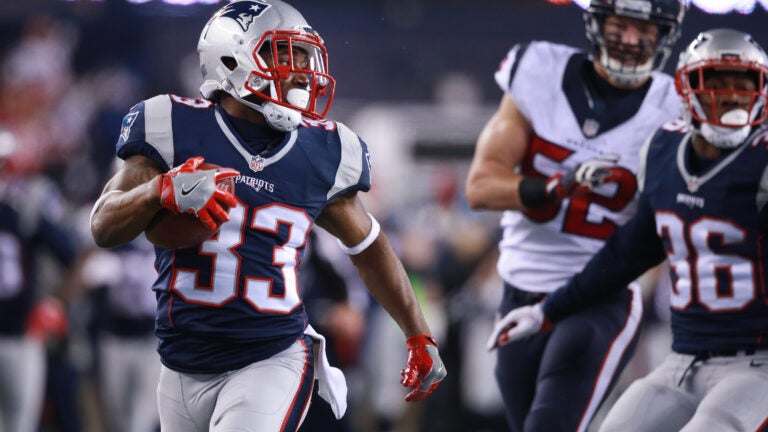 COMMENTARY
1. So, when did you finally exhale? Was it when Dion Lewis scored his third touchdown of the game to put the Patriots up 31-16 with approximately 12 minutes left? When Danny Amendola extended the next Patriots possession drive midway through the final quarter on a reverse in which Tom Brady threw a helpful block? When Stephen Gostkowski stopped thinking about how the guy who fixes the copier feels and nailed a 43-yard field goal to make it a three-score game? Later? Definitely not sooner, right?
2. Or maybe you haven't exhaled quite yet. That certainly wasn't the most tense playoff victory of the Belichick/Brady era. But it might have been the most tense victory in a game they ultimately won by 18 points. It's probably not the first thing on your mind in the aftermath, but can you believe they covered the spread with that performance?
3. I wondered whether the Broncos would have won the Super Bowl last year had they kept Brock Osweiler at quarterback last year rather than turning the job back over to knuckleballer Peyton Manning. I think his performance Saturday – which included three second half interceptions – answers that question. Osweiler had a defense akin to the one Manning let carry him to the title last year, and he screwed up pretty much every golden chance they gave him.
4. It felt like this game took forever, especially after the Patriots got it under reasonable control in the fourth. Every tick of the clock seemed to take five seconds in real time. The stress of the playoffs, man. It slows time.
5. Don't know about you, but I'm not ready to think about what's coming up yet. We'll sort it out after Sunday's matter between the Steelers and Chiefs is settled. But the inclination is not to worry too much about whether their sloppy play Saturday night is indicative of a tough road – and perhaps a dead-end road – ahead. This is a really good team that played a subpar game and still won. I trust they'll be much better next weekend.
6. Belichick will humble them this week if their performance didn't. And I'm not sure humbling is necessary anyway. We all took the Texans for granted. Maybe the Patriots did too, though I tend to think their problems stemmed more from the proud, vicious Houston defense being wholly worthy of its No. 1 ranking than of any underestimation for their opponent.
7. In the future, I'll remember to respect Bill O'Brien and Romeo Crennel no matter what the Vegas odds or early-season results suggest. That defense is legit, and their game plan was excellent. Their offense just isn't good enough yet.
8. That was the 32nd postseason game of Tom Brady's career. It was probably in the top half-dozen of his most frustrating. A couple of the big plays he hit seemed more by heave-it-up luck than by design. When the Texans started hitting him and refused to relent, he started looking for flags. He threw two picks, or as many as he threw during his 12 regular season games.
9. Dion Lewis's touchdown catch, which put the Patriots up 7-0 at 9:27 of the first, came on a little swing pass in which he ditched Houston linebacker Bernardrick McKinney with the kind of effortless acceleration that was straight out of his pre-injury highlight reel. If he wasn't fully back before, he is now.
10. You probably figured by now that the previous item was written before his 98-yard kick return, which put the Patriots up 14-3. Or his fourth quarter touchdown run, which gave him a touchdown hat trick (kick return, receiving, rushing).
11. If he'd managed to throw for one, he'd have one-upped David Patten against the Colts in 2001. As it was, he was the first player in postseason history to score on a kick return, a pass, and a run.
12. If this is the end of Vince Wilfork's career, it's appropriate it ended at Gillette Stadium, in front of a fan base that truly appreciates him. I'll hear the argument that he's a Pro Football Hall of Famer. But he's a shoo-in for the Patriots Hall of Fame. Better get working on that size XXXXL red jacket now.
13. This might have been the best game of Logan Ryan's career. The enormity of his fourth-quarter interception (and return to the Houston 10) cannot be exaggerated. And he had a couple of deflected passes early in the game, as well as his usual steady tackling. Don't be surprised if he gets paid big-time in the offseason.
14. Brian Cushing, whose forehead seems to grow with each passing season and who carries himself like a high school bully in a clichéd '80s movie, laid out Martellus Bennett on Lewis's catch-and-run, then had a nice view of Lewis's jaunt to the end zone on the Patriots' first touchdown. The bully always loses in the end.
15. And as I wrote that, Jim Nantz told the audience about how Cushing is the Texans' nominee for the Walter Payton award. OK, then. I would like to amend that to bully on the field. Forehead is still huge, however.
16. I hope Belichick was miked up for this game, because I want to hear exactly what he said and how many expletives were required to say it when he ripped Eric Rowe after the cornerback's boneheaded play aided the Texans' first quarter scoring drive, which culminated with a Nick Novak 33-yard field goal. Rowe got hit with a 15-yard unsportsmanlike conduct penalty while trying to yank a Texans player from the pile after DeAndre Hopkins's 10-yard catch on third and 18. It was the kind of moronic play the Patriots rarely make.
17. Have to assume Michael Floyd was a half-step from precisely where he was supposed to be on Brady's second-quarter interception, because Floyd was a half-step from catching the ball and perhaps running for a while. Instead, Floyd had to lunge for the throw, and it ricocheted off his hands to Texans defensive back A.J. Bouye. It was just Brady's third interception of the season. I find it hard to believe that one was on him.
18. The theory was that for the Texans to hang around, they would need a couple of fortuitous bounces, well-timed turnovers, and uncharacteristic Patriots blunders. They got all of the above in the frustrating second quarter – most notably, a Brady interception that set up one field goal (making it 14-6) and a fumble from Dion Lewis on a kick return which the Texans recovered and converted into a touchdown drive.
19. On Lewis's fumble, the ball initially bounced right at Brandon King's feet, but he didn't see it until it was too late. The Texans recovered on the Patriots 12. Two plays later, Brock Osweiler found C.J. Fiedorowicz on a perfectly executed misdirection play, and suddenly what was shaping up to be a blowout in the first quarter was a one-point game before the second quarter was halfway over.
20. The Patriots went three and out on their next drive, with Whitney Mercilus rushing up the middle to sack Brady on third and 5. And suddenly, this game was starting to feel like a flashback to some of the Patriots' more frustrating playoff losses through the years. You know the ones.
21. Mercilus buried Brady again on the Patriots' next possession, and Jadeveon Clowney also crushed the quarterback on a rush up the middle, though his was not a sack. The Texans clearly believe the theory that the way to rattle Brady is to get after him up the middle, and they have the personnel to do it.
22. Don't know about you, but I was OK in the moment with the decision to forego a 55-yard field goal attempt by Stephen Gostkowski to play the field position game with about 6 minutes left in the first half.
23. Ryan Allen did his job, pinning the Texans on their own 4. That would have been a good spot for Brock Osweiler to make a costly mistake, and it damn near happened, with Rob Ninkovich swatting away a third and 3 pass.
24. The Patriots hit on a couple of huge, and perhaps fortunate, plays in the first half, including a 45-yard throw to Chris Hogan that had the arc of an Aaron Rodgers Hail Mary. Brady threw a couple of passes up for grabs in this one that, fortunately, his receivers grabbed.
25. Thank goodness Hogan started playing football after he exhausted his lacrosse eligibility. He suffered some kind of thigh injury in the second half. Hopefully it's nothing much, because with Malcolm Mitchell out and Michael Floyd looking a little shaky Saturday, they can't afford any more attrition there.
26. But the bigger one was a 48-yarder to Julian Edelman just before the 2-minute warning. Brady, who had more than a split-second to throw for once, directed Edelman down the field, then hit him with a dart inside the Texans 30. The play came on third and 9, when the momentum was tilting Houston's way.
27. Even then, the Texans came out of the drive with a moral victory, holding the Patriots to a Stephen Gostkowski field goal after a first-and-goal situation inside the five. James Develin was stopped near the goal line after a quick pass that looked like a certain touchdown on second down. Then, LeGarrette Blount, who had two carries for 2 yards in the first half, was stopped on a third-and-a-couple-of-feet run.
28. Maybe Blount isn't entirely healthy – he missed two days of practice due to illness this week. That would be about the only justification for giving him one touch inside the 3 on that final first-half possession.
29. The knock on Josh McDaniels is that he's quick to abandon the running game when the going gets tough. He didn't entirely do that – the Patriots ran 9 times to 13 passes in the first half. But Blount was a non-factor due to usage rather than anything the Texans did to stop him. The Patriots clearly preferred Lewis against this Texans defense.
30. I'll admit it. When the Patriots led 17-14 and took over on their own 10 midway through the third quarter, I wasn't expecting a nine-play, 91-yard drive based on what we'd seen to that point. That, of course, is exactly what happened, with Brady hitting on 6 of 7 throws, culminating with a 19-yard TD pass to James White.
31. Felt like we were waiting all night for a mistake by Osweiler, who just is not good. It finally came on the Texans' next possession after the Patriots went up 24-13 in the third quarter when Devin McCourty picked him off along the sideline and took it to the Patriots 44. The Patriots couldn't turn it into points, but it was the start of Osweiler's overdue collapse.
32. Matthew Slater will have the strangest career highlight reel of any six-time Pro Bowler in history. But his catch of Ryan Allen's punt inside the 5 with a little more than five minutes to play in the third quarter belongs on it, because it's a perfect example of his value.
33. Weirdest two-play plot twist in a weird game? The Patriots returning Osweiler's third-quarter fumble for a touchdown, then having the call correctly changed to an incomplete pass, then, on the next play, watching Will Fuller get a step on Malcolm Butler, only to drop what would have been a 55-yard touchdown reception. I know, that barely makes sense. This game barely made sense.
34. As frustrating as Brady's performance was at times, it's not tough to keep it in context. Yeah, he struggled at times. It was also his 32nd career playoff game; he's won 23 of them. So over 16 seasons, against the iron of the league during that span, he's played two full seasons' worth of games in the postseason and won nearly 75 percent of them. If that doesn't confirm he's the greatest quarterback ever – even on his not-so-greatest day – I don't know what does.