Patriots
Patriots owner Robert Kraft says Donald Trump will be 'great' for the economy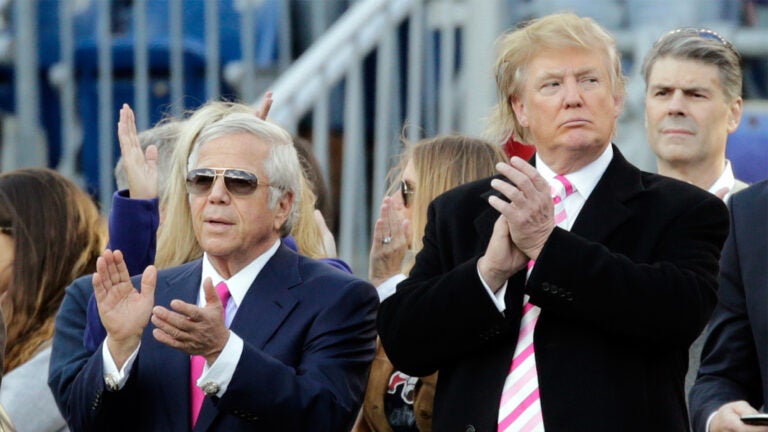 New England Patriots owner Robert Kraft has made a habit of donating money to Democratic politicians. In fact, of all 32 NFL team owners, Kraft donated the most money to President Barack Obama's 2012 re-election campaign.
And yet, the 75-year-old Patriots owner also has very fond words for his close friend President-elect Donald Trump.
"Loyalty is important to me, and he has been a wonderful friend," Kraft told The New York Times in a feature piece published Thursday.
The article mostly focuses on Kraft's relationship to the NFL and league commissioner Roger Goodell. Yet on the eve of Trump's inauguration, Kraft said the policies of his fellow septuagenarian billionaire will be "great" for the country's economy.
"I think one of the great problems in the country today is the working poor, the middle class, that there hasn't been growth in income on an equal basis, and I really think the policies he's going to bring to bear are going to be great for the economic side of America," said Kraft, who told the Times he first met Trump when the real estate magnate invited him to play golf 20 years ago at his club in West Palm Beach, Florida.
Kraft—as well as Patriots coach Bill Belichick and quarterback Tom Brady—has garnered scrutiny for their close ties to the combative president-elect, especially in predominately Democratic Massachusetts. Belichick wrote Trump a complimentary letter on the eve of last November's election, which the Republican candidate then read aloud at a rally. And ever since a "Make America Great Again" hat was spotted in Brady's locker, the Patriots quarterback has been put on his heals by continuous questions from the media about his relationship to Trump.
On the eve of the last year's Massachusetts primary, Kraft told The Boston Globe that Trump was a "very close friend." While uncomfortable publicly discussing politics, Kraft said they "have had a lot of fun together socially," and added that Trump was very supportive following the death of Kraft's wife, Myra, in 2011. The soon-to-be-inaugurated president was also been a somewhat frequent visitor on the Patriots sidelines.
Roughly two weeks before the election, Kraft declined to say whether he was supporting Trump or his Democratic opponent, Hillary Clinton.
"I just put America first, and don't get involved in politics," he told CNBC, somewhat dubiously, given his substantial history of political campaign contributions.
The week after the election, Kraft was spotted paying the victorious candidate a visit Trump Tower.