Donald Trump
Tom Brady says he doesn't know why his friendship with President Trump is 'such a big deal'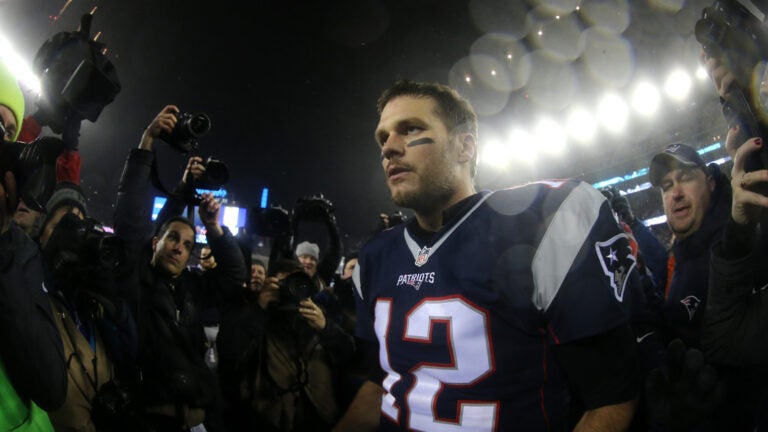 Tom Brady seemed to have all the answers in Sunday night's AFC Championship Game against the Pittsburgh Steelers. But the New England Patriots quarterback does have one question: Why does everyone care so much about his friendship with President Donald Trump?
"Why does everybody make such a big deal? I don't understand it," Brady said Monday in his weekly interview on WEEI's Kirk and Callahan.
"I don't want to get into it, but if you know someone it doesn't mean you agree with everything they say or they do," he said of friendship with Trump, according to a transcript of the interview.
"You have a lot of friends in your life," he added. "I think there are things that are based in your own dealings with someone that is a personal dealing, not a public dealing. Because you have personal experiences."
For roughly 15 years, Brady has maintained a cordial, golfing-centric relationship with the combative, newly-inaugurated president, who has somewhat frequently visited the Patriots sidelines.
Brady suggested that he didn't believe in everything Trump said, but added, "Not to denounce anything. There are different things." He went on to compare his relationship to the Republican president with his relationship with show host Gerry Callahan, who also has outspokem conservative political views.
"I've known Gerry for a long time and I would consider, I don't know friends, but would be very cordial if I saw you and I think we would have a lot of things to talk about," Brady said. "I don't agree with everything. That's fine, right?"
Earlier in the interview, Brady was asked to confirm whether he called Trump to congratulate the president before his inauguration, as Trump had claimed. Brady had initially declined to answer, when asked about it last week.
"I have called him, yes, in the past. Sometimes he calls me. Sometimes I call," he said Monday. "But, again, that's been someone I've known. I always try to keep it in context because for 16 years you know someone before maybe he was in the position that he was in."
As he has in the past, Brady reiterated that Trump, who often name-dropped the quarterback on the campaign, had always been supportive and that their relationship was "just a friendship."
"I have a lot of friends," he said. "I call a lot of people."
On the subject of Trump, Brady repeatedly told the radio hosts that he mainly tries not to be a distraction for the team, as they begin to prepare for Super Bowl LI, and works to maintain a generally positive approach to life.
"This world could use a little more positivity," he said, later adding, "I don't like negativity. I don't like a lot of confrontation. Those things don't make me feel very good. I wouldn't be a good talk show host."