Patriots
The keys to Tom Brady's carefully curated social media presence
"The messages all root back to who I am and how I try to live my life."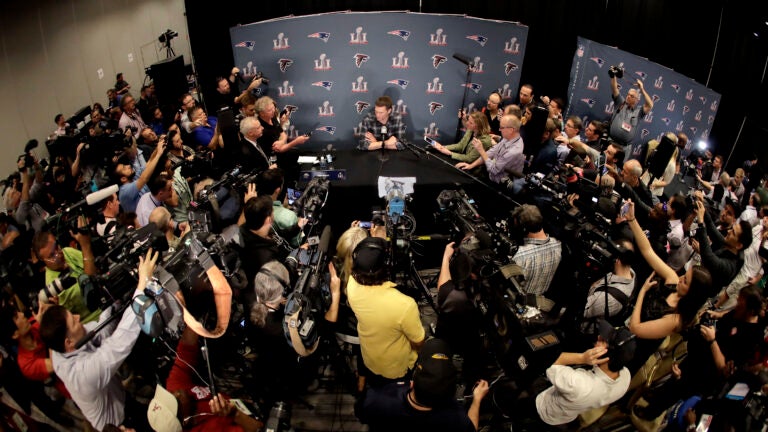 FOXBOROUGH, Mass. (AP) — A bona fide superstar with a Hall of Fame resume, cover boy good looks and a supermodel wife to match, Patriots quarterback Tom Brady has somehow managed to maintain a veneer of privacy in New England despite spending much of the last 16 years coming into fans' homes on their high-definition TVs.
His answers to reporters seem designed to avoid, most of all, providing opponents extra motivation in an upcoming game. Ask him about politics or family, and Brady is likely to smile away the question with a polite, "Anything about football?"
But the four-time Super Bowl champion, who is looking to add a fifth ring on Sunday against the Atlanta Falcons, has cultivated a social media presence that — while not exactly baring his soul — does allow more of a glimpse into his personality and personal side. Along with a cautiously curated feed of inspirational messages — ranging from Bruce Lee to Martin Luther King Jr. — Brady offers shots of his family or football life that fans don't usually see. (And shout-outs to his sponsors; his TB12 logo also seems to find its way into most pictures .)
When Brady was fighting cheating allegations in the scandal that came to be known as "Deflategate," his Facebook page was often the place he went to tell his side of the story to his 4.14 million followers — more than all but six NFL teams, according to the website Trackalytics. He joined Instagram last month — after teasing his new social media choice on Facebook — and already has a million followers checking up on what so far is an array of 15 action shots, family photos and motivational videos.
"I want my pages to represent who I really am," Brady said this week in an email interview with The Associated Press relayed through his public relations representatives. "The messages all root back to who I am and how I try to live my life. In reality, my goals and my approach to life are pretty simple. I want to be the best father and husband I can be, the best football player I can be, represent my family well, and share what I've learned over the years about sustaining peak athletic performance with athletes around the world."
Here are some other ways Brady gives fans a peek behind the curtain:
FAMILY LIFE
During his four-game suspension to open this season, Brady went back to Michigan to serve as the honorary captain before the Wolverines game against Colorado and posted a video of himself throwing a touchdown pass in the empty stadium to his son . (His wife, supermodel Gisele Bundchen, cheered Patriots fans up by sharing with her 11.2 million Instagram followers a picture of him throwing her a pass with the caption, "Don't worry guys. I will keep him ready.")
Brady's kids make occasional appearances on his Facebook and Instagram posts. Other shots show him celebrating wins.
Brady said one thing he liked about Instagram was keeping up with what his teammates and friends are doing. He formally follows only six accounts — four sponsors, the Patriots and Bundchen, who also posts family photos on her account.
"It's also a great tool to source inspiration," Brady said. "I often find a lot of great quotes from the accounts I follow."
INTERACTION
Brady keeps more of a distance from his followers than some athletes, like soccer star Wayne Rooney or even former teammate Chad Ochocinco, who would tweet out meet-ups with fans during his tenure in New England.
This winter, though, Brady hid three pairs of autographed slippers around Boston and posted pictures of the surroundings as clues. When a fan named Luke Borosky posted that he fell and lost a tooth trying unsuccessfully to find the treasure, Brady wrote back and promised to send a pair his way.
"I should do it more often," Brady said. "But every once in a while I'll throw a comment or a like in when I see something that makes me smile or I think of something that could make another person smile."
AW, SHUCKS
But Brady's ability to poke fun at himself is the real treasure of his social media accounts.
While his fans certainly don't need to like him on Facebook to find out if the Patriots won, his Facebook page usually follows up a game with a hokey cartoon newspaper called the "TB Times."
After the conference title game, "Pats Torch Steelers" ran above a drawing of Brady with a blowtorch producing another AFC championship trophy — with sketches of a Super Bowl trophy on the table next to him. (Against Baltimore, he was "Thomas Allen Poe," working at his table on football plays under a headline, "Ravens Nevermore.")
On a video that was posted during the week before the AFC title game against Pittsburgh, he attended the "Seabass School of Football," where teammate Sebastian Vollmer tried to teach him German . "Hopefully I do better at this school than others," Brady says sheepishly. "People tell me you're good at stuff," Vollmer responds dismissively.
Tom Brady visits Seabass' School of Football. https://t.co/R0p9VzCLxo

— Sebastian Vollmer (@SebVollmer) January 18, 2017
(Brady appears to do better wishing his Instagram followers a Happy Chinese New Year in Mandarin while his daughter giggles happily from below.)
"I think every post should be meaningful. I never want to waste people's time," Brady said. "I try to share what I feel is worthwhile and representative of what I believe in — things like family, love, grit, wellness, hard work, teamwork, positivity. It's a way for me to channel who I am and what I care about. My hope is that it's always a very positive experience for my fans."
___
AP NFL website: www.pro32.ap.org and www.twitter.com/AP_NFL