Patriots
Unconventional Preview: Patriots won't take the Falcons lightly, and we shouldn't either
Expect plenty of suspense in Belichick and Brady's quest for a fifth Super Bowl title.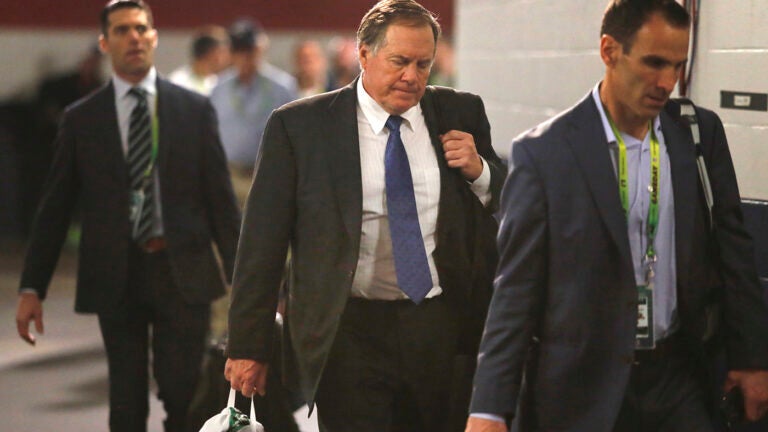 COMMENTARY
Welcome to Season 5, Episode 19 of the Unconventional Preview, a serious-but-lighthearted, occasionally nostalgia-tinted look at the Patriots' weekly matchup that runs right here every weekend.
HOUSTON — Episode 19? Well now. Sweet. You get to episode 19 of this sucker, you know it's a season to savor.
On that note, before we dig into what should be a terrific, tense game, a brief moment to marvel at what we're witnessing. I won't go overboard, because I do nag you guys a lot to appreciate what we're witnessing here, and I believe the vast majority of you do.
But I just wanted to point something out that offers one more piece of perspective on what the Patriots have accomplished in an age in which dynasties are not supposed to exist. The Patriots are in their seventh Super Bowl in the past 16 seasons. The Falcons are the sixth opponent the Patriots will face in those appearances.
The Patriots are in their fourth Super Bowl in 10 years, with seven AFC title game appearances in that time. The Falcons are the eighth different NFC team in the same span to reach the Super Bowl. And the Patriots won three Super Bowls from 2001-04, as you may know. The Patriots get a lot of notice for this run of dominance, and still they don't get enough. There is nothing like it in the sport's history.  Never forget to savor it, even as it lives on and on.
To the game …
I usually don't talk about the quarterbacks here. But we've got to talk about the quarterbacks. This has a chance to be one of the best QB duels in Super Bowl history — better than the Terry Bradshaw/Roger Staubach matchups, perhaps even better than Brett Favre/John Elway, and definitely better than Trent Dilfer/Kerry Collins.
This one pits the prime-of-career quarterback who, deservedly, won the league's Most Valuable Player award against the legendary, still-in-his-prime-at-39 quarterback who would have won the MVP if he hadn't been banished for four games because Roger Goodell really wants Jerry Jones to like him.
Falcons quarterback Matt Ryan's season has been so extraordinary that statistically, it looks like it belongs on Tom Brady's Pro-football-reference.com page. He led the NFL in passer rating (117.1), was second to Drew Brees in passing yards (4,944), and threw 38 touchdown passes against just seven interceptions while helming an offensive that scored 33.8 points per game, the eighth-most all-time.
It would be a satisfying paragraph in Tom Brady's redemption/vengeance story if he won the MVP while playing just 12 games this year. But Ryan deserves it.
Kick it off, Gostkowski, get the flashbulbs popping, and let's get this thing started …
THREE PLAYERS I'LL BE WATCHING NOT NAMED TOM BRADY
Dion Lewis:  It's funny, I asked readers in the Sports Q (check it out — it's a good time for all, except for trolls!) the other day who might emerge as this year's Malcolm Butler, a relatively unknown or underestimated player who rises to the occasion. There were some great answers — James White, Eric Rowe, Kyle Van Noy and Duron Harmon were popular choices. But Lewis got a lot of votes. I get where people were coming from — I suspect he will be a huge factor in the running and passing games — but he's no unsung hero. Dude is pretty sung. Lewis's overall numbers aren't spectacular because the Patriots have used him judiciously since he returned from his knee injury, but anyone who watches this team knows that he is a star when the football is in his hands. If the Patriots win, Brady is the safe bet to win the MVP Award. But Lewis is a very intriguing sleeper pick. Sunday is his time to show the world what the Patriots have in him.
Mohamed Sanu: I know, this is supposed to be Julio Jones's spot, the most dangerous man on the Falcons' loaded offense. But did you hear this crazy stat this week? Jones, the Falcons' huge and electrifying receiver, was held under 100 yards eight times this season. The Falcons' record in those games? 7-1. The Patriots have to find a way to relatively contain Jones, but doing so does not mean their passing offense fades into ineffectiveness. Taylor Gabriel can bust loose at any time — you don't get nicknamed Turbo for nothing — but Sanu is the receiver who scares me more. He has a touchdown in each of the Falcons' playoff wins, and he's a player the Patriots have long respected. He's also a threat to throw if the Falcons choose to go the trick-play route.
David Andrews: Yep, probably getting too cute by half here by citing the center, but you know why I'm doing it if you know the Patriots' Super Bowl history. In the Patriots' two Super Bowl losses to the Giants, Brady was affected by pressure up the middle, as any mortal or immortal quarterback would be. (A bum ankle in the first one made him a sitting duck for Justin Tuck and the rest. Sorry for the bad flashback, man.) The Falcons' pass rush almost entirely comes from Vic Beasley (15.5 regular-season sacks), who will be lined up over Marcus Cannon. This bodes well, but if Atlanta somehow gets an unexpected push up the middle against Andrews — who struggled against the Texans but was stout against the Steelers — the Patriots' passing game could face more issues than anticipated.
GRIEVANCE OF THE WEEK
I skipped the Roger Goodell press conference Wednesday. Had another assignment at the same time. The positive of that is that I didn't have to listen to his pretzel logic and utter disregard for the truth (the court didn't rule you were right about Deflategate, you dolt, it ruled you had the power to execute your witch hunt) in person this time around. Got enough of that two years ago. So while his existence is my permanent grievance-in-residence over here, he does not get first-place this week.
That dishonor goes to his predecessor. Paul Tagliabue was up for induction in the Hall of Fame Saturday night, and I'm not really sure why. The league grew on his watch and made billions of dollars, yes. But that's nothing anyone is going to give a damn about at the Hall of Fame. You don't go to the NFL Experience to learn about the history of commissioners and their mad cash-flow skills, you know?
Tagliabue had his admirable moments. He basically Ray Guy'd Goodell's ego when, after being brought in to conduct an independent appeals hearing after the current commissioner leveled harsh penalties against the Saints in Bountygate; he vacated those penalties in a December 2012 ruling. He also has been critical in recent years of Goodell's cronyism and emphasis on financial matters above all else. He doesn't seem to like him very much. Point, Tags.
But — and this should be damaging to him — he was dismissive of the NFL's growing concussion problem in 1994, calling it a "pack-journalism issue" and saying there was no increase in concussions and that the number was relatively small. He expressed remorse for those comments just a few days ago, but that's not something that should be lived down with an apology 23 years and countless CTE-related tragedies later.
He missed the cut this year, but he'll probably get in eventually. And if you want a real grievance to tuck away for the future: Goodell probably will too someday.
PREDICTION, OR TERRY BRADSHAW WAS JOKING WHEN HE SAID HE'D DROP THE LOMBARDI ON BRADY'S FOOT, RIGHT?
Am I only the one who thinks "One More" — the Patriots' postseason slogan, which is slapped on billboards even on the outskirts of this city — is sort of uninspiring and short-sighted?  Presuming Belichick and Brady remain in place beyond this game — and anything suggesting otherwise is Bayless-low speculation — it seems like one more is setting the bar low. The over/under has to be at least two more, right? I know, such greed.
But I get it. This might not be the last one, but it's the one that matters most. A fifth Super Bowl title for Belichick and Brady ends all arguments about the greatest QB, coach, and QB/coach tandem in the sports history. It probably already is them given how the deck is stacked against dynasties in this era. A win Sunday sacks every argument for anyone else. Even Bradshaw and Troy Aikman have acknowledged as much.
Oh, and it's also about vengeance and comeuppance and introducing Goodell to the feeling of shame for the first time in his life. The scene has not happened yet, but it is already clear: Wearing a wan smile, he hands the trophy to Robert Kraft, who, if he has the appropriate sense for the moment, will hand it directly to Brady before Goodell can high-tail it out of the scene.
This needs to happen, and I believe it will. But it is not going to be easy. The Falcons offense is truly extraordinary, and so, so deep. Their defense is not extraordinary, but it is stunningly fast, and had the youthful habit of giving up a ton of points in the fourth quarter of easy wins. The numbers are misleading. Do not underestimate them.
The Patriots will score on Atlanta. But Atlanta is going to score on them. Experience and coaching are going to be major factors in the Patriots' favor, and so too will be the crowd. Patriots fans have traveled well for this one; the ratio of Pats fans to Falcons fans here is conservatively 5-1, and pretty much the opposite of two years ago in Arizona, when the Seahawks' goofy No. 12 jerseys outnumbered the Tom Brady jerseys by a good number. If the roof is closed at NRG Stadium, it's going to feel more like a home game than a Patriots home game does.
That's going to matter. It will be a helpful factor in the Patriots' win. In past Super Bowls, I thought they would win big. The most they have won by in their four title games is four points, against the Seahawks two years ago. This is how they do this. So kick it through, Gostkowski. It's your hour to be Vinatieri. Patriots 34, Falcons 31.