Patriots
Bill Belichick passed up an opportunity to end Super Bowl 51 in the weirdest possible way
What would be more Belichick than a Super Bowl-winning fair catch free kick?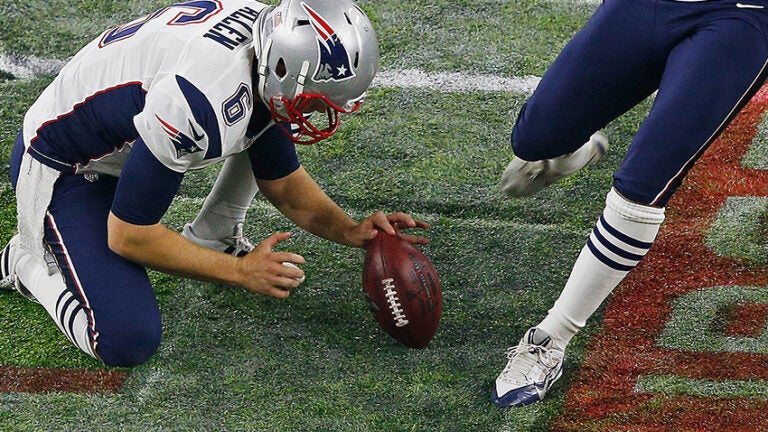 From the game's first-ever overtime to the 25-point comeback to the two two-point conversions, Super Bowl 51 will already go down in history for its incredible ending. And yet, Bill Belichick passed up on an opportunity to end the game in an even more remarkable — and spectacularly bizarre — way, as only the Patriots coach could.
After New England's defense halted the Atlanta Falcons' attempted last-minute drive, Julian Edelman fair caught a short punt from Matt Bosher on the Patriots' own 35-yard line.
With just three seconds left in regulation, it set up an opportunity for one of most obscure plays in the NFL rulebook: The fair catch free kick. Given the Patriots coach's affinity for the most esoteric rules and game scenarios, a Stephen Gostkowski game-winning free kick would have arguably been the most Belichickian ending to Super Bowl LI.
Several observers on Twitter, including yours truly, detected the opportunity with glee:
BILL BELICHICK THIS IS YOUR MOMENT
DO THE FAIR CATCH KICK

— Rodger Sherman (@rodger_sherman) February 6, 2017
FREE KICK TIME

— Andy Glockner (@AndyGlockner) February 6, 2017
the most perfect moment in NFL history for a fair catch free kick and they aren't gonna do it

— Timothy Burke (@bubbaprog) February 6, 2017
Instead, the Patriots opted for a fake kneel play — a respectively weird call — which resulted in a 13-yard Dion Lewis run (and injury), sending the game into overtime.
For those not familiar with the little-known quirk, the fair catch free kick is a play teams can run only after making a fair catch. It allows the receiving team to effectively attempt a field goal from the spot of the catch, but in a kickoff-like format (i.e. the kicker can take a long run-up and the defense must stand ten yards back from the line of scrimmage).
But the defense also can catch and receive the kick if it comes up short, which it often does.
The most recent time the "buried" rule was seen in the NFL was a 71-yard attempt by San Francisco 49ers kicker Phil Dawson in 2013. The last time it was tried in the playoffs was by 49ers kicker Mike Cofer in 1988 game, in which announcer John Madden presciently called the possibility.
There hasn't been a successful NFL free kick in more than four decades (though the Green Packers' Mason Crosby got close from 69 yards in 2008).
In Sunday night's scenario, Gostowski would have been allowed to try a 75-yard attempt from same distance the he would take a kickoff. As former kicker Jay Feely noted, it would certainly be a long attempt, but not unreachable for Gostowski. The Patriots kicker was tied for the most touchbacks in the league in 2015, before the league changed its touchback rules.
Gostkowski has kicked off through the uprights many times from that exact spot

— Jay Feely (@jayfeely) February 6, 2017
As rare as free kicks are in the league — there have only been four recorded attempts since 1984 — Belichick was of course keenly aware of the opportunity. In fact, the Patriots coach talked about the "unusual" rule last week, after the Dallas Cowboys passed up a free kick opportunity in an earlier playoff game.
"Those kind of plays come up sometimes once in a career," he told reporters in a press conference Wednesday, later adding, "Things like that that you don't see or haven't seen in a long time."
Nevertheless, Belichick — a preparation maven and master of football's obscurities — said the team regularly refreshes players and coaches of such chicanery, but noted how specific the situation must be to make a free kick a worthwhile strategy.
"If you just add or subtract a second from the situation or add or subtract a few yards and put a timeout into that equation, with or without it, you get a pretty dramatic shift on what the strategy would be," he said.
As Yahoo Sports reported, the only time Belichick was involved in a free kick was as a special teams coach in 1979 when the New York Giants kicker Mark Moseley tried a 74-yard attempt. It reportedly came up short.
For Belichick, the potential of Gostkowski coming up short and a big Falcons return was apparently too much of a risk Sunday night — as he told reporters after the game.
Bill Belichick confirms he wanted to go with the fair catch free kick but it was just too far.

— Will Brinson (@WillBrinson) February 6, 2017
Of course, the decision ultimately worked out for Belichick and the Patriots. And for fans of NFL weirdness, the fake kneel probably sufficed.