Patriots
Watch Rob Gronkowski catch, drink, and spike beers thrown from the crowd during the Patriots parade
Great hands.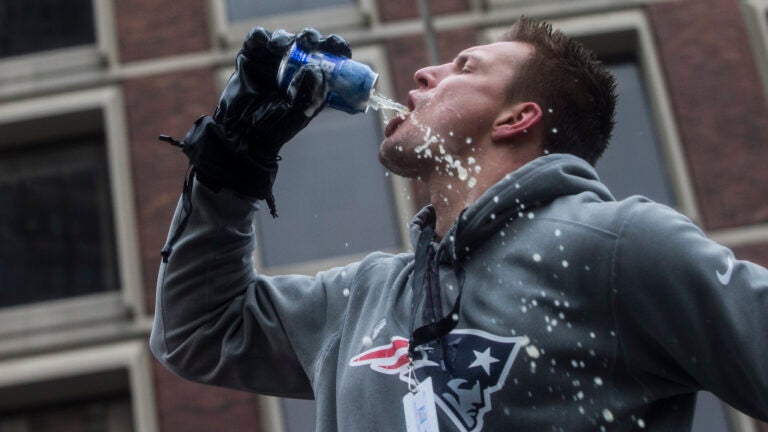 Rob Gronkowski may be recovering from a back injury, but his hands are still good.
If you throw a beer at Gronk he will catch it! #Patriots #PatriotsParade pic.twitter.com/Apa0IbwaeH

— Icculus The Brave (@FirenzeMike) February 7, 2017
The Patriots tight end seems to be having a very good time at Tuesday's victory parade through downtown Boston.
Gronk caught and spiked (as he does) a second beer later in the parade. That's more receptions Tuesday than the injured tight end has had in the last two months.
Gronk Bud Light Spike @stoolpresidente @FeitsBarstool @barstoolsports pic.twitter.com/Dgu8CjQXIT

— Joe Sullivan (@Jsull647) February 7, 2017
Update (1:45 p.m.): And a third.
GRONK BEER SPIKE!!! pic.twitter.com/lhQ0MAbICr

— Steve Perrault (@Steve_Perrault) February 7, 2017
Update (1:52 p.m.): And a fourth:
Went to the Pats parade and weaved through massive crowds to make it back to class by 2, current mood: pic.twitter.com/9HJeJmXj9v

— Maja (@majpaj96) February 7, 2017
Update (2:03 p.m.): And a fifth.
RBs dance and Gronk spikes a beer. pic.twitter.com/tj82BSK6aH

— Mike Reiss (@MikeReiss) February 7, 2017
In case you forgot, Gronk also put on quite a performance at the 2015 parade, which included this brilliant slow-motion video of him catching a nip of Fireball whisky.
In a press conference Monday, city officials reiterated that public drinking at the parade was prohibited. But well… that guidance appears to have been actively ignored in the duck boats. Drink responsibly, I guess?
https://twitter.com/FirenzeMike/status/829018104516792321