Patriots
New England Patriots' vengeance has been served … now what?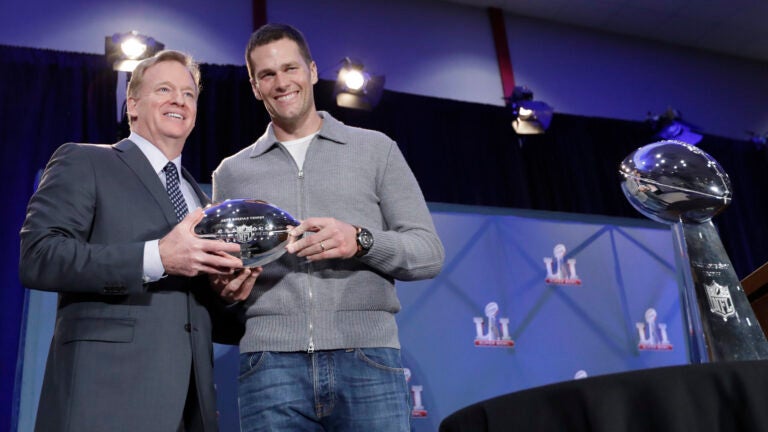 COMMENTARY
The moment most all of New England had waited the bulk of two years for came and went on Monday morning, less than 12 hours after the New England Patriots' improbable overtime victory over the Atlanta Falcons in Super Bowl LI.
There was despised NFL commissioner Roger Goodell, forced to hand the Super Bowl MVP trophy to Patriots quarterback Tom Brady, the man whom Goodell had infamously persecuted in Deflategate, a tiny equipment infraction that somehow grew into an argument of labor laws. Finally, Goodell was going to have to eat crow and face the music, handing the trophy to the player he unfairly suspended the first quarter of the 2016 for reasons "more probable than not."
You know what I felt?
Nothing.
Well, OK, I felt a little something, particularly taking note of Goodell's inane praise of Brady at the press conference when he called him "maybe" one of the best NFL players of all time.
But I'm not sure what else we expected other than to see Goodell act the part of league czar preening for the cameras. Like the man was going to cower and admit wrongdoing, displaying his evident unraveling of power and direction before the other 31 owners of the NFL?
But it was like the author's note at the end of a compelling novel. You might care what the epilogue brought, but the story is over.
Besides, it was the incessant booing at NRG Stadium the night before that truly put the cap on the Deflategate saga, giving thousands of fans the chance to finally deride the commissioner who's too afraid to step foot into Gillette Stadium, based on the certainty of the reaction he'd receive. Goodell won a battle. Brady and all of New England won some ridiculous war.
And it's over.
Finally. Mercifully.
But over.
You're damn right it's cute that Patriots defensive coordinator Matt Patricia walked off the team plane Monday evening clad in a Barstool Goodell Bozo T-shirt. But it also feels like a part of New England that immediately ceased to be in victory on Sunday night, a collective middle finger that suddenly retracted itself back into a fist of victorious celebration. We're not exactly talking identity crisis (although those Red Sox now have to win TWO to catch back up with the Patriots), but there was a certain sort of…I don't know, peace?
Vengeance has been served.
Now what?
So much of Patriot Nation has been preoccupied with a justifiable rage over the last two years, that this moment of serenity feels like an unexplainable riddle. How we got here will be difficult to process until we discover the equations for miracles in football. How we use this launch into a separate sporting stratosphere might take some getting used to.
This mission, we'll call it, is no longer about revenge, but a greater accomplishment. It's about seeing how far Brady and Bill Belichick can bring this football journey, wondering just how great each of them will be when he finally hangs up the cleats at whatever age.
We may get to the point where starting the Greatest of All Time Argument is like asking how much oxygen you'd like today.
But this complex of arrogance that apparently defines New England fans is, frankly, a little too Millennial for the rest of us who grew up with the likes of Hugh Millen, Bill Buckner, and Jeremy Jacobs' wallet. We were Atlanta once upon a time. OK, with more than that one measly title, but the drought was still significant based on our own set terms.
Boston went from 1986 (Celtics) until 2002 ('01 Patriots) without winning a world title, a 16-year stretch that is one of the longest in this town's sports history, much of which has to do with the Celtics' dominance of the NBA landscape during the 60's. We've had two three-year droughts ('04-'07 and '08-'11) over the past 15 years.
My oldest son is nine. He's been alive for six parades. My youngest daughter turns four next week. She's been alive for three. That's a sweet pace. My six-year-old son even happened to be born right after the Bruins' spring collapse of 2010. That's not fair.
But our success over the past-decade plus has brought out — sometimes — the worst in us, a trait that swelled with Deflategate.
"It's possible this attitude could mellow now," Wall Street Journal columnist and Boston native Jason Day wrote.  "After all, the Patriots occupy a lane to themselves. Brady has a sturdy case as the game's greatest quarterback ever. Belichick stands shoulder to shoulder with the coach whose name is on the trophy he gripped late Sunday."
Can we though? Will we truly morph into a people without a target, an underlying storyline that makes the win bigger than the victory itself? There are no more curses to worry about. No more revenge tours to join.
Hell, Clay Buchholz is even gone.
What we're left with is…enjoyment? Appreciation?
Well, this is going to take some getting used to.