Patriots
Everyone loves to hate the Patriots like Boston loved to hate the Yankees
Fans in New England might just be able to relate to their New York counterparts.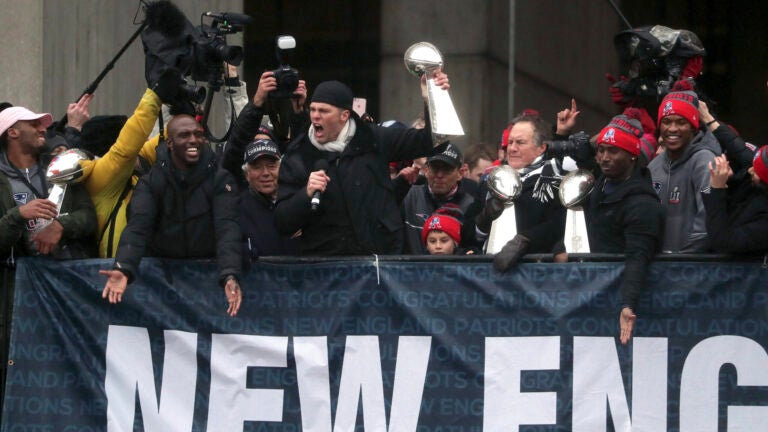 COMMENTARY
It's been a week since the Patriots won the Super Bowl, and looking back now, with the dust about settled, we can safely say that Patriots hate is alive and well outside of New England.
But no matter the inspiration, or the volatile state of this country, as long as the Pats keep winning, people will keep finding ways to hate them. This team, its coach and its quarterback will continue to serve as lightning rods, sources of anger and frustration.
For all the horrible comparisons and questionable associations, here's one that suddenly doesn't sound so bad:
"It's amazing how mad people get when the Pats win," a friend wrote on Monday. "Guess I know how Yankee fans felt all those years."
Now, in case you don't remember, because it's really been a while, the New York Yankees were once a historically fantastic baseball team. Over five years, from 1996-2000, they won four World Series. In 2001, they came within two outs of winning their fifth in six years. There wasn't a more dominant stretch of baseball in four decades before them, and there's been nothing close since. That dynasty was a true dynasty in every sense of the word.
On November 4, 2001, the same day Luis Gonzalez ended the Yankees' season with a World Series walk-off, 24-year-old Tom Brady led the Patriots to a victory in Atlanta. He then led them to wins in 10 of their next 11 games, including Super Bowl XXXVI. Two days later, the city of Boston hosted its first of 10 championship parades over the ensuing 15 years, and if you're old enough you can close your eyes and still remember that afternoon. You can see Brady with that dorky smile glued to his face, living out the first days of the rest of his life. You can see Ty Law and Lawyer Milloy in their mink coats, getting down with Robert Kraft. You can see special teams captain Larry Izzo grab the mic on stage — and lead the crowd in a rousing "YANKEES SUCK" chant.
Yeah, that's right.
A "Yankees Suck" chant.
Now imagine if something like that happened today. Imagine the Buffalo Sabres won the Stanley Cup, and at the parade a few days later, the crowd broke into a "Brady Sucks!" chant.
Imagine how Pats fans would feel.
Imagine how Buffalo fans would look.
That was Boston in 2002.
That's how much Boston hated the Yankees.
That's how wrapped up, focused and frustrated we were by everything they did and represented.
That parade was Boston's happiest sports moment since 1986, yet somehow it was necessary for fans — not all, but enough — to remind the unrivaled best team in baseball, a team that embarrassed them year after year, that they sucked. Objectively, it makes no sense. What's funnier is that these days the Yankees actually kind of do suck. They've missed the playoffs in three of the last four years. The one year they made it was the one game play-in, and they were three-hit at home by the Astros.
So when they suck, no one cares. When they're historically dominant, everyone attacks them. Hmm, that sounds familiar.
So does, at least from a New England perspective, the Yankees' reputation as the "Evil Empire." It was a kingdom built by a ruthless dictator who acted boldly, broke the rules, fought the league, had questionable political associations and stifled personalities to fit a mold he'd created.
Worse, with all the nastiness going on behind the scenes, was that this team was fronted by this soft-spoken kid from Michigan. A good-looking, all-American dude whose life was too cool to be real; who dated famous women off the field and benefitted from every lucky bounce on it. While the world fawned over his every move, his detractors wondered if he was even that good, or just a benefactor of fate and a product of his system. But one thing everyone agreed on is that this guy was deathly allergic to a revealing quote. He never spoke up. He never took a stand. Like Michael Jordan before him, his public image was only about winning. He was a brand. He was a machine. He wasn't totally authentic and that rubbed people the wrong way.
But when it came to rubbing people the wrong way, worse than the ruthless boss and the blessed captain, were the fans. It was Yankees fans who got under your skin more than anything because what did they do to deserve so much happiness? They were merely born in the right place at the right time, but that didn't stop them from constantly and publicly and unapologetically showering in the riches, as if these accolades were something they'd earned while others had not.
That's the way we perceived it.
In reality, we were jealous. In reality, they were just a generation of insanely lucky sports fans who didn't know any better. What were they supposed to do, not celebrate? Not defend their team against constant attacks and criticisms? Not lash out at other fans who had something to say about everything?
They never got sick of winning either. You thought they might eventually, but no — it only made them stronger, and more smug. And the smugger they got, the angrier we got, and the angrier we got, the smugger they got, and then they kept winning and the cycle kept repeating and it got to the point where rooting against the Yankees became as energizing as rooting for the Sox, where a Yankees loss was the world's win, and — hold on now.
Wait a second.
Did Pats fans just become Yankees fans?
Yup.
Should we all go do karate in the garage?
Yup.
This might not be a comparison Boston fans are fond of, but let's be honest, after two weeks spent lumped in with far worse, Yankee fans aren't so bad.