Patriots
Robert Kraft on HBO's 'Real Sports': 'Envy and jealousy are incurable diseases'
The Patriots owner says haters will continue to hate because of team's success.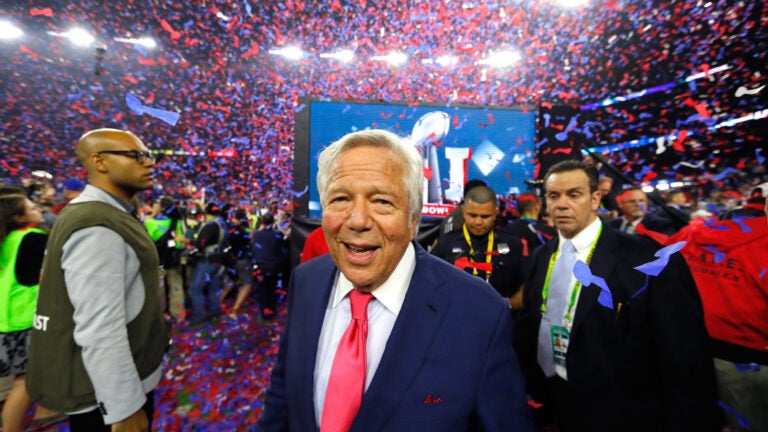 Patriots owner Robert Kraft, in a profile on HBO's Real Sports airing Tuesday night, offered a sharp answer when asked what he thinks of the critics who accuse the five-time Super Bowl champions of succeeding through sometimes dubious measures.
"Envy and jealousy are incurable diseases,'' said Kraft, who provided access to reporter Andrea Kremer in the lead-up to the Patriots' victory in Super Bowl LI. "The haters still hate. And I understand it, and we'll do our best to keep them in that position."
Kraft said the two-year Deflategate saga – which was punctuated and perhaps avenged with the Patriots' 34-28 overtime victory against the Falcons in the Super Bowl – bothered him deeply. "I go back to my Dad and he said, 'The most important thing you can earn in life is a good name.' That is impacting our good name or our reputation. And it wasn't something that I appreciated," he said.
It especially bothered him, he said, when it came to how Deflategate affected Tom Brady, who was suspended for the first four games of the 2016 season by NFL commissioner Roger Goodell.
"He's just not the greatest quarterback in the history of the NFL, he's an amazing human being," Kraft told HBO. "And is genuine. And as nice as everybody thinks he is, he's nicer. And to see anyone attack him as an individual or his integrity. And that just wasn't fair."
In the end, Goodell had to hand the Lombardi Trophy to Kraft, while Brady won the Super Bowl MVP award. Kraft acknowledged the championship scene felt like justice and said the whirlwind since the win hasn't subsided.
"Think about the eight days I just had,'' he told Kremer. "We had Elton John perform at a party [before the Super Bowl]. We have the Super Bowl, where from the depths of depression, we go to the elation of a victory. We have this trophy. On a snowy day in Boston, we have over a million people. And then the president invites you to dinner with the prime minister."
Yes, Kraft did discuss his relationship with President Donald Trump in the segment. HBO did not make that clip available, but a network spokesman said his comments are similar to what he recently told the New York Daily News's Gary Myers on the subject, including that Trump called Kraft weekly in 2011 to check up on him after his wife Myra died of cancer.
Kraft was recently photographed dining with Trump and Shinzo Abe, the prime minister of Japan, at the president's Florida resort.
https://www.youtube.com/watch?v=NWVfJK0_yio