Patriots
Jimmy Garoppolo's Instagram post is worrying some Patriots fans
Is the backup quarterback saying "peace out" to New England?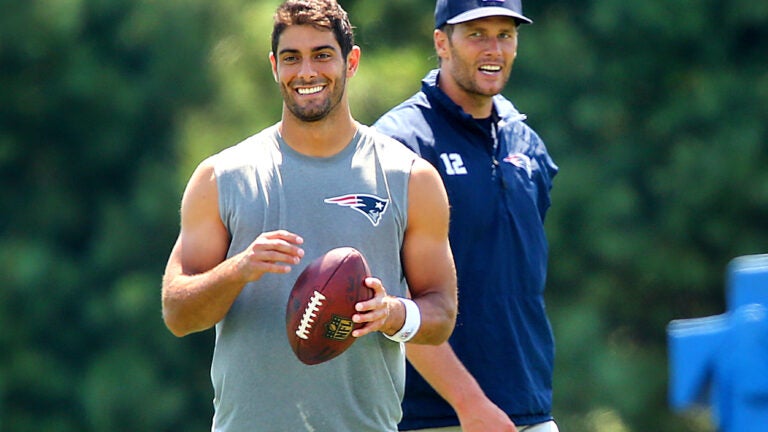 Once again, New England sports fans are freaking out over a social media post from a local athlete.
First, it was former Red Sox slugger David Ortiz's mysterious tweet that fueled speculation he would come out of retirement and rejoin the team. (He hasn't.) Then it was Celtics point guard Isaiah Thomas tweeting an emoji shortly before the trade deadline, which led fans and sportswriters to wonder if the team was about to pull off a major deal. (They didn't.)
Now, an Instagram post from Patriots backup quarterback Jimmy Garoppolo has whipped Patriots fans into a frenzy.
Garoppolo posted an image of himself giving the peace sign, with a caption featuring the peace sign emoji and the hashtag #LaFamiglia (meaning "The Family" in Italian).
Fans have left more than 1,600 comments since the quarterback posted the photo Friday night, many voicing their opinions on what the photo symbolized.
While the majority seemed to think it meant "peace out," implying the quarterback would soon be traded, others suggested the two fingers meant "two rings" or "two more years with the Patriots."
ESPN's Adam Schefter reported Wednesday that the Pats are not expected to trade Jimmy G, according to league sources. Despite that report, Boston.com's Chad Finn is convinced that he'll be traded in the offseason.