Patriots
Here's video of the alleged Tom Brady jersey thief leaving the Patriots locker room after the Super Bowl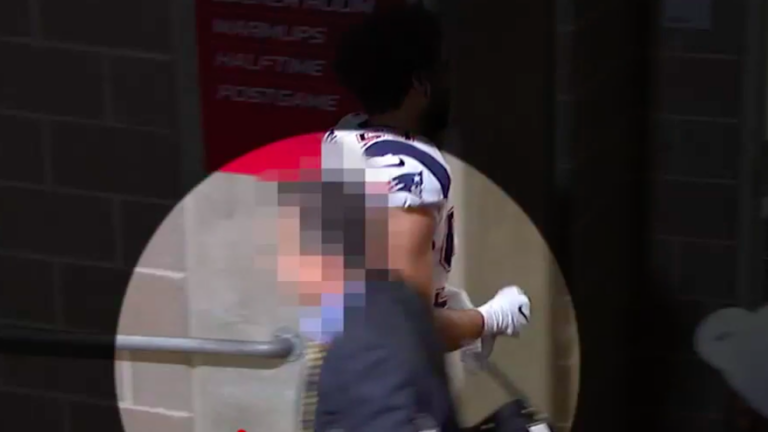 Tom Brady's stolen Super Bowl LI (and XLIX) jersey is back in Boston. And amid the news of their recovery Monday, new details continue to trickle out about just how the alleged thief swiped the valuable souvenir from the Patriots' locker room.
In an appearance Monday on FS1's The Herd, Fox Sports reporter Jay Glazer — who broke the news of the jersey's recovery earlier in the day — unveiled Super Bowl video of the alleged jersey thief.
In the video, a digitally blurred figure who appears to be a credentialed media member can be seen walking into the Patriots locker room at 10:04 p.m. local time following their comeback win against the Atlanta Falcons in Houston. Fourteen minutes later, the same individual — who was also wearing a backpack — can be seen exiting the locker room with "something" under his left arm.
According to Glazer, authorities used the video to "track down" the alleged jersey thief.
"Fox did the game," he said. "We had cameras everywhere, so we've been scouring and scouring video. We just obviously had to make sure we had the right person. … This is who authorities are zeroing in on."
The suspect was subsequently identified Monday by several Mexican outlets as Mauricio Ortega, an executive at the Mexican tabloid La Prensa until he resigned last Tuesday.
In a statement Monday, La Prensa said Ortega had apparently used his position at the outlet to get Super Bowl credentials and access. According to the paper, Ortega cited the health of close family members for his resignation. La Prensa said their management previously had no knowledge of Ortega's alleged actions and offered an apology to its readers and the Mexican people (USA Today has a translation of the paper's seven-point statement here).
According to Glazer, the suspect also may have taken memorabilia from Denver Broncos linebacker Von Miller following Super Bowl 50.
Sources say authorities investigating if same suspect took Von Millers helmet and/or cleats from last years Super Bowl

— Jay Glazer (@JayGlazer) March 20, 2017
The NFL announced Monday that Brady's jersey from Super Bowl XLIX against the Seattle Seahawks, which had not previously been reported stolen, had also been recovered. As The Boston Globe reports, both of Brady's jerseys have been taken back to Boston to be authenticated.
In a statement released Monday through his agent, Brady thanked officials for their work to recover the jerseys and said he hoped to "make something very positive come from this experience."