Patriots
Watch the new minute-by-minute video account of the alleged Tom Brady jersey thief after the Super Bowl
Fox Sports reporter Jay Glazer says the footage was "instrumental" to the recovery of the jersey.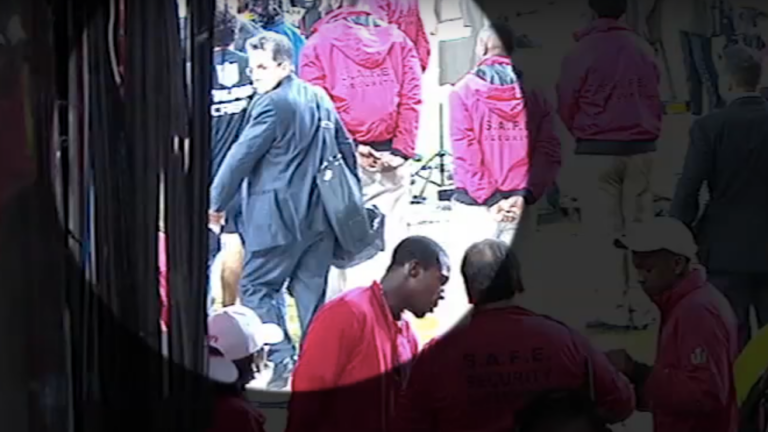 Following the release of postgame footage Monday showing the alleged thief of Tom Brady's Super Bowl jersey(s), Fox Sports' Jay Glazer returned to The Herd on Tuesday with even more video.
The video, which was pulled from Fox's Super Bowl broadcast footage, provides a more detailed timeline of the events following the Patriots' victory — from the moment Brady took off his jersey and pads to an overhead shot of the reported suspect, Martin Mauricio Ortega, walking off the NRG Stadium field.
Ortega has been identified as a former executive at the Mexican outlet La Prensa, which issued a public apology for the alleged actions of their employee. Ortega resigned from the paper last week.
According to the Associated Press, Ortega, who has not been charged, used his position at La Prensa to get Super Bowl credentials, but spent his time in Houston seeking selfies and autographs. The credentials, which are generally reserved for reporters, allowed Ortega behind-the-scenes access at the game and other related events that week.
In the new footage Tuesday, Ortega can be seen on the field taking selfies with players  — as he had done with Brady and Patriots owner Robert Kraft after Super Bowl XXXIX — before sneaking into the locker room, where Glazer says a team employee had already taken the quarterback's jersey.
While in the locker room, Ortega momentarily glances at one of the Fox broadcast cameras, which Glazer says was "huge" in helping officials make an identification.
According to Glazer's reporting, Ortega slipped Brady's jersey into his bag while he was taking more selfies near the quarterback's locker.
By the time Brady arrives to the locker room, Ortega can seen walking back on to the field, allegedly with the jersey in hand.
According to reports Tuesday in the Mexican press, Brady's stolen Super Bowl LI and XLIX jerseys — as well as the Super Bowl 50 helmet of Denver Broncos linebacker Von Miller — were found by law enforcement on March 12 at Ortega's home in Mexico.
The NFL, FBI, and local law enforcement agencies announced the recovery on Monday and Brady's jerseys were reportedly brought back to Boston to be authenticated.