Patriots
Robert Kraft says Tom Brady told him he's willing to play for another 6 or 7 years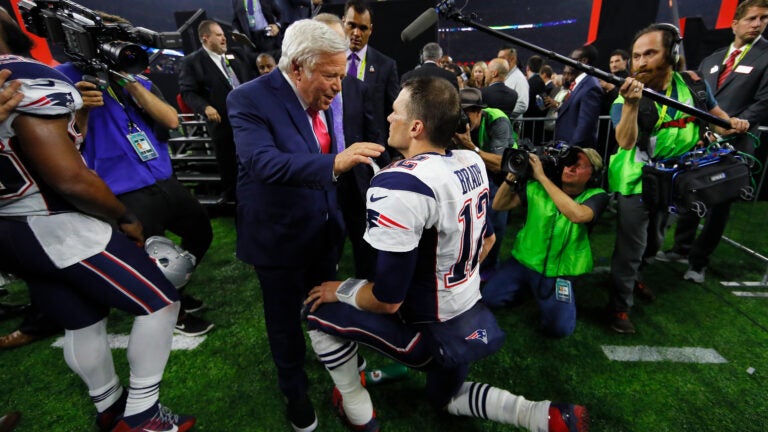 Tom Brady's career expectancy just keeps getting longer.
According to Patriots owner Robert Kraft, the 39-year-old quarterback recently said he would be willing to extend his career another "six or seven years." Kraft was speaking to reporters Monday while at the NFL's spring meetings this week in Phoenix.
Patriots owner Robert Kraft on Tom Brady: "As recently as 2 or 3 days ago, he assured me that he'd be willing to play another 6 or 7 years."

— Albert Breer (@AlbertBreer) March 27, 2017
Robert Kraft says Tom Brady told him recently he'd like to play "six or seven" more years. pic.twitter.com/6fGHSJr6Da

— Phil Perry (@PhilAPerry) March 27, 2017
For those keeping track, the oldest player to ever play in the NFL was quarterback and kicker George Blanda, who retired from the league in 1976 at the age of 48.
Brady — who hasn't shown many signs of his age on the field — turns 40 this August.
Following last month's Super Bowl LI victory, Brady told Sports Illustrated's Peter King that he would like to play until his "mid-40s," and had previously floated even loftier goals. According to an NFL Network report on Super Bowl Sunday, the Patriots expect Brady to play another three to five years.
On Monday, Kraft credited Brady's "sustained excellence" to his strict diet and rigorous fitness regimen.
"I'm not sure avocado ice cream is right for me," said the 75-year-old team owner. "But if I could look like him and perform half as well, I guess I'd do it."
Kraft is also setting some rather ambitious career longevity goals for his star coach.
Asked if he expects Bill Belichick to coach into his 70s, Kraft said he hopes the soon-to-be-65-year-old coaches into his 80s.
As for Bill Belichick, Robert Kraft says he hopes his head coach is working into his 80s. "We gotta keep Bill healthy." pic.twitter.com/HfZkznpCer

— Phil Perry (@PhilAPerry) March 27, 2017
"I see Warren Buffett and Rupert Murdoch, and they're in their mid-80s, and they're performing at a pretty high level," he said. "So we got to keep Bill healthy."
Maybe the Patriots should get Belichick some of Brady's avocado ice cream?