Patriots
LeGarrette Blount hung out with some Patriots, wants everyone to know he's still got it
"Give me some money."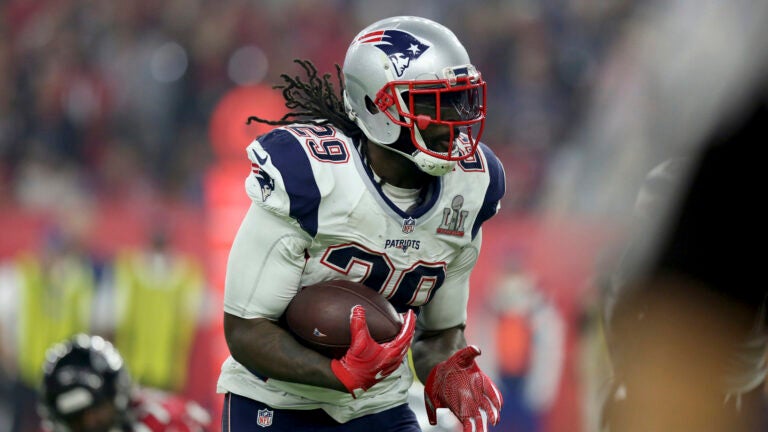 A few Patriots were sitting courtside at the TD Garden Wednesday night, but it's still uncertain whether all of them will be returning to New England for the 2017-2018 football season.
Dion Lewis, LeGarrette Blount, Stephon Gilmore, and team owner Robert Kraft were all in attendance for the much-hyped Celtics-Cavaliers contest, where the group received a roaring applause from the crowd.
After the game, Blount reportedly was seen weaving through a group of reporters, to whom he said, "See, tell them I still got it. Give me some money."
LeGarrette Blount, at C's-Cavs, weaves through a group of reporters, turns and says, "See, tell them I still got it. Give me some money."

— Chris Mannix (@ChrisMannixYS) April 6, 2017
Despite coming off the most productive season of his career in which he rushed for 1,161 yards and scored 18 touchdowns, the running back has yet to sign a contract with the Pats and continues to be a free agent.
According to NFL Network's Ian Rapoport, the only thing that seems to be separating the two from making a deal is money.
Per Rapoport, "I know LeGarrette Blount would like to return to the Patriots, and I know the Patriots would like to have him back, but at this point the salary hasn't been more than some of the other running backs on the roster already make, especially some of the newly acquired ones in Rex Burkhead."
Blount's remarks seemed to confirm this sticky situation, but that didn't stop Kraft from going over and giving him a hug.
https://twitter.com/OnlyInBOS/status/849782725896802305