Patriots
Marshawn Lynch has reportedly 'expressed interest' in playing for the Patriots
Beastmode and Gronk in the same offense would be scary.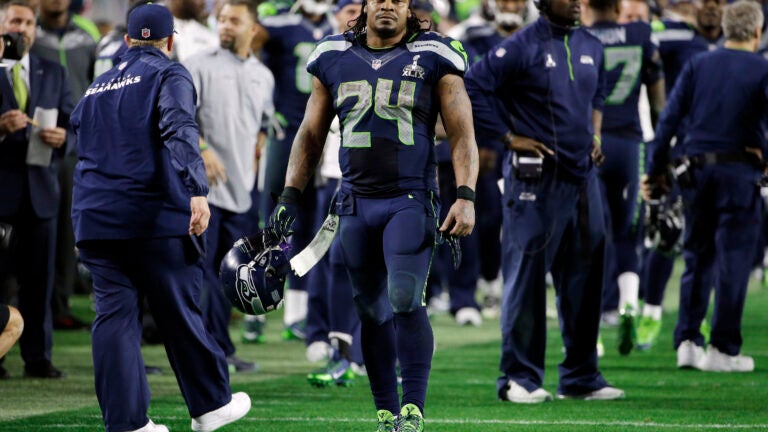 As it turns out, offseason speculation about a Patriots Super Bowl XLIX opponent coming to New England didn't end with Richard Sherman. Now, you can add Marshawn Lynch.
The retired 30-year-old running back has been in comeback discussions with the Raiders for some time. Yet in a new report on Monday, Jeff Howe of The Boston Herald said that Lynch has "expressed interest" in joining the Patriots if the talks with Oakland don't work out:
Marshawn Lynch update: He has privately expressed interest in playing for Patriots if talks break off with Raiders. Keep an eye on that.

— Jeff Howe (@jeffphowe) April 10, 2017
Despite rushing for 104 yards and a touchdown on 24 carries in Super Bowl XLIX, it was the one carry Lynch didn't get that defined his second trip to football's biggest stage. Seahawks coach Pete Carroll infamously decided to pass the ball at the one-yard line instead of giving it back to Lynch. Russell Wilson's throw was intercepted by Malcolm Butler.
Lynch retired after the 2015 season. Initially, he was adamant in his decision to walk away.
"I'm retired," Lynch told 60 Minutes Sports in June, 2016. "Is that good enough? Which camera do you want me to look into? This one? I'm done. I'm not playing football anymore."
Yet during the 2017 offseason, reports have continued to grow that Lynch will come out of retirement. The Raiders remain the front-runner to sign the powerful running back.