Patriots
Here is everything Tom Brady has—and hasn't—said about Donald Trump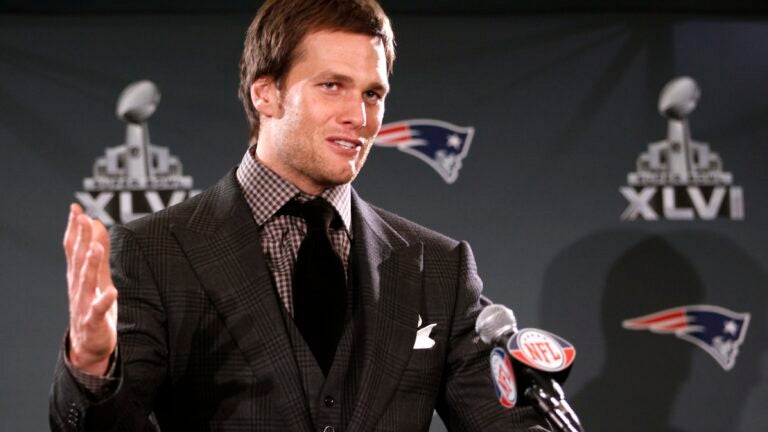 The New England Patriots' visit to the White House on Wednesday will reunite President Donald Trump with a few of his well-known friends.
And while Trump has been photographed recently with Patriots owner Robert Kraft and coach Bill Belichick, there's one close friend and somewhat-prominent member of the team with which he hasn't been seen publicly in some time: Tom Brady.
The Patriots quarterback's relationship with Trump has developed into a perhaps unexpected spectacle over the last two years. But amid all of the controversy and misleading headlines their friendship has generated, it might be useful to recall what Brady has — and hasn't — actually said about the president.
What Brady has said when asked about Trump:
September 8, 2015, asked about the red "Make America Great Again" hat spotted in his locker:
"[Trump] sent it to me via [Robert Kraft]. I've know him since 2002 when I judged one of his beauty pageants. Imagine that, I was a judge at a Miss USA pageant in 2002. So, I've know him for a long time and he always gives me a call on different types of motivational speeches at different times."
Asked if he would vote for Trump:
"I don't know. Am I going to vote for him? That's a good question. He's a good friend and we've had a lot of time on the golf course together over the years probably not as much recently but in my younger days when I would have more time that I could spend doing those type of things before there were kids, we spent a lot of times golfing together and so forth. It's pretty amazing what he's been able to accomplish as an entrepreneur, and then really as a television star, and now running for political office. People who can do those types of things and can transition into different arenas and still have that type of appeal and carryover, he's obviously appealing to a lot of people and he's a hell of a lot of fun to play golf with.''
September 16, asked if he thought Trump could win the presidency:
"I hope so. It would be great. There would be a putting green on the White House lawn, I'm sure of that."
On the hat itself:
"I thought it was a nice keepsake. It could be a nice piece of memorabilia."
September 28, asked if whether he had endorsed Trump:
"Look, I've known him for a long time. He's been a fun guy that I've had a lot of time around. The fact that he's running, it's obviously led to a lot of stories and debates, and I know the ratings were huge for all those Republican debates and so forth."

"One way or the other, it's so far away from when the election will be. And whatever I vote is going to be my own personal choice based on how I feel. I don't even know what the issues are. I haven't paid attention to politics in a long time. It's actually not something that I really even enjoy. It's way off my radar."

…

"I understand why people do run with it, because you get the clicks and that type of stuff. It's just people doing their job. A comment like that, I try to have fun with certain things. But some things a lot of times they get taken out of context."
October 14, asked why he was standing up for Trump:
"He's a friend! That why. Because friends are important in life and I've known him for a very long time, so certainly, you know, friendships you endure over the course of long periods of time, and he's someone I played a lot of golf with and he's a lot of fun to play golf with — although, I'd much rather be on his team when he play golf, than be against him."
November 18, asked if Trump cheats at golf:
"Nah. He just—he doesn't lose. He just doesn't lose."
December 15, asked directly if he was supporting Trump's 2016 presidential campaign:
"Can I just stay out of this debate? Donald is a good friend of mine. I have known him for a long time. I support all my friends. That is what I have to say."

"I support all my friends in everything they do. I think it's pretty remarkable what he's achieved in his life. You're going from business, kind of an incredible business man and then a TV star, and then getting into politics. It's three different career paths. I think that is pretty remarkable."
December 16, asked how he felt about people criticizing his relationship with Trump:
"I don't think about it much. It's a tough week, so I've got a lot of football stuff to think about."
Asked if he thought he had "opened the door to some criticism" by talking to Trump:
"Like I said, I'm just here to play football. [laughing] Thanks guys."
October 12, 2016, asked about Trump's "version of locker-room talk:"
"Thank you, guys. Have a good day." [walks out of press conference room]
October 17, on his friendship with Trump:
"We've played golf together many, many times and I've always had a good time with him. He's been a friend of mine. He's supported our team. He's supported the Patriots. He's been on the Patriots sideline a lot. He's always called me after games to encourage me over the course of 15 years. That's kind of the way it is."
On his plans to vote in the 2016 election:
"Yeah, I'll vote. Maybe we'll talk about it after Super Tuesday or whatever it is."
Asked about his decision to walk off the podium the previous week when the topic of Trump arose:
"Obviously there's a lot of headlines to make, and I've tried not to make a lot of headlines," he said. "I've been in an organization where we're taught to say very little. … The thing I've always thought is I don't want to be a distraction for the team."
November 9, asked why he allegedly gave Trump permission to talk about him, after Trump told a crowd of supporters that Brady told him he voted for the Republican candidate:
"Why did I give him permission. So you're assuming I gave people permission? I'm just going to talk about football this week."

…

"I talked to my wife and she said I can't talk about politics anymore, so… I think that's a good decision."
January 20, 2017, asked if he called Trump to congratulate the then-president-elect on the eve of his inauguration, as Trump said he did:
"Let's talk about football."
January 24, asked again if he called to congratulate Trump:
"I have called him, yes, in the past. Sometimes he calls me. Sometimes I call," he said Monday. "But, again, that's been someone I've known. I always try to keep it in context because for 16 years you know someone before maybe he was in the position that he was in."

…

"I have a lot of friends. I call a lot of people."
On his relationship with Trump, in light of the president's divisive policies:
"I don't want to get into it, but if you know someone it doesn't mean you agree with everything they say or they do. You have a lot of friends in your life. I think there are things that are based in your own dealings with someone that is a personal dealing, not a public dealing. Because you have personal experiences."

…

"I don't believe in a lot of things. Not to denounce anything. There are different things."

…

"I just don't want to be a distraction for our team."