Donald Trump
Here's a first glimpse of all the Patriots players visiting the White House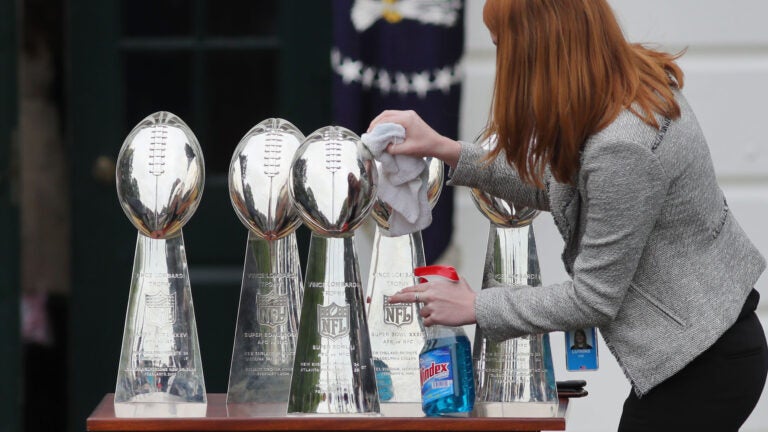 The New England Patriots have officially touched down in the nation's capitol, but not all made the trip.
Ahead of the team's honorary ceremony Wednesday afternoon, the team posed outside the presidential residence with their five Super Bowl trophies — and provided a first glimpse at who did — and didn't — attend.
Follow our visit to @WhiteHouse on #Patriots Snapchat!

?: patriots pic.twitter.com/S3W5tnCy2B

— New England Patriots (@Patriots) April 19, 2017
Based on the photo, Providence Journal reporter Mark Daniels tallied up the 34 players in attendance.
From the team's photo, here's a list of the 34 Patriots players at the White House today pic.twitter.com/X78PE9K9uU

— Mark Daniels (@MarkDanielsPJ) April 19, 2017
Six players had announced ahead of Wednesday's visit that they would not be attending, including five — Martellus Bennett, Devin McCourty, Chris Long, LeGarrette Blount, and Alan Branch — who said explicitly cited objections to President Donald Trump.
Tom Brady, who was expected to be with the team Wednesday, was also a late scratch. The quarterback is reportedly spending the day with his mother, who is in Boston and has been dealing with an illness. Wednesday is also Brady's parents' wedding anniversary.
Former Patriots cornerback Logan Ryan is also reportedly busy moving to Nashville.
Per Daniels, here is the full list of players who did not travel to the White House.
https://twitter.com/MarkDanielsPJ/status/854741393436180484