Patriots
Drew Bledsoe recalls being drafted when the Patriots were 'the fourth sports team in town'
"A kind of a funny thing happened to me when we were backstage at the draft, and really it happened fast."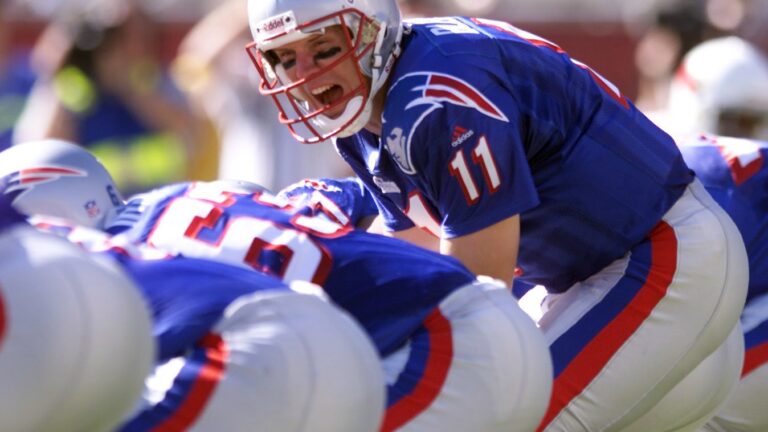 It's been almost a quarter century since Drew Bledsoe was selected first overall by Bill Parcells' Patriots in the 1993 NFL draft. And it's been 15 years since Bledsoe was traded away from New England during the 2002 draft. In between those events, he helped to guide the Patriots out of an underachieving past to the doorstep of a golden age.
Bledsoe retired from football after the 2006 season at the age of 34. Since that time, he's focused much of his attention on a new challenge: the business of wine. For almost exactly a decade, Bledsoe has owned Doubleback Winery in his hometown, Walla Walla, Washington.
He still returns to New England "at least once and often twice a year," and said that he has a "really cool" post-football relationship with Patriots fans. Though he was never known for his mobility as a football player, Bledsoe might be the best skier in the history of top-10 NFL draft picks, and is also enjoying an increased time for recreational activities.
Recently, the last Patriots franchise quarterback not named Tom Brady discussed all of this (and a few other topics) in a recent interview.
This interview has been lightly edited and condensed for length and clarity.
Alright, I'll lead with the most important question: Is Mt. Bachelor still open for skiing, or have they closed for the season?
Drew Bledsoe: No, they're still open. Next weekend, we've got our annual "Race and Ace" tournament. You go ski race in the morning, and golf in the afternoon. It's pretty great.
Judging from videos of you skiing, you're pretty experienced. When you were playing football, did that ever interfere with you're skiing? Did your coaches ever get nervous about that?
DB: You know, I made the mistake after my second year with the Patriots when Mr. Kraft had bought the team of telling him about this great helicopter skiing trip I went on with my dad. So they wrote in some very specific language in my next contract about how much money I had to pay them back if I got hurt skiing.
Were you still able to ski during your NFL career?
DB: Yeah, I was still able to ski. I was careful with how I did it. I didn't take many chances. I still skied a lot, actually. We'd go out to Whitefish, Montana. And I'd take a couple of trips here and there. I was pretty cautious about what I was doing. I knew what was at risk, but skiing was just too important to me. I was just never going to not ski.
I assume you have a lot more time for outdoor activities now in your post-football years?
DB: Yeah, I ski more. Play more golf. Try to get out on a bike as much as I can to stay in shape. The nice thing with our wine business is that I can generally have some fun while traveling. So sometimes I can go work and sell some wine at a fancy ski resort. Go ski all day and pour wine at night and call it a work trip. It's kind of the same with golf side; a lot of golfers drink wine, so it works out fairly well. I can tie my work into my fun, which makes it great.
There are many NFL players who struggle to adapt to life after football, but you seem to enjoy it. Did that come right away, or did it take time to acclimate?
DB: You know I think the most important thing was that I started to plan for my post-football career while I was still playing. The statistics are pretty terrifying when you look at what happens to players when they retire from professional sports. I was pretty concerned about figuring out what I was going to do while I was still playing. So when I decided to retire, it wasn't because I didn't want to play football anymore, it was because I had a plan and I was ready to go execute that plan. I moved into the business world, and pursued some different goals in life.
Doubleback is certainly a large part of your life now. How has it been going from running an NFL offense to running a winery?
DB: The interesting thing is that there are more similarities than there are differences. The disciplines that were involved that allowed me to be a successful football player, a lot of those things carry over into the business world. It's planning, it's perseverance, it's leadership, it's teamwork. All of those things, and then having the ability to adapt on the fly and respond to things that come at you. There just are so many things that carry over from the sports world to the business world. As long as you apply them that way. The other part that was really important when I got into the business world was recognizing how much I didn't know. And so it's been a continuous education for the past ten years since I retired, and I feel like I'm still getting better at business and getting better with our company.
When you're home in Oregon or in Washington, how often do you run into Patriots fans in that part of the country?
DB: You know, there are quite a few. It's always fun for me when someone tells me they're a Patriots fan. I ask when they became a Patriots fan. [Laughs] Because did it start when they started winning Super Bowls? Because then you're not a real fan. But if you sat in empty Foxboro Stadium and you were a Patriots fan way back when, then you have some real appreciation for how good it's been. Because if you're younger sports fan really in all of Boston right now, it's just been an embarrassment of riches. Not just from the Patriots, but the other teams as well. So I always like to check with them to see if they lived through the hard times as well.
Speaking of those harder times, your arrival in 1993 heralded the beginning of the turnaround with the Patriots. When you think back to being taken first overall, when did you know the Patriots would pick you? And what do you remember about Bill Parcells in that time?
DB: [Bill] always played his cards really close to the vest, so we didn't know right up until they announced the pick that I was going first. Which was different because in those days if it was fairly cut and dried who was going to be the first pick, a lot of times a contract would already be starting to be negotiated before the draft. But he played it pretty close as to whether he was going to take me or Rick Mirer. So we truly didn't know where I was going until they made the announcement.
A kind of a funny thing happened to me when we were backstage at the draft, and really it happened fast. They started the draft and then right away they announced I was the first pick. I looked over and my dad was trying to take the video camera off his hand and my mom was trying to figure out what just happened. And I couldn't get to her, so I ended up hugging my agent [laughs]. It was just kind of not how I envisioned it, but it ended up being awfully cool.
You mentioned that prior to your arrival, it was a different time in New England for the Patriots. What did you think about Boston and the area when you first got drafted?
DB: You have to have the full perspective. I grew up in a small town in the Pacific northwest, where we liked sports and we'd watch our team, but it's not a religion like it is when you go to Boston and New England. So it was a bit eye-opening to get out there and just get thrown to the wolves a little bit. The other thing that was very obvious when I first got there was that the Patriots were definitely the fourth sports team in town. It was Red Sox above all else, and then Celtics and Bruins, and then every once in a while people might talk about the Patriots. But I think with the success that they've had they've climbed up a little bit. But it was a big change for me, going to one of the most serious sports town in America and coming from my background for sure.
Flashing forward to another draft day, you were traded on the second day of the 2002 draft. What do you remember from that day? Was it a forgone conclusion that you would get traded to the Bills, or were there other teams involved?
DB: No, there were other teams that were involved at the time. The Chicago Bears I think were trying to do something. The Houston Texans were still fairly young, fairly new. I think they were trying to do something. I think the Cincinnati Bengals were also involved. I didn't know I was going to go to Buffalo, I think the day that I found out, I was actually at the hospital with my kid who was sick. I got a call from my agent saying, 'Hey, you're going to Buffalo.' And I think the perception from the outside of what Buffalo is vs. what is when you're actually there are quite different. We really enjoyed it. We had a good time in Buffalo.
It's been 15 years since that trade. How often do you go back to Boston, and what's your interaction with the region and the team like these days?
DB: You know, it's really cool. I get back there at least once and often twice a year. I still have a great relationship with the Kraft family. Tommy and I are still good friends. The reaction I get from the fans is super cool right now. The reason that I say that is it's no longer such a big deal like somebody needing an autograph or some of that kind of stuff, but it's more just like I'm one of their buddies. I'll just be walking down the street and there's a police officer or someone in construction will just say, "Hey Drew, welcome back." And it's almost just like being one of the neighborhood guys as opposed to a sports star. It's really, really cool that way and I enjoy those interactions.