Patriots
Bill Belichick's first Patriots draft-day trade was set up by picking Tom Brady
A year later, Belichick used the pick acquired to trade up for Matt Light.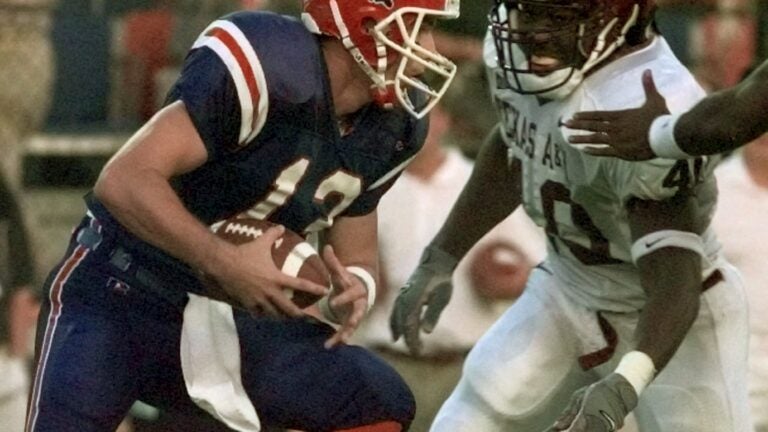 For New Englanders, the Patriots making a trade during the NFL Draft can seem as much an annual rite of spring as Opening Day for the Red Sox.
Entering the 2017 draft, the team had made at least one draft-day trade every year since Bill Belichick became head coach in 2000 (57 in total), with the exception of 2004. As Michael Holley pointed out in Patriot Reign, Belichick uses draft picks like currency: "You could stalk the board, going forward or in reverse, getting who you wanted and where you wanted them."
Belichick, from his time in Cleveland, was no stranger to trading on draft day. He began building his reputation as a draft pick trader in New England on the second day of his first draft with the Patriots: April 16, 2000. That date would go down in Patriots history because of a certain quarterback drafted in the sixth round, but it was also the day when Belichick made his first draft deal in New England.
That trade decision was actually connected to the selection of Tom Brady.
Prior to the 2000 draft, the Patriots were looking into selecting a backup quarterback as insurance behind Drew Bledsoe. While Brady became the player that New England decided to pick, he wasn't the only prospect that the late Dick Rehbein scouted for the Patriots. The other player on the Patriots' radar was Louisiana Tech quarterback Tim Rattay, who had set NCAA passing records in a prolific offense.
Eventually, the Patriots decided to use the 199th pick on Brady, leaving Rattay still on the draft board. That's when Bill Walsh and the San Francisco 49ers came calling.
The teams agreed upon the following trade:
The Patriots sent a 7th-round pick to the 49ers (who used it to draft Rattay)
In return, the 49ers sent a 6th-round pick in the 2001 draft
Coincidentally, the Patriots and 49ers played in the very first preseason game of the 2000 season: the annual Hall of Fame game. Both Brady and Rattay played. Belichick recalled the 2000 Hall of Fame game — his first in charge of the Patriots — as well as the Brady-Rattay comparison during a press conference in August 2016:
It was a great class that went in. Because of the five-year rule and all of that, a lot of those guys were guys that I coached against or that we battled against those years with the Giants. It was a good group. That was an interesting game because we started out a little bit on the Tim Rattay trail and [former Patriots quarterbacks coach] Dick Rehbein went down there and worked him out at Louisiana Tech, or wherever he was from. They ran a big spread-offense and he had a lot of big numbers and all of that and we kind of liked him and thought that might be a late-round pick. Then we got on [Tom] Brady, so it was kind of Brady and Rattay in that seventh round. Then, as luck would have it, we took Brady and they took Rattay and then they were playing against each other, and so we kind of got a look at that, those two quarterbacks in the sixth round, or whatever Brady was, but the same thing. I guess we took the right one.
Rattay would play in San Francisco for six seasons, going 4-12 as a periodic starter. He finished his NFL career with 31 touchdowns and 23 interceptions, but was never able to become a regular starter. Now back at Louisiana Tech, he's the quarterbacks coach after retiring from playing in 2010.
In 2001, the Patriots used the 49ers' sixth-round pick from the Rattay deal as part of a package to trade up in the second round. Belichick then took a player who would become a stalwart left tackle on the team's first three Super Bowl wins: Matt Light.