Patriots
Drew Bledsoe has a story about skiing with Tom Brady
"He wasn't very good and I didn't have the patience to go teach him."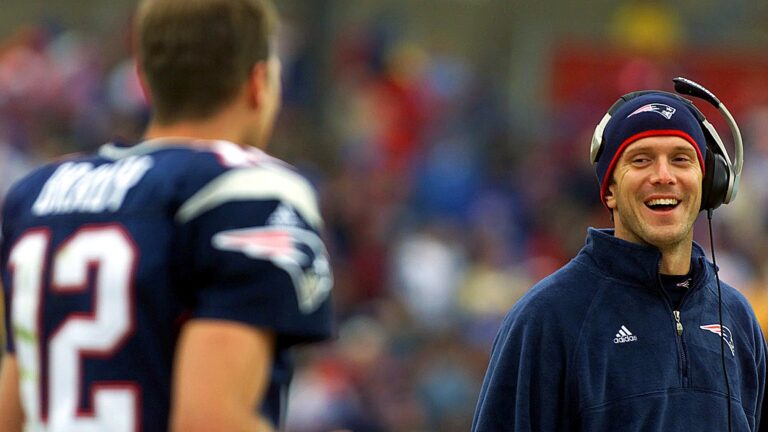 Long past their rivalry to win the role of Patriots starting quarterback, Drew Bledsoe is ready to give his honest opinion on Tom Brady. The five-time Super Bowl winner is, in Bledsoe's view, not that good of a skier.
In a recent interview, Bledsoe joked about skiing with Brady a few winters ago as the latter was just beginning to learn the sport. The two quarterbacks, who remain friends more than 15 years after they stopped being teammates, are very different on a pair of skis.
While Bledsoe is a lifelong skier, Brady is comparative novice. Bledsoe described his experience skiing with Brady:
We were up there, our family was in Montana skiing and Tommy was up there with his family. I made a couple of turns with him. But this was like two or three years ago, and he was really awful then. I think he's gotten a little bit better. I think he and Gisele both started skiing at the same time and all the reports I get is that she's a better skier than he is already. He's absolutely going to get lapped by his kids. I know how that goes [laughs], because they start early and they just skyrocket. But I think he's getting a lot better. He's obviously a great athlete and he's going to figure it out. But at the time, he wasn't very good and I didn't have the patience to go teach him. I wanted to go ski. He's got some great people around him that are helping him get better.
Since retiring from football in 2006, Bledsoe has enjoyed an active lifestyle full of skiing, biking and golfing.
Why I Love Mt. Bachelor | Drew Bledsoe

"Well, if you go look in my truck I've got my skis, my golf clubs, and my bike, … and I might use them all in the same day." – Drew Bledsoe, Former NFL quarterback and local Bend resident. Watch Drew shred the mountain and share some of his story in the latest 'Why I Love Mt. Bachelor' episode.

Posted by Mt Bachelor on Tuesday, April 4, 2017
Unlike Brady, who only took up skiing in recent years, Bledsoe skied for the entirety of his football career, much to the chagrin of Robert Kraft.
"I made the mistake after my second year with the Patriots when Mr. Kraft had bought the team of telling him about this great helicopter skiing trip I went on with my dad," Bledsoe explained. "So they wrote in some very specific language in my next contract about how much money I had to pay them back if I got hurt skiing."
Brady has created a few scares of his own. After helping the Patriots win Super Bowl LI in miraculous fashion, he took some time for skiing. And it didn't always go well:
If you french fry when you're supposed to pizza, you're gonna have a bad time! Trust me!!!

Posted by Tom Brady on Thursday, February 23, 2017
But as Bledsoe points out, Brady will surely improve. And just around the time New England's legendary quarterback finally decides to end his NFL career, he'll have his former teammate waiting for him on the slopes.