Patriots
15 years later, Foxboro Stadium is best remembered by its football finale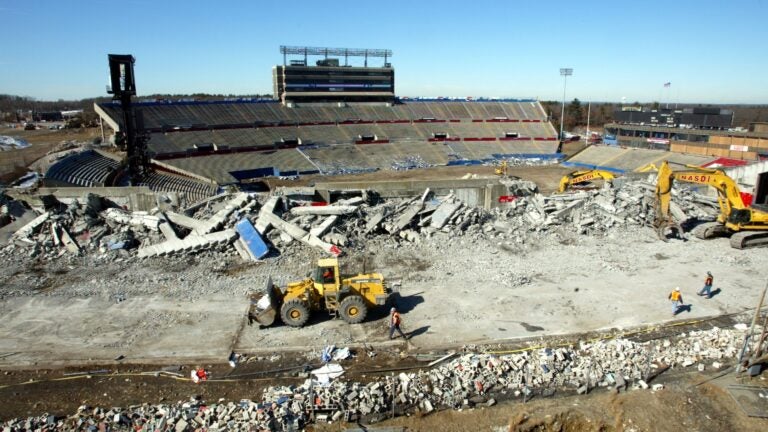 On June 1, 2002, the demolition of Foxboro Stadium was finished. The place that the Patriots called home for more than three decades was officially no more. Years later, Foxboro Stadium is not exactly the most missed facility.
First, there is the simple fact that its successor, Gillette Stadium, has played host to a dynasty. In over thirty years as the home of the Patriots, Foxboro had held a fraction of the postseason games that Gillette has witnessed during its 15 season:
Playoff Games
Foxboro Stadium: 5
Gillette Stadium: 19
AFC Championship Games
Foxboro Stadium: 1
Gillette Stadium: 6
And on top of on-field accomplishments, Foxboro Stadium was simply not an enjoyable place for fans. Of the more than 60,000 seats in the stadium, only 7,000 had backs. The rest were aluminum bleachers.
Then vice president of community relations for the Patriots, Don Lowery, explained one of the more common critiques of the aging stadium in January, 2002.
"We did a survey and found that on average it took 17 minutes to get through the bathroom during a game," Lowery told the Pittsburgh Post-Gazette. "So if you went at the beginning of halftime, you'd miss the beginning of the second half. It was about the same for the concession stands."
Still, the final chapter of the Patriots' story at Foxboro Stadium was one of the most pivotal (and glorious) moments in team history. Amid a snowstorm, Bill Belichick and Tom Brady took their first postseason step towards greatness. Adam Vinatieri drilled a 45-yard field goal through the snow (as well as the game-winner). And, of course, there was the matter of the Tuck Rule:
https://www.youtube.com/watch?v=UkSi2JK98pM