Patriots
Bill Belichick's rain jacket hood at Patriots camp inspired a deluge of Sith Lord memes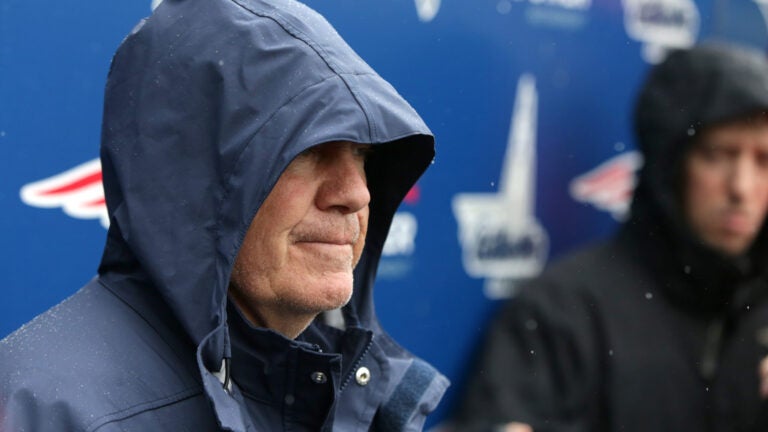 It's hardly the first time Bill Belichick has drawn comparisons to a hooded Star Wars villain.
And maybe it was because of the rain or camera angle, but Belichick's appearance at Patriots minicamp — his face partially hidden by a dark rain jacket — particularly caught fire on social media Tuesday.
The new hoodie look… pic.twitter.com/QbSY9mzXSo

— Adam Schefter (@AdamSchefter) June 6, 2017
It's only minicamp, but Bill Belichick was in midseason form when asked about Tom Brady's alleged concussion from last season. pic.twitter.com/63wW5WevY3

— NESN (@NESN) June 6, 2017
Sheev Palpatine, a Sith Lord from the Star Wars movies otherwise known as The Emperor or Darth Sidious, quickly became a go-to reference. Here are a few of the highlights:
Just checking in on Bill Belichick's slow transformation into The Emperor. Still going well. pic.twitter.com/H2WmTbfIFx

— Amara Grautski (@AmaraGrautski) June 6, 2017
Belichick going full Sith Lord today. pic.twitter.com/GKAur9el1T

— Bernd Buchmasser (@BerndBuchmasser) June 6, 2017
"Good! Good! Let the hate flow through you! " – Bill Belichick pic.twitter.com/Ssik1i5UdS

— Casey Baker (@CaseyBake16) June 6, 2017
The descent into darkness continues for Darth Belichick… pic.twitter.com/8DDomywaNG

— Jason Kline (@jaskline2007) June 6, 2017
Bill Belichick looking like evil Kermit pic.twitter.com/DlHob3xPnp

— One Take At A Time (@OneTakeAtATime) June 6, 2017
One can only wonder what Patriots wide receiver, and apparent Star Wars aficionado, Julian Edelman would think of his coach encroaching on his turf.