Patriots
Gronk confident he's ready for 2017 season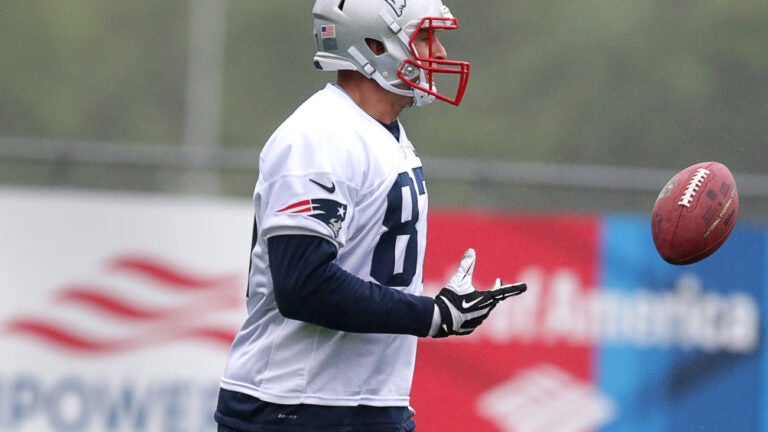 FOXBOROUGH, Mass. (AP) — When healthy, New England Patriots tight end Rob Gronkowski can be one of the most devastating weapons in the NFL.
The 6-foot-6, 265-pound tight end is one of quarterback Tom Brady's favorite targets. Seemingly able to run through opposing defenses at will, Gronkowski is the first tight end with three straight seasons of 10 or more touchdowns (2010-12), and with three seasons of 1,000 or more yards receiving and 10 or more touchdowns. A three-time All-Pro, he led the league with 17 touchdown receptions in 2011, his second pro season.
The problem for Gronkowski and the Patriots has been his ability to stay on the field. He appeared in eight games last season before undergoing December back surgery — the third in his career — missing the Patriots' stunning comeback win in the Super Bowl. The last time he appeared in all 16 regular-season games was 2011. Since his rookie year, he has appeared in 88 of 112 regular-season games.
Gronkowski is confident he's fully ready for the 2017 season.
"Definitely no doubts," he said Tuesday after the first of the Patriots' three-day mandatory minicamp at Gillette Stadium. "All the hard work you put in is what you're going to get out of it. So, I love to put in the work, love the challenge sometimes. So … now I'm good to go.
"It's always important whenever I get a little setback like that that happened, just get back to where I need to be and I feel like I am, doing everything out here, and competing. It's fun."
The three back procedures are just part of Gronkowski's lengthy medical history. He's also had four forearm surgeries, one on his knee and another on his ankle. While his spirit might be willing, is there a point at which his body can't take any more?
"I'm not sure," he said. "Whatever you put your mind to it, it can take everything."
The Patriots hope so. Despite his season-ending injury, the team restructured Gronkowski's contract — with many incentives tied to his ability to stay on the field. That could make him the highest-paid tight end in the league. Gronkowski is not fazed by the challenge.
"I'm always trying to perform," he said. "I'm always motivated no matter what the circumstances are."
NOTES: Coach Bill Belichick was reticent when asked about recent comments from Tom Brady's wife Gisele Bundchen on "CBS This Morning" that the Patriots quarterback suffered a concussion last season. "Well, I'm sure you know . we file injury reports every week," Belichick said. "So I'm not sure when the next one's due, probably sometime in September, but we'll have one for you then. We file our reports in compliance with league guidelines."
Asked if he has seen progress in players self-reporting concussion-like symptoms, Belichick replied: "Our medical staff really handles the injury situation with players. Players don't come to me and I don't treat them for injuries. That's not really my job. That's what we have medical staff for." … Backup quarterback Jimmy Garoppolo said he hasn't thought much about his status entering the final year of his contract, or the frequent offseason trade rumors. His position on the depth chart might be a different story.
"Obviously, I want to play," he said when asked if he wanted to be a starter. "That's just the competitor in me. I think everyone out here wants to play and we come out here and compete every day for that opportunity. If you go out and earn it, it's yours."
Garoppolo said he would "entertain any possibility" regarding a contract extension. There has been much speculation how much longer starter Tom Brady, who will be 40 in August, will play.
"I don't think I've ever asked him that," Garoppolo said.
___
For more NFL coverage: http://www.pro32.ap.org and http://www.twitter.com/AP_NFL