Patriots
Does the Gronk spike look too similar to the Jumpman? Nike thinks so.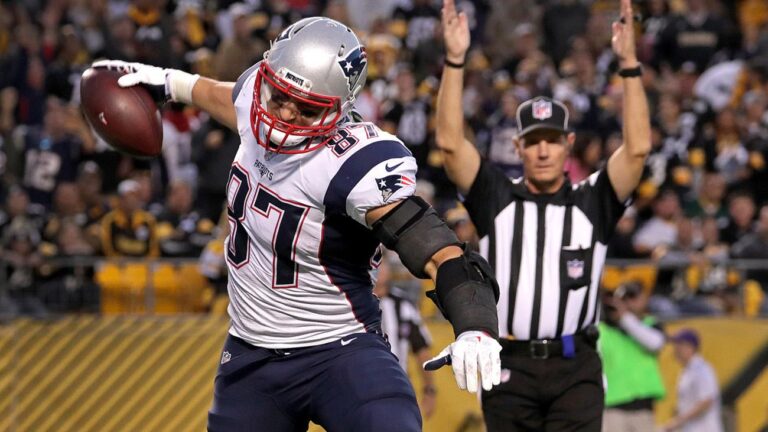 Rob Gronkowski is a Nike spokesman, wearing Nike cleats and jerseys when he plays for the Patriots. Now the 28-year-old tight end is facing formal opposition from the company he represents.
As ESPN's Darren Rovell reported, Nike believes Gronk's personal logo, a silhouette of the football player doing his iconic "Gronk spike," is too similar to its classic Air Jordan Jumpman logo of basketball great Michael Jordan dunking. Nike filed a formal opposition to the U.S. Patent and Trademark Office's Trial and Appeal Board last month.
The two logos are shown side-by-side here:
Nike claims Rob Gronkowski's Gronk Nation logo is too similar to the Jumpman logo https://t.co/vIrrRdlPeu pic.twitter.com/da0echAbGb

— Athlon Sports (@AthlonSports) June 30, 2017
"My client has created one of the most recognizable brands in sports today," Gronkowski family attorney Troy Carnrite told ESPN. "We are very proud of this brand and are optimistic that we will resolve this with Nike amicably."
The Jumpman has been in use since 1987. Gronkowski's company, Gronk Nation L.L.C., filed to trademark his logo in April 2016.
Gronkowski's representatives have until Aug. 5 to submit a legal response.