Patriots
Former Patriots quarterback Babe Parilli dies at 87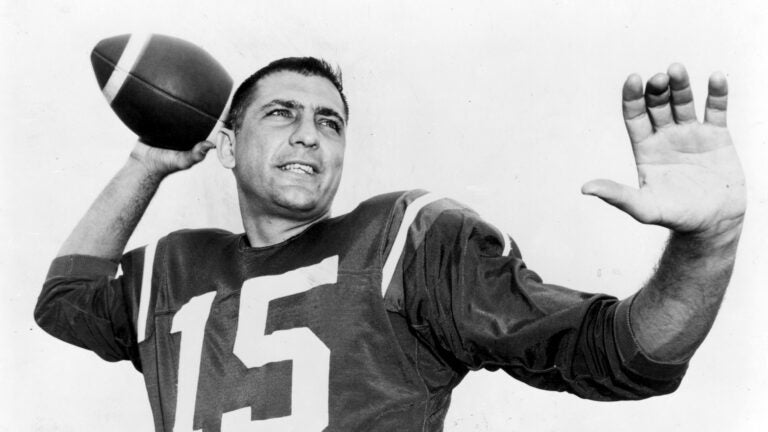 FOXBOROUGH, Mass. (AP) — Babe Parilli, the former Patriots quarterback who starred in the team's American Football League days, died Saturday. He was 87.
New England announced the death. The cause of death wasn't disclosed.
We are deeply saddened to learn of the passing of Patriots Hall of Famer Vito "Babe" Parilli: https://t.co/wOZijvspNn pic.twitter.com/5thE6GaYaA

— New England Patriots (@Patriots) July 15, 2017
Parilli played for the then-Boston Patriots from 1961 to 1967. He was voted to three AFL All-Star games and was the AFL's Comeback Player of the Year in 1966.
Parilli was named to the All-AFL 10 Year Anniversary Team in 1971 and his 31 touchdown passes in 1964 were a team record until 2007. Parilli is fourth on the Patriots' career passing list with 16,747 yards and is in the team's Hall of Fame. He also was known as excellent holder and was nicknamed "gold finger."
He began his pro career with the Green Bay Packers in 1952, and also played for the Cleveland Browns, Oakland Raiders, New York Jets and the CFL's Ottawa Rough Riders. He was the backup to Joe Namath when the Jets won the Super Bowl in 1969.
Vito "Babe" Parilli was born in Rochester, Pennsylvania — not far from Namath's hometown of Beaver Falls. Both Parilli and Namath played under coach Bear Bryant in college, Parilli at Kentucky, and Namath at Alabama. Parilli led Kentucky to victories over Oklahoma in the 1951 Sugar Bowl and TCU in the 1952 Cotton Bowl. In 1982, he was inducted into the College Football Hall of Fame.
Parilli was a head coach in the World Football League, also served as an NFL assistant and coached in the Arena Football League.