Patriots
There's a world of surprises in Bill Belichick's family history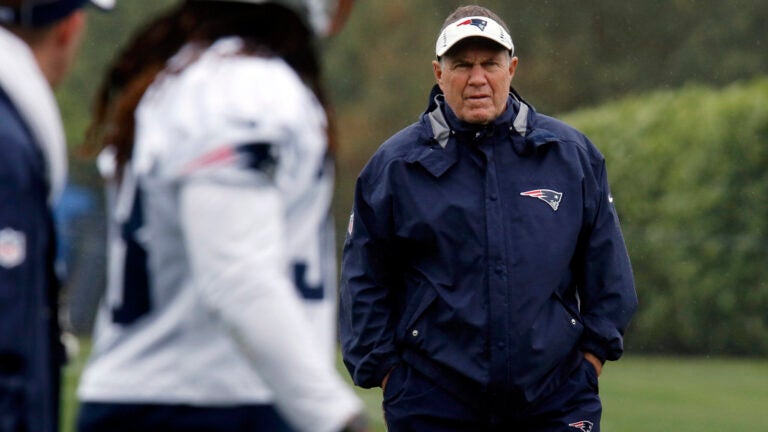 Dig deep enough into a family's history and surprises can abound.
In the case of Bill Belichick, research reveals that the Super Bowl-conquering Patriots coach shares bloodlines with presidents (Grover Cleveland and William Taft), financial titans (Warren Buffett and J.P. Morgan), an actor (Clint Eastwood), an astronaut (Alan Shepard), a radical abolitionist (John Brown), a singer (Harry Chapin), and a sex industry magnate (Hugh Hefner).
From the White House to the Playboy Mansion, from Wall Street to outer space, from Hollywood to the gallows where Brown was hanged for treason after killing proponents of slavery and attacking a federal arsenal, Belichick's forbears have helped to shape a nation and its culture much like he has left his mark on American football.
Hardcore Belichick fans have long known him chiefly as the grandson of Slavic immigrants on his father's side. In David Halberstam's 2005 book, "The Education of a Coach,'' he tells the story of Belichick's grandparents, Ivan and Mary Bilicic, departing Croatia at the turn of the 20th century and settling in the gritty steel town of Monessen, Pa., outside Pittsburgh.
The Bilicics had five children — their daughter's teacher Americanized their name to Belichick — before they moved to Struthers, Ohio, near Youngstown, where Ivan labored in a wire factory until he lost his job in the Great Depression.
It was "a Draconian unsparing world,'' Bill Belichick told Halberstam.
But there was another world in Belichick's family past. Untold has been the story of his mother's roots, which date to the birth of the nation. Hers is a story of bravery and blood, soldiers and civic leaders, pioneers and innovators, with many scenes set across Massachusetts and New England.
Belichick's mother, born Jeannette Munn, met Ivan Bilicic's youngest child, Stephen, after he returned home from World War II to coach football at Hiram College in Ohio. Steve had played football at Case Western Reserve University and briefly in the National Football League before he served in the Navy during the war.
Jeannette, who taught foreign languages at Hiram, is descended on her father's side from Benjamin Munn, who arrived in Cambridge, Mass., from England around 1635. Munn later helped to found Hartford, Conn.
On her mother's side, Jeannette's American roots date to Samuel Chapin settling in Boston in the 1630s. Chapin, Bill Belichick's ninth great grandfather, helped to found Springfield, Mass., where a statue of him, entitled "The Puritan,'' stands in a park downtown.
Jeannette's ancestors also played central roles in settling Massachusetts communities such as Billerica, Brimfield, Burlington, Monson, and Woburn.
She married Steve Belichick in 1950, and gave birth to their only child, Bill, 20 months later. Jeannette is 95 and lives in Maryland. Steve Belichick died in 2005.
As for the Bilicics, little is known about their lives before they arrived in the United States. In Ivan's petition for US naturalization, he stated he was born in Croatia Hungary in 1878 and sailed from the port of Le Havre in France to New York in 1900. His wife followed soon after and joined him in Pennsylvania.
However, much is known about Jeannette's ancestors, including a tradition of military action that began with Benjamin Munn and his fellow settlers fighting native Americans in the Pequot War of 1637.
Historians have said Benjamin Munn was likely among the militiamen who massacred more than 400 Pequots, including women and children, in Mystic, Conn., in retaliation for deadly Pequot raids on the settlers. Munn himself is believed to have been killed by native Americans in 1675 in Springfield, Mass., where he had settled as a farmer.
Also slain by native Americans was Bill Belichick's eighth great grandmother, Seath Holman. She was minding a relative's home in Billerica when the house was raided. Four children were killed as well and an 11-year-old girl was dragged off alive and never found. But relatives who were not home at the time kept the family tree growing, making Belichick's life possible.
Much of the research on Belichick's ancestry was conducted by an amateur genealogist, Jim McNiff, of Burlington, a retired hospital financial manager and college professor who has made a pastime of investigating family histories. In March, the Globe published a story about his research into Patriots quarterback Tom Brady's roots.
In early June, McNiff delivered a book version of his Belichick findings to the home of the coach's son, Steve, thinking he might want to present the book to Belichick for Father's Day.
McNiff has not heard from Bill or Steve Belichick. Nor was Bill Belichick available for a Globe interview.
Before the Patriots defeated Seattle in the 2015 Super Bowl, the coach reflected on his father's roots.
"I'm very proud of my dad's family tradition and history with Croatians,'' Belichick told reporters. "I had the opportunity to visit the beautiful country a couple of times, and I'm proud of that heritage.''
But Belichick has never publicly addressed his mother's ancestry. More than two centuries before he gained an appreciation for American armed forces during his father's 33-year tenure on the football coaching staff at the US Naval Academy, several of his early ancestors on his mother's side served honorably in battle.
Among them was a Brady, no relation to the Patriots quarterback. In the Revolutionary War, Capt. John Brady, Belichick's sixth great uncle, traveled from Pennsylvania with two of his sons, Samuel and James, to serve under General George Washington in the battle against the British in Boston.
Washington and his troops joined the fight after the historic battles at Lexington and Concord and helped to drive the British out of Boston. Belichick's three ancestors were among those who witnessed the withdrawal on March 17, 1776, which the city now honors as Evacuation Day.
Three years later, however, Capt. Brady met a violent end. As the commander at Fort Brady in Muncy, Pa., the captain was returning from a supply run when he was ambushed by native Americans, killed and scalped.
Capt. Brady was among numerous members of Belichick's family tree who have played roles in American military history from the Revolution to recent times. They include two distant relatives who became commanders in chief: Cleveland, Belichick's sixth cousin three times removed, and Taft, his seventh cousin three times removed.
Several of Belichick's other ancestors reached the pinnacle of their professions. While there appears to be no public record of him ever meeting them, Belichick's 10th cousins, Buffett and Hefner, have excelled both at creating personal wealth and, respectively, educating the country about finance and fostering the sexual revolution that began in the 1960s.
There also is no evidence that Belichick ever met Shepard, though he walked as a child in the astronaut's footsteps at the US Naval Academy. Shepard, who became the first American to travel in space and the fifth to walk on the moon, was Belichick's ninth cousin once removed. A member of the crew team at Annapolis, Shepard graduated from the Naval Academy in 1944, 12 years before Steve Belichick joined the football staff.
Another Belichick ancestor, a second cousin five times removed named George Washington Gale Ferris Jr., was a civil engineer commissioned to build a structure for the Chicago World's Fair in 1893 that would top the Eiffel Tower, which had been built for the Paris international exposition four years earlier. His invention was a giant attraction that became known as the Ferris Wheel, the prototype for amusement rides worldwide.
As for John Brown, the anti-slavery insurrectionist whose 1859 raid on the Harpers Ferry arsenal has been said by historians to have hastened the Civil War, he shares little with Belichick other than ties to Springfield, Mass., where their ancestors were among the first European settlers.
Brown manufactured wool in Springfield, which had long been a key way station on the Underground Railroad, a secret network of escape routes and shelters for fleeing slaves. He opened his home and warehouses to the runaways and, while in Springfield, began planning his armed invasion of the South that ultimately claimed his life.
Though Belichick has little appetite for the trappings of celebrity, he has far more in common with Eastwood than Brown. He and Eastwood have crossed paths while golfing in Pebble Beach's annual pro-am tournament, and more than one pundit has suggested that Eastwood's signature cinematic gruffness — see "Dirty Harry'' and "Gran Torino,'' among other works — would suit him in portraying Belichick on film.
Belichick and Eastwood are friendly enough that in 2015 the coach reportedly accepted the Hollywood star's invitation to treat his Patriots team to a private screening of Eastwood's film, "American Sniper,'' starring Bradley Cooper as a Navy Seal. But there is no indication that Belichick and Eastwood knew they are 10th cousins once removed.
Belichick, like a number of his relatives, has achieved greatness through brilliance and tenacity. But, unlike Harry Chapin, he will never be remembered for his singing voice, despite performing a spirited rendition of "Love Potion Number Nine,'' at his private 50th birthday party on Nantucket.
Chapin, Belichick's eighth cousin once removed, died in a car accident on Long Island in 1981, when Belichick was an assistant coach with the New York Giants. He is best known for his No. 1 hit, "Cat's in the Cradle,'' to which Belichick might relate.
The song explores a relationship between a father and son. The father discovers that, for better or worse, his son has "grown up just like me.'' The scenario may seem apt to Belichick because Steve has grown up like his father to become a football coach. He is an assistant on his father's staff.
When Steve's daughter, Blakely Rose Belichick, was born in October, she became Bill Belichick's first grandchild and a member of the 11th generation of the family's American history since the early settlers. Many were patriots before Bill and Steve Belichick.