Patriots
The Patriots go back to work this week. Here's what to watch for.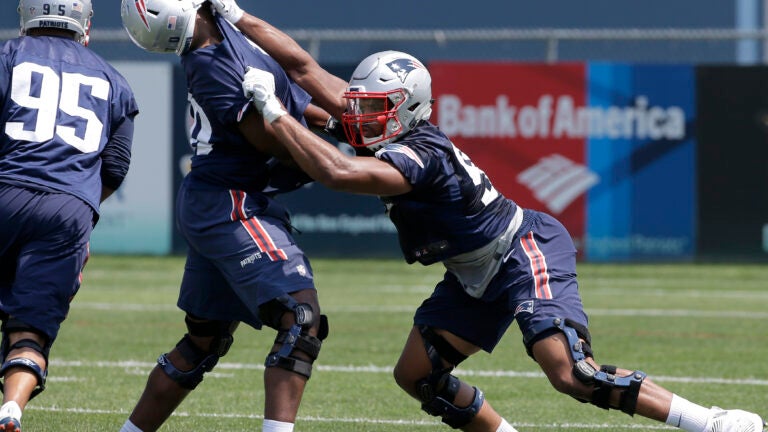 Here is everything you need to know as the Patriots open training camp for the 2017 NFL season:
Rookies report: Monday, July 24.
Veterans report: Wednesday, July 26.
First practice open to the public: Thursday, July 27, 9 a.m.
Other announced practice dates: July 28-30, 9 a.m. (time subject to change).
Joint practice dates: Aug. 7-8 with Jacksonville in Foxborough, open to the public, time TBD. Aug. 15-16 with Houston in White Sulphur Springs, W.Va., open to the public, time TBD.
Patriots Hall of Fame induction: Saturday, July 29, noon.
Preseason opener: vs. Jacksonville, Thursday, Aug. 10, 7:30 p.m.
Season opener: vs. Kansas City, Thursday, Sept. 7, 8:30 p.m.
New season, new faces
The roster for the defending Super Bowl champions appears to be even better following some key free agent pickups, a small draft class, and a bevy of undrafted free agents. Here is a thorough look at the newcomers. Below is a quick rundown of rookies and newcomers:
How to watch training camp
NFL training camp practices aren't quite as exciting as the games on Sunday, and it can be easy to drift off and lose track of the action, particularly during the individual portions of practice. But Patriots practices can be fascinating if you pay close attention. Which players are winning the position battles? Which combinations are the coaches using on the offensive line, and in the secondary? Which undrafted rookie is standing out? Which esoteric game scenario is Belichick working on repeatedly?
We developed a guide last year for tips on how to watch practice.
Here's the cheat sheet: 1) Weekdays offer better access. 2) Pick a low vantage point for individual drills, and a high one for team drills. 3) Memorize the roster and jersey numbers. 4) Watch Belichick — a lot. 5) Take notes of the pairings and combinations. 6) Grade the one-on-one battles, and be descriptive. 7) Take note of the game situation. 8) Listen to what the coaches are telling the players.
Position battles
Quarterback
Who's in contention: Tom Brady, Jimmy Garoppolo, Jacoby Brissett.
Quick hits: There's not a safer bet in the NFL than the Wolf Pack being on the field for the banner unveiling against the Chiefs in the season opener Sept. 7. There's also not a better trio in the league. Brady (he shows no signs of slowing), Garoppolo (can we please cease and desist with the "Is he injury prone?'' narrative?), and Brissett (he's confident and mature) all won games as the starter last season and could do it again if need be. How many teams can say that?
Tight end
Who's in contention: Dwayne Allen, Sam Cotton, Rob Gronkowski, Jacob Hollister, Matt Lengel, James O'Shaughnessy.
Quick hits: Depth was an issue last season at a position that is among the most physically demanding in the game. Gronkowski is the best in the business but his health always is a concern, which is why quality backups are so important. Allen had some drops during minicamp and was pretty hard on himself when asked about it. Remember, he's an excellent blocker and his true self will be more evident when the pads come on. The battle for the No. 3 spot will be hotly contested during camp between Lengel, Hollister, and O'Shaughnessy. Hollister is a virtual lock for the practice squad if he doesn't make the final cut.
Wide receiver
Who's in contention: Julian Edelman, Brandin Cooks, Chris Hogan, Danny Amendola, Malcolm Mitchell, Austin Carr, Andrew Hawkins, Cody Hollister, Devin Lucien.
Quick hits: This is another deep group. Cooks adds a dimension. His performance during minicamp and OTAs was eye-popping. When this guy turns on the post-catch afterburners, it's game over. Slot machine Edelman's value was emphasized by his contract extension this summer. Edelman and Amendola are great clutch performers. Hogan is indefatigable and Mitchell was a revelation as a rookie. Hawkins has the best chance to crack this group, but the veteran's chances are long. Cody Hollister and Austin Carr (and maybe Devin Lucien, too) seem like logical practice squaders if they aren't snagged by another team.
Running back
Who's in contention: James White, Dion Lewis, Mike Gillislee, Rex Burkhead, James Develin, D.J. Foster, LeShun Daniels Jr.
Quick hits: White, Lewis, and Burkhead can all run the ball effectively and are exceptional receiving threats. Gillislee is a one-cut, downhill thumper who runs tougher that his size (5-11, 219 pounds) would suggest. Develin would jump in front of a steaming locomotive to shield a teammate. Foster is quick, fast, and has great hands. Daniels Jr.'s blend of size, speed, and strength makes him a likely practice squad candidate.
Offensive line
Who's in contention: Nate Solder, David Andrews, Marcus Cannon, Cole Croston, Jamil Douglas, Chase Farris, James Ferentz, Cameron Fleming, Antonio Garcia, Andrew Jelks, Jason King, Shaq Mason, Conor McDermott, Max Rich, LaAdrian Waddle, Ted Karras, Joe Thuney.
Quick hits: Starting tackles Solder and Cannon are coming off excellent seasons and there's no reason to believe they'll drop off. Fleming can play both tackle spots and jumbo tight end. Garcia gets to absorb a year under Dante Scarnecchia, the Obi-Wan Kenobi of offensive line coaches. Thuney was the unsung hero of this unit as a rookie and Mason was a road grader. Karras provides depth at every spot and Andrews was a rock in the middle. Rookie McDermott (see Garica, Tony above) should stick around but he'll likely need a redshirt year on the practice squad.
Linebacker
Who's in contention: Trevor Bates, Brooks Ellis, Jonathan Freeny, David Harris, Dont'a Hightower, Harvey Langi, Shea McClellin, Rob Ninkovich, Elandon Roberts, Kyle Van Noy.
Quick hits: This group came on like gangbusters during the latter stages of 2016 when everyone's role was defined. Locking up Hightower was vital. He's smart and physical and excels at run-stuffing, pocket pressuring, and dropping back. Athletic rookie Langi has an excellent model to sponge off. Van Noy and McClellin are solid, Roberts is a bone-rattling tackler, and Harris is a veteran presence. Freeny might be the toughest omission if he misses the 53-man roster as he adds valuable depth and is a core special-teamer.
Defensive line
Who's in contention: Derek Rivers, Josh Augusta, Alan Branch, Malcom Brown, Adam Butler, Kony Ealy, Trey Flowers, Geneo Grissom, Lawrence Guy, Woodrow Hamilton, Darius Kilgo, Deatrich Wise, Corey Vereen*, Vincent Valentine, Rob Ninkovich.
Quick hits: Branch was superb in 2016 and Brown enjoyed a late-season surge. Flowers caught nearly everyone (especially unsuspecting offensive linemen) off guard last season. He's fun. Valentine flashed at times and should become more consistent. Ninkovich is the steadiest of hands. Plug him anywhere on the front seven and he'll be fine. The newcomers feature some veterans (Ealy, Guy) and some rookies (Rivers, Wise). If this rotation can be as productive as last season's, good things are in store.
Cornerback
Who's in contention: Malcolm Butler, Justin Coleman, Stephon Gilmore, Cyrus Jones, Jonathan Jones, D.J. Killings, William Likely III, Kenny Moore, Eric Rowe, Dwayne Thomas, Jason Thompson.
Quick hits: Butler and Gilmore should be among the best starting tandems in the league. Butler is sticky and relentless and Gilmore has long arms and excellent mirror skills. Rowe and Jonathan Jones will vie for the slot job but there's no loser in this battle. Both will play and matchups will determine how the time gets divvied up. Coleman is very physical and it wouldn't be a surprise if he sticks, too. Killings may miss the cut despite the rookie being smart and fiery.
Safety
Who's in contention: Patrick Chung, Duron Harmon, David Jones, Devin McCourty, Jordan Richards, Damarius Travis.
Quick hits: The back end is in good hands. McCourty and Chung are smart and tough. They are among the best tacklers in the league, regardless of position. Harmon plays a ton and prevents opponents from blowing the top off this defense.
Specialists
Who's in contention: Stephen Gostkowski, Ryan Allen, Joe Cardona, Matthew Slater, Brandon King, Nate Ebner, Brandon Bolden.
Quick hits: The field goal operation is a well-oiled machine with Cardona, Allen, and Gostkowski nearly flawless in their duties. Allen can boom and place it as a punter and Gostkowski can hang it short or blow it through the end zone on kickoffs depending on the situation. The other four provide nice depth at their designated positions but do the bulk of their work on special teams. Slater is the undisputed king of the gunners and King can land big hits. Ebner is a superior protector and blocker and Bolden has a knack for making timely and momentum-changing hits.
Traditions

■ Fans usually sing Happy Birthday to Tom Brady on his birthday, Aug. 3. (He'll be 40 this year.) One year, lineman Matt Light smushed a cake in Brady's face. Three years ago, "Happy 40th Birthday, Tom'' T-shirts were made for the whole team. He was only 36.
■ The rookies, at some point, go through a muddy slip-n-slide. The equipment workers soak a back corner of the field, and rookies have to dive into the slop while being hosed down by a veteran (usually Brady).
■ After each practice session, a position group (or two, depending on how many players are in each position group) spends time signing autographs for fans.
Misc.
■ Parking and admission are free. Practices are on the fields behind Gillette Stadium.
■ The schedule throughout training camp is tentative and subject to change. Fans planning to attend practice should check Patriots.com for daily updates or call the training camp hotline at 508-549-0001.
■ When the Patriots are forced to practice indoors due to inclement weather or poor field conditions, practices will be closed to the public.
■ There are concessions positioned at various locations around the practice fields and the Patriots Fan Zone.
■ Prohibited items: Animals, except service animals assisting those with disabilities, alcohol, beach balls, bullhorns and air horns, coolers, fireworks or pyrotechnics, flags will be allowed, however flag poles over two feet in length will not be allowed, helium balloons, illegal drugs or any other illegal substance, laser pens, noise makers, video cameras, weapons of any kind (including knives), unmanned aircraft systems, remotely controlled model aircraft, selfie sticks, GoPro cameras.
Driving directions
■ From Boston and farther north: Take I-95 South to Exit 9. Follow Route 1 south approximately 3 miles to Gillette Stadium (on the left).
■ From Cape Cod: I-495 North to Exit 14A. Follow Route 1 north about 4 miles to Gillette Stadium (on the right).
■ From southern Connecticut, Rhode Island: Take I-95 North to I-495 North to Exit 14A. Follow Route 1 north about 4 miles to Gillette Stadium (on the right).
■ From northern Connecticut, Vermont, upstate New York: I-90 East to I-495 South to Exit 14A. Follow Route 1 north about 4 miles to Gillette Stadium (on the right).
Key league dates
■ Note: The league changed the roster cutdown process. Rather than two cut days — from 90 to 75 and then 75 to 53 — teams will make just one roster cut, from 90 to 53 on Sept. 2.
Aug. 8: Deadline for players under contract to report to earn a season of free-agency credit
Aug. 8: If a drafted rookie has not been signed by this date, he can't be traded this season
Aug. 12-16: Teams must inform unsigned players they're headed for the exempt list
Sept. 2: Rosters cut to 53 on active/inactive list by 4 p.m. EST
Sept. 2: Players on PUP or non-football injury lists must move from active to reserve
Sept. 3: After 1 p.m. EST, practice squads of 10 can be formed
Sept. 4-7: Teams must file season's first injury report. Mid-October Players on PUP or non-football injury lists can begin practicing
Sept. 7: Season opener, Patriots vs. Chiefs
Oct. 31: Trade deadline, 4 p.m. EST