Patriots
Brad Stevens made a guest appearance at Patriots training camp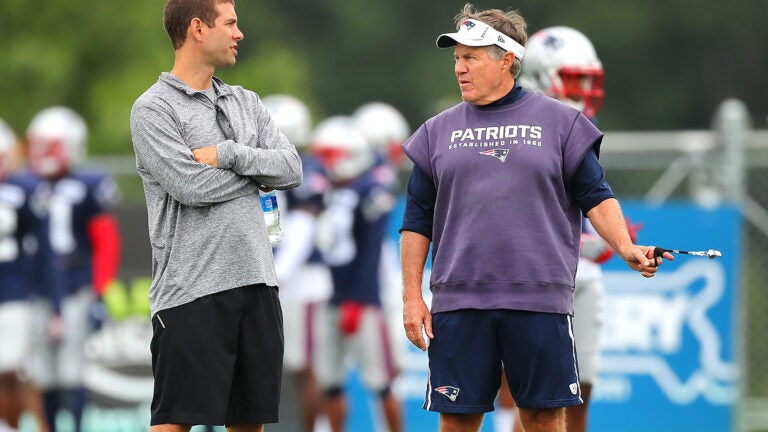 Bill Belichick isn't the only New England coach channeling the "Do your job" mentality.
Celtics coach Brad Stevens made a unexpected, if not surprising, appearance Saturday at Patriots training camp to meet with his counterpart in the NFL.
Special guest at today's #PatsCamp practice: @celtics Brad Stevens! pic.twitter.com/XweFvQyYcl

— New England Patriots (@Patriots) July 29, 2017
Stevens was escorted into practice by Patriots offensive coordinator Josh McDaniel and was seen chatting with Belichick before departing late Saturday morning.
Bill & Brad. ?☘ #PatsCamp pic.twitter.com/YsDhDsaxRZ

— New England Patriots (@Patriots) July 29, 2017
Brad Stevens, Josh McDaniels and Nick Caserio depart practice together. pic.twitter.com/Ea2p4eSdDq

— Mike Reiss (@MikeReiss) July 29, 2017
The Patriots did not respond to requests for comment.
Stevens and Belichick have publicly shared a mutual appreciation over the past year or so.
"You feel pretty inadequate as a coach after you spend time with [Belichick]," Stevens told ESPN in September. "He knows what he's doing."
Stevens said at the time he was particularly interested in how a football coach manages a team with so many more players compared with basketball.
Belichick — who has been spotted sitting courtside at Celtics games, including during this year's playoffs — returned the compliment.
"I've gotten to know Brad over the last couple of years [and] I have a tremendous amount of respect for what he has done, taking a young team, a team that you barely knew the names of some of the players on the team, and in a couple of years has built them into a strong team," he told ESPN.
After attending a Patriots practice and the team's AFC divisional-round win over the Houston Texans last season, Stevens told CSN New England that he gained some insight about applying certain aspects of a football offense on the basketball court. Via NESN:
"I've always thought about it from an individual instruction and development standpoint, especially with some of the skilled positions, the quarterbacks' attention to detail and their dropbacks, the receivers' runs and cuts," Stevens said.

"When I went to the practice earlier this year in New England, I probably saw more similarities than I had in the past. Not a ton, but certainly where you're trying to create misdirection, you're trying to create a thought of traffic with someone else in another area. And it's interesting, because every single play is a draw-up against the defense. So, football is kind of fun in that regard."
So maybe that's how Isaiah Thomas came to lead the NBA in dribble handoffs.