Patriots
11 things we learned from Rob Ninkovich's retirement news conference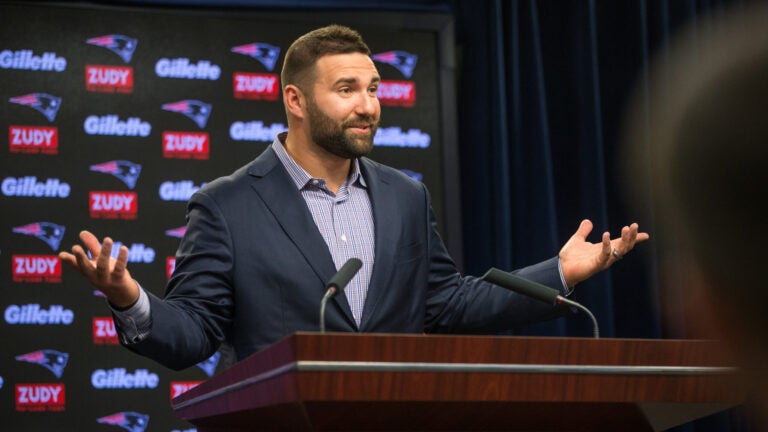 Rob Ninkovich announced his retirement on Sunday after an 11-year NFL career, including eight years in New England.
Coach Bill Belichick and team owner Robert Kraft both spoke at Ninkovich's retirement news conference, heaping praise on the versatile defender who lined up at both linebacker and defensive end for the Patriots.
Ninkovich also spoke at length, lamenting how much he enjoyed his time with the Patriots and the relationships he built while also thanking his family and those who helped him reach the NFL.
Here are 11 interesting or funny nuggets we learned about Ninkovich from the news conference:
1. Ninkovich wanted to start playing football in fifth grade, but was told he was too big. He tried again in eighth grade, but was told again he should be smaller.
"I was 10 years old when I told myself I was going to make it to the NFL, even though I was too chubby to play when I was 10. I'd have garbage bags on trying to make weight. They said, 'Rob, you're not going to play this year. You're too heavy.' So being 145 pounds in fifth grade doesn't help. I tried in eighth grade and I was 185 pounds. They said, 'You're way too heavy. The weight limit's 135, so you can't play now, either.' So I had to wait until high school. In high school, they put me at o-line, and I hated every second of it. I was like, 'I'm not an offensive lineman.' But then I switched to defense and that was my calling. The feeling of having a guy in front of me trying to stop me, get to a quarterback, or the running back, or somewhere they don't want you to go and beating them. That was my fix. I was like, 'This is what I love.' From that day forward after my freshman year of high school, I just really worked as hard as I possibly could.''
2. Ninkovich thought the Patriots would draft him in 2006. They scouted him, but the Saints had pick 135 to the Patriots' 136, and picked up Ninkovich at that spot. "When I was coming out for the draft, I thought I was coming to the Patriots,'' Ninkovich said. "That's what I thought. Pick 135. 136 was you guys, 136 was the Saints. I thought the phone ringing was New England, but it was New Orleans. That was the path that I had to go to to meet my beautiful wife and now I have two beautiful children and I'm grateful for that. That's a part of my life that really was a true blessing for me to learn those life lessons.''
3. Belichick scouted Ninkovich coming out of college, uncertain if Ninkovich was a linebacker or a defensive end. It was no matter. "My relationship with Rob goes all the way back to Purdue when we scouted him coming out in the '06 draft. He was a little bit of a, was he a linebacker, was he a defensive end? Well, turned out he was both. We missed him the first time around, but we finally got it right.''
4. During Ninkovich's brief stint with the Dolphins, his now wife, Paige, was in nursing school and traveled to see Ninkovich when she could spare the time. "My wife, Paige, she's been so supportive throughout my whole career. I was living in an extended stay in Miami,'' he said. "It was tough. I lived out of my truck. I had a Rubbermaid bin where all my clothes were in. I was trying to make the best of those opportunities and they didn't work out and she was in nursing school and she traveled back and forth. It all worked out. It all worked out, babe.''
5. Ninkovich shared the story of his conditioning test and first practice with the Patriots. "Fast forward into 2009 when I got here, a late flight, I got in super early, and I had to run the conditioning test. Let me tell you, I was all by myself. I was a week into camp, and I told myself, 'If I don't make this test, I'm gone.' So I made the test and the first practice, I had to turn some heads. This is my only chance, to make the best of this chance. So I had to turn heads. I was going against [former Patriots offensive lineman] Matt Light, and I love Matt, we're great friends, but Matt, I had to do it to you. First rep I beat him. Second rep I beat him. Third rep I beat him. [Offensive line coach Dante Scarnecchia] was saying, 'This kid just got here and he's beating you.' That was a great feeling. I think, Bill, you put me on a highlight for that day, like, 'This kid just got here and he knows how to rush and by the time we're done with him, he won't know what he's doing,' so I didn't know exactly what that meant, but it's a great memory. That was the start.''
6. Ninkovich and Devin McCourty would not above humor during team meetings. "I'm going to miss sitting next to DMac and laughing back there when Bill's going over stuff. We're cracking jokes at each other . . . secretly. You just got to be real quiet in that back corner.''
7. Ninkovich and Belichick are both Croatian and both cited as such when they spoke. "My mom can relax now. Every year, she's like, 'I don't want you to get hurt.' I'm like, 'Ma, it's OK, I'm durable, I'm good, I'm Croatian,' '' Ninkovich joked.
"He's Croatian, so I knew he was tough,'' Belichick said. "Was never any doubt about that. All Croatians are tough.''
8. Belichick ranked Ninkovich among the most unselfish players he has coached. "I never coached a more unselfish player. I've coached a lot of them, but you go right up in there at the top echelon. It was always about the team. It was always about Rob to help someone else. 'What do you need me to do, coach? You need me to play here? Play there? Something else? I can do this. I'll snap. I'll cover kicks. I'll play linebacker. I'll rush. I'll cover. Whatever you need me to do.' That was really very important to us.''
9. Ninkovich served as the Patriots' backup snapper, much to the delight and relief of Belichick, who leaves no stone unturned. "As a head coach or as a special teams coach, Scott and Joe will tell you that things like that, just knowing that you have a good backup long snapper, really lets you sleep at night,'' Belichick said. "Those are the kinds of things that if it comes up in a game, it's critical. It might never come up, but if it does, that's the kind of security Rob gave us on everything, at all the different positions, defensively and in the kicking game.''
10. Kraft lightheartedly conveyed admiration for Ninkovich's beard. "One attribute stands out above all the others. I think he's probably had the greatest beard in franchise history. In a region that truly likes and respects playoff beards, he possessed one of the best — sorry to all the others here — that has ever [been] seen. His beard put most of those hockey playoff beards to shame. He had a kind of Yukon Cornelius look going.''
11. Ninkovich became tearful when he addressed defensive coordinator Matt Patricia, expressing appreciation for the relationship they have built. "Matty P, my guy. So me and Matty P have a great relationship. All my teammates in here know that he gets the best out of me. From the first day we met, he knows what to say to piss me off, to get my angry, to play my best football, and thank you for that. I'm indebted to you for that for always being there for me. You're not going to get rid of me. I just really appreciate the time that you have given me away from your family and I love you. Thank you.''
More photos from the news conference: