Patriots
Patriots DE Rob Ninkovich: 'It's time for me to walk away'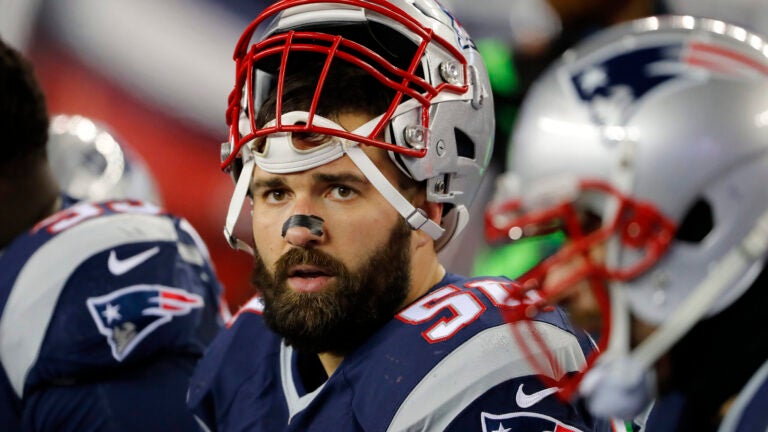 Patriots defensive end Rob Ninkovich on Sunday announced his retirement from the NFL after an 11-year career.
"It wasn't an easy decision. After 11 seasons, and 19 seasons total playing football, it's time for me to walk away," Ninkovich said, "and I look forward to the next phase of my life."
The announcement was made at a news conference after the Patriots practiced Sunday morning.
Several teammates were in attendance, including quarterback Tom Brady, defensive tackle Alan Branch, captain Matthew Slater, linebacker Dont'a Hightower, and running back Brandon Bolden. They cheered and clapped for Ninkovich as he entered the room.
Dont'a Hightower and Tom Brady are among many #Patriots on hand for Rob Ninkovich's retirement announcement. pic.twitter.com/i4x1NR4zOE

— Jim McBride (@globejimmcbride) July 30, 2017
Now a whole bunch of players are here for Ninkovich's press conference, including Brady pic.twitter.com/S1SeEuSqJR

— Ben Volin (@BenVolin) July 30, 2017
There are many players in here pic.twitter.com/867i0MbI0x

— Ben Volin (@BenVolin) July 30, 2017
Coach Bill Belichick spoke first at the news conference, praising Ninkovich as a player and person.
"It's with really mixed emotions that stand here today to congratulate Rob on just a tremendous, tremendous football and personal career," Belichick said.
"Just a special, really special guy."
Patriots owner Robert Kraft spoke next, calling Ninkovich the team's most dependable defensive player since asserting himself as a starter.
"We're thankful for all of Rob's countless contributions for the past eight seasons," Kraft said.
Ninkovich arrived in New England with little fanfare in 2009, but developed into the type of player Belichick prizes because of his versatility on the defensive line, his work ethic, and leadership. He logged 8 sacks in three consecutive seasons from 2012-14, and was a component of the 2014 and 2016 Super Bowl teams.
Displayed on the TVs in the Patriots media room pic.twitter.com/NAjMgvoJQi

— Ben Volin (@BenVolin) July 30, 2017
Before landing with the Patriots, Ninkovich was drafted by New Orleans out of Purdue University in the fifth round in 2006. He spent the 2006 season with the Saints before he was claimed off waivers by the Dolphins in 2007. He went back to New Orleans late in the 2008 season before the Patriots picked him up in 2009.
Ninkovich expressed gratitude to the Patriots for bringing him into the fold, and said how much he loves being in New England.
"I'm so grateful to the Patriots organization . . . man, it's been so much fun," he said.
Ninkovich became tearful when addressing defensive coordinator Matt Patricia, thanking Patricia for beliving in him. "I love you, thank you," Ninkovich said.
He remained tearful as he spoke to Belichick.
"Coach, I gave you everything I had. I hope it was enough," Ninkovich said. "I love this game. Thank you. Hopefully my playing career has taught me a lot. Playing for you, I've learned a tremendous amount."
Ninkovich played in 131 regular season games over his 11-year career, recording 282 tackles, 46 sacks, 5 picks, 12 forced fumbles, and 14 fumble recoveries in that span. He also appeared in 17 postseason games, collecting 31 tackles, 6 sacks, and a pick in those contests.
Ninkovich had one year left on a contract that he signed last September, just days after he began a four-game suspension for violating the league's policy on the use of performance-enhancing drugs.