Patriots
Rob Gronkowski has reportedly been following the TB12 method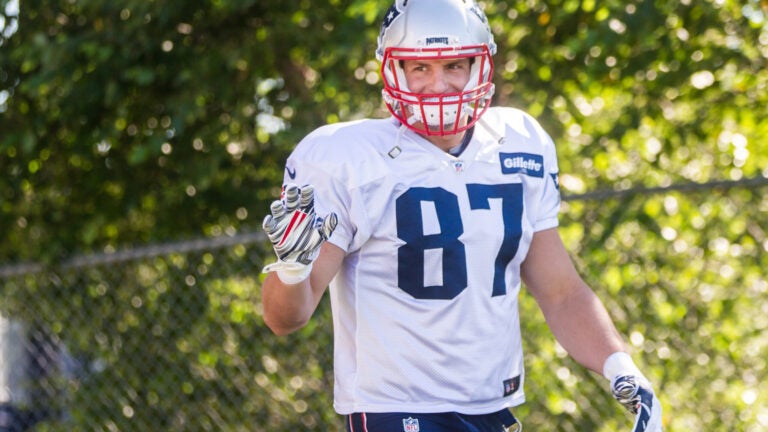 Tom Brady's performance guide isn't set to be released until September, but one of his teammates has already started following The TB12 Method.
According to The Boston Herald's Karen Guregian, tight end Rob Gronkowski started adopting some of Brady's infamous lifestyle habits 12 weeks ago when he began regularly visiting the TB12 Sports Therapy Center at Patriot Place. Run by trainer Alex Guerrero, the facility works to instruct clients on many of the topics that will be covered in Brady's book, including nutrition and recovery.
"Just looking at Tom, seeing what he does every day, what he eats, talking to him, personally one-on-one, just learning about the body with him, just seeing how flexible he is, how pliable he is, how loose he is all the time, every day and ready to go, I just felt like it was the time is my career where I needed to devote myself at all levels," Gronk told Gueregian.
The 28-year-old emphasized that his goal is to supplement his current practices in order to do his best to stay injury-free. His most recent season was cut short due to back surgery.
"I just felt like I had to add on to what I was doing," he said. "Find a way that my body will respond so I can perform every day. Be in prevention mode for injuries happening."

So how effective is The TB12 Method for folks other than Brady? Gronk, who claims he has not shed a single pound, appears to be a strong proponent thus far.
"My body is working more efficiently," he told Gueregian. "Everyone thinks I'm skinnier. I feel looser. I feel my mobility has increased a lot. I feel way more pliable."

The tight end said he has tried to incorporate at least one plant-based meal into his daily diet but insists on only doing so if Brady prepares the dishes himself.
"Tom's my chef," Gronk said. "I told him I'm only eating them if you have them ready for me. And he said, 'Deal.'"