Patriots
42 things you might not know about Tom Brady
Football is far from the only game he's obsessed over.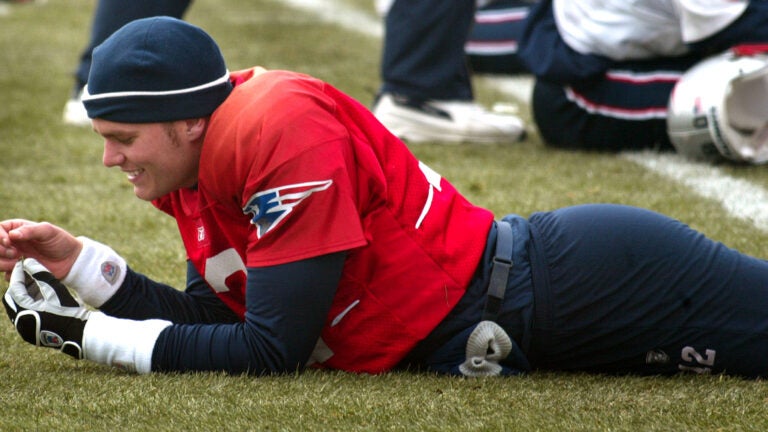 Since his meteoric rise from backup quarterback to Super Bowl champion in the 2001 season, Tom Brady has been the franchise player of the New England Patriots. He's won five Super Bowls, four Super Bowl MVPs, two NFL MVPs, and made 13 Pro Bowls. But most fans are more than aware of these accolades.
Here are 42 things you might not know about the 42-year-old quarterback:
1. He unintentionally dozed off for 20 or 30 minutes before his first Super Bowl.
Prior to the kickoff of Super Bowl XXXVI, Brady navigated the elongated pregame by taking a short nap in the locker room: "Twelve minutes later we were running out onto the field."
2. His diet used to be a far cry from the healthy standards he now adheres by.
While Brady is now a strict disciplinarian about what he eats, his rookie year was a little different. He used to eat nachos before games in 2000, when he was a fourth-string quarterback. And his "go-to lunches were ham-and-cheese subs with onion rings, washed down with orange soda," while his dinners were often pizza.
3. According to Drew Bledsoe, Brady isn't the best skier.
During the offseason, the 40-year-old often frequents the slopes at the Yellowstone Club in Montana. Videos of him skiing sometimes inspire terror in New England fans—not because of his death-defying stunts, but more because of his novice status. As Bledsoe jokingly pointed out when they skied together a few years ago, "He was really awful then."
4. Football wasn't the only sport he was drafted to play professionally.
While history will remember him being selected 199th overall by the Patriots in the sixth round of the 2000 NFL Draft, Brady's baseball rights were taken by the Montreal Expos in the 18th round of the 1995 MLB Draft. He ultimately chose not to sign.
5. A former Red Sox hero is his brother-in-law.
His sister Julie is married to retired Red Sox infielder Kevin Youkilis.
6. He almost didn't make it to Foxboro Stadium in time for the start of his first playoff game.
Due to wintry conditions, Brady was stuck in traffic before the Patriots' divisional-round playoff game against the Raiders in January 2002. Only after he got a police escort did the young quarterback reach Foxborough in time.
7. Brady has a Cal Ripken-like streak on the injury report.
With exception of the 2008 season—when he was out for the year with a torn ACL and MCL—Brady was listed on every regular-season injury report from 2004-2010 because of his right shoulder.
8. All of Brady's siblings earned athletic scholarships.
While Tom attended Michigan on a football scholarship, he was actually not the first of his siblings to earn such recognition. Maureen went to Fresno State on a softball scholarship. Julie walked on the St. Mary's soccer team before earning a scholarship of her own. And Nancy was recruited to Cal-Berkeley on a scholarship for softball before deciding to pursue another path.
9. He is also not the only of his siblings to be inducted into his home county's Hall of Fame.
Due to her 111-10 career record as a softball pitcher for Hillsdale High School—including 29 no-hitters and 14 perfect games—Maureen was inducted into the San Mateo County Hall of Fame in 1999, along with baseball great Moises Alou. Tom was inducted in 2003.
10. Along with his greatest rival, he was once a plaintiff in a lawsuit against the NFL.
During the 2011 NFL lockout, Brady, Peyton Manning, Drew Brees, and seven other players sued the league on behalf of the players. The suit came to an end when the lockout ended prior to the start of the season.
11. His bedtime is probably earlier than yours.
As part of his strict personal regimen, Brady has adopted specific "concessions" that he says help him stay at the top of his game—one of them being an early bed time. The five-time Super Bowl winner says he goes to sleep at 8:30 p.m.
12. He was once Patriots fans' last choice to be quarterback.
In a team poll conducted in 2000 when Drew Bledsoe was questionable to play, fans slotted Brady dead last in regards to whom they wanted to start. Michael Bishop (78.5 percent) and John Friesz (12.8 percent) beat out the rookie, who only won over 8.7 percent of vote.
13. Part of his daily routine includes brain games.
In a Sports Illustrated profile from early 2017, Brady showcased how he uses brain games on his laptop or iPad to help stay sharp.
14. Only one team has a winning record against Brady in his career (so far).
Although Brady is a combined 25-0 against the Bears, Buccaneers, Cowboys, Falcons,  Jaguars, and Vikings in regular-season games, he actually has a losing record against one team in the league. In both regular-season and postseason games, Brady is 8-9 against the Broncos.
15. Rookies are not his favorite "Super" targets.
Before Malcolm Mitchell's seven-yard reception in the first quarter of Super Bowl LI—Brady's seventh appearance on football's biggest stage—he had never completed a Super Bowl pass to a rookie receiver.
16. He bought his first house from former Patriots cornerback Ty Law.
Using part of his $38,500 signing bonus from his rookie contract, Brady bought a house from Law located in Franklin for $265,000. To help pay for it, he initially had two teammates live with him.
17. He says he dominated mini golf in college.
"I'm the champ right here," Brady once declared in a 1998 Detroit Free Press story, referencing his putt-putt abilities amid the Michigan football team's collective obsession with miniature golf.
18. Patriots owner Robert Kraft treats Brady like a "fifth son."
Kraft still remembers the first time the pair met before Brady's second year in the NFL: "He came down in training camp and introduced himself. Here was this skinny beanpole, with this pizza under his arm. He says, 'I'm Tom Brady.'"
19. Brady says he has never had a sip of coffee.
When Brady arises at 5:30 a.m., coffee isn't a part of his morning routine. Not even Dunkin' Donuts. "For one reason or another, I never had coffee or anything like that," he said on WEEI. "I just never tried it."
20. On the sidelines, Brady drinks a specially prepared concoction instead of Gatorade.
"I have this lemon drink with a ton of electrolytes in it," Brady said on WEEI. "It doesn't have any sugar. I just load it up on electrolytes and … it just keeps me right where I need to be.
21. He once wrote a paper proclaiming that he was going to become a household name.
Throughout his younger years, Brady was largely known by his relation to his three older sisters, but he longed for the day when they would be known as Tom Brady's sisters. He reportedly told his mother, "One day, I'm going to be a household name."
22. His yearbook quote was one of ambition.
Under his senior photo, Brady wrote: "If you want to play with the big boys, you've got to learn to play in the tall grass." He also gave a shoutout to his family. 
23. In high school, Brady was the backup to the backup quarterback on a winless freshmen football team.
The young squad went 0-8 and scored only two offensive touchdowns that season. The starting QB, Kevin Krystofiak, ended up quitting football the very next year to pursue basketball.
24. He didn't always play quarterback. 
Before he was a legendary quarterback—or even just a high school varsity quarterback—Brady was going through drills as an outside linebacker on his freshman team. That year, he actually got more reps on the line of scrimmage than in the pocket. And according to one of his teammates, he not only "wasn't a pushover" but also "wanted to go up against our big fullback."
25. He led a game-winning drive in his first-ever JV football game.
"We're down five with two minutes to go and he led us on a game-winning drive," former teammate John Kirby recalled. "It was awesome. It's just like he does all the time now. Whenever he was in the huddle, he always seemed in control. He never panicked. He was always motivational, not negative. If we were way down he'd say, 'C'mon, let's get this going.' He never yelled or blamed."
26. During his junior and senior years of high school, Brady had an 11-9 record as a starting quarterback.
Despite being considered one of the "Bay Area's hottest young players" by a local TV station, Brady's winning percentage as a starter at Junípero Serra High School was just .550.
Possibly Tom Brady's first ever media interview in the summer of 1994 ? #tbt @PadreAthletics @serrapadresfb pic.twitter.com/fvXKujqyLN

— Serra High School (@SerraSanMateo) July 13, 2017
27. Brady wasn't the happiest camper during the first half of "The Catch" game.
At four years old, he attended the 1981 NFC Championship at Candlestick Park but cried throughout the beginning of the contest because he wanted a foam finger. The crying ceased after his father bought him one for the second half. 
28. Bledsoe once pulled a prank involving Brady's car. 
In 2000, Bledsoe pranked his then-understudy so that when Brady turned on his car, it "unleashed a blizzard of glitter."
29. Kraft once confused him with another Brady.
In one of their first interactions, Kraft erroneously called Brady "Kyle," as he likely mistook the quarterback for a tight end in the league who shared the surname.
30. In the same conversation, he told Kraft a prophetic message.
Both Kraft and Brady have recalled the eerily predictive assertion a young Brady made in their very first meeting: "I'm the best decision this organization has ever made."
31. He's attended the State of the Union address.
In 2004, Brady attended George W. Bush's State of the Union address to Congress. He was personally invited by Laura Bush and was briefly shown on TV.
32. Brady was drafted by the Patriots using a compensatory pick.
Due to the loss of several free agents in 1999, the Patriots were awarded a compensatory pick, the 199th, which they used to select Brady.
33. He reportedly only wanted to live on the 12th floor of his apartment.
Proving his adoration for his jersey number, Brady paid extra so that he could switch from the 11th floor of a New York City apartment to the 12th.
34. Brady has scored more rushing touchdowns than many of the running backs from the 2000 draft.
With 17 career rushing touchdowns, Brady has accrued more TDs than 13 of the 20 running backs taken in his draft class, including first-round pick Trung Candidate.
35. His first NFL pass completion actually didn't count.
Making his debut at the end of a 34-9 loss to the Lions in 2000, Brady completed a pass to running back J.R. Redmond. Yet what should have been a milestone moment was cut short by a Damien Woody penalty.
36. He was once a Merrill Lynch intern.
In the summers of 1998 and 1999, Brady was an "assistant to a senior sales broker" at Merrill Lynch, according to a copy of his resume from when he was at Michigan:
37. He had a 103-degree fever 24 hours before the 2004 AFC Championship.
As a Sports Illustrated feature explained in great depth, Brady had an IV in his left arm and desperately tried to recuperate a day before facing the Steelers in the AFC Championship in 2004. He shrugged it off, leading the Patriots to a 41-27 win and another trip to the Super Bowl.
38. Brady has thrown touchdown passes to 68 players over the course of his 18-year career.
Despite playing for only one team in his NFL career, Brady has thrown touchdown passes to 68 different receivers. Only Vinny Testaverde, who played for eight teams, has more with 70.
39. He uses "babe" as a term of endearment for those close to him, regardless of gender.
Don't be surprised if you hear Brady tossing the word "babe" around the locker room. He picked up the habit from his father, and he's used the nickname on both offensive coordinator Josh McDaniels and his teammates. According to an anonymous teammate, "It's the California boy in him, I guess."
40. Brady and his family have three dogs.
The most recent addition was a rescue dog, Fluffy, which they adopted from Wags and Walks in Los Angeles. The other two are another rescue pup, Scooby, and a pit bull mix named Lua, who actually starred in an UGG Australia commercial with Brady.
41. He can chug a beer with impressive speed.
In an interview with ESPN's Mike Reiss, backup quarterback Brian Hoyer revealed how Brady was secretly an elite beer drinker. Though he only imbibes occasionally, he breaks out his concealed talent from time to time. The most prominent example was on an episode of The Late Show in 2018 with host Stephen Colbert.
TONIGHT: Tom Brady doesn't usually drink beer, but when he does… pic.twitter.com/xGWdnlhJOR

— The Late Show (@colbertlateshow) March 13, 2018
42. He once made a strawberry-themed bet over Jeopardy.
During the famous Jeopardy winning streak of James Holzhauer in 2019, Brady weighed in on Twitter to announce a bet mid-broadcast: If Holzhauer actually lost, the Patriots quarterback would actually eat a strawberry. Since Brady had previously said that he'd "never eaten a strawberry in my life," this was a serious wager:
If James loses on Jeopardy tonight I'll eat a strawberry on IG live tomorrow.

— Tom Brady (@TomBrady) May 20, 2019
Holzhauer's winning streak continued that night, allowing Brady to continue his own streak of having never eaten the particular fruit.