Patriots
Roger Goodell is at the Patriots' first preseason game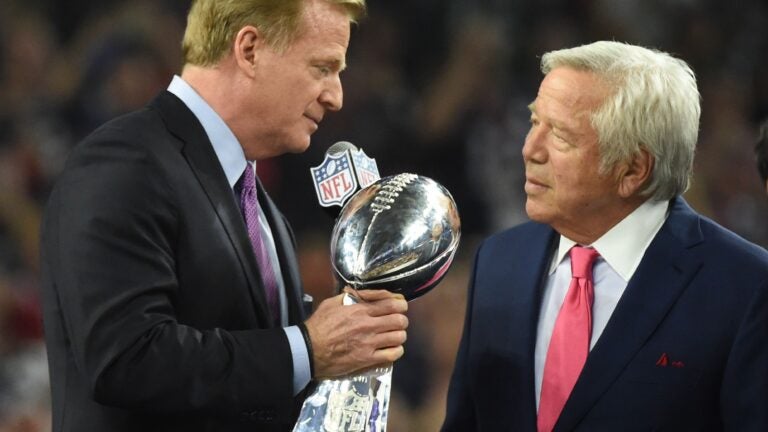 For the first time since January 2015, Roger Goodell has returned to Gillette Stadium.
Boston Globe reporter Ben Volin spotted the NFL commissioner chatting with Patriots owner Robert Kraft Thursday night during New England's preseason opener against the Jacksonville Jaguars.
Guess who's in the house tonight at Gillette Stadium: A certain Roger Goodell

— Ben Volin (@BenVolin) August 10, 2017
Goodell has been visiting several teams this preseason, was near Boston today and decided to pop in for the game https://t.co/y954mlyUqS

— Ben Volin (@BenVolin) August 10, 2017
A very grainy photo of Goodell hanging with Kraft. It's Goodell's first game back since the 2015 AFC Championship Game pic.twitter.com/aIQPReNAvQ

— Ben Volin (@BenVolin) August 10, 2017
Goodell also posed for a photo with a trio of Pats fans.
Great night for a game. @nflcommish will be back up for Kickoff events & attend @chiefs vs @Patriots on 9/7 pic.twitter.com/mKxMI90k5T

— Brian McCarthy (@NFLprguy) August 11, 2017
The commissioner has been noticeably absent from Foxborough following the Deflategate controversy, which resulted in a four-game suspension for quarterback Tom Brady. According to Volin, Goodell still plans to attend the Patriots regular-season home opener against the Kansas City Chiefs.
https://twitter.com/BenVolin/status/895793522376400896