Patriots
Cyrus Jones bungles first chance at redemption in Patriots' first preseason loss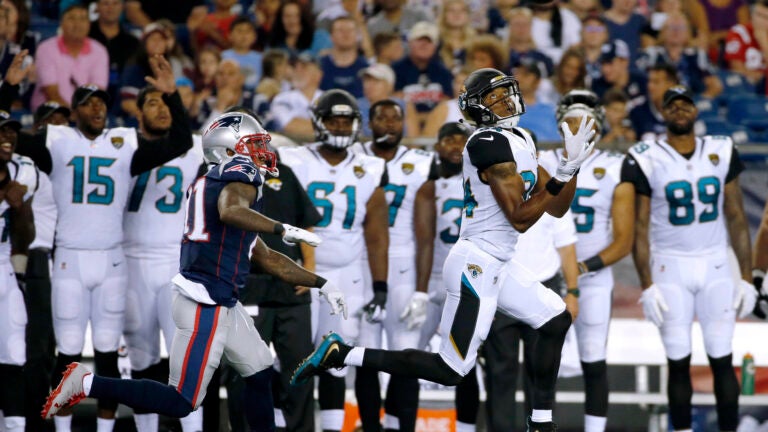 COMMENTARY
With all due respect to the few dozen who boast pride being tried and true fanatics of the Jacksonville professional sports franchise, Thursday night's preseason tilt in Foxborough is going to play differently in its respective markets.
After all, no matter how fervently they attempt to convince themselves that this was just a practice game, filled with practice players, making for pretend television still one month shy of the NFL's regular season, there will no doubt be some misguided, yet excitable talk drifting into the weekend in the Sunshine State about the rookie debuts of wide receivers Keelan Cole (97-yard touchdown grab) and Dede Westbrook (42-yard touchdown catch).
Hey, as far as Jaguars standards are concerned, it was a big night at Gillette Stadium. Indeed, it might not get any better this season for lowly Jacksonville as it ended up on a temperate August evening in southeastern Massachusetts. The Jags escaped with a 31-24 victory over the defending Super Bowl champs, ending the home team's not-so-serious quest of 23-0 before it truly even began.
In New England, there will be some satisfaction stemming from quarterback Jimmy Garoppolo's evening (22-of-28, 235 yards, two touchdowns), but nothing that will prompt reactionary calls for Tom Brady's head before the banner gets raised early next month. Undrafted free agent wide receiver Austin Carr will make some headlines after a five-catch evening, including a clutch, leaping catch in the end zone from Garoppolo at the end of the first half. Tight end Jacob Hollister had 116 yards receiving, which only makes one wonder if you've perhaps heard of Zach Sudfeld.
But we're way past the point of giving a damn about stellar performances in preseason game No. 1, particularly with a franchise that head coach Bill Belichick has molded into the premier franchise in the league, coming off a fifth Super Bowl with an all-powerful lineup that has fans and prognosticators seriously discussing the very real possibility of making another run at 19-0.
The NFL preseason in New England is not about potential and how to hone those performances. It's about failure and how to amend those shortcomings.
Which brings us to Cyrus Jones.
Oh, sure, some of the second-year cornerback's teammates tried to drag his name — somewhat — out of the mid Thursday night. Running back D.J. Foster fumbled away his opportunity to give himself a dent in a crowded corps of contenders. Safety Jordan Richards looked as if he spent the offseason watching Andrew Benintendi run the base paths based on the errant angle he took, allowing Jacksonville running back Corey Grant to scamper 79 yards for a touchdown.
But truly, this game belonged to Jones.
Leave the confidence boosts to the also-rans like the Jacksonville Jaguars. Patriot fans might even welcome an abomination like Jones had Thursday night, provided it comes in the preseason and never in a week marked by double digits.
Jones made a mark for himself during his rookie season as a return man who handled the football with the precision of Benny Hill, but he was burned twice by the Jaguars on Thursday night; once by Cole, once by Westbrook. The second-round pick out of Alabama already seems to be on the outside of his chances of making the Patriots, even with the cache he brought to the Patriots following the 2016 draft.
It's been nothing but failure for Jones since he stepped foot in the NFL.
Thursday night was just the latest disaster.
"There were some things that were good, and some things we didn't do well," Belichick said of his team's effort during the loss to Jacksonville, a game that certainly showed its fair share of comebacks by the Patriots, who faced a 14-point deficit late in the first half. But the Atlanta Falcons these were not, either in the stakes of the game itself, or the fact that the Jaguars didn't lay down and die on command.
Things that were good included Garoppolo, Brandon Bolden (five carries for 33 yards), Hollister, and Carr. Things not so good called Foster and Coleman among their company. There was a separate spot reserved for Jones, however, following a performance so bad that it could only fuel discussion as to the long-term tagline of "el busto" he's bound to become burdened with should things not miraculously change.
Jones refused to speak with reporters after Thursday's game, which was just as well. He was liable to have one or two of the questions tossed too far over his range of coverage.
It takes quite an effort to be the hometown target of everyone's ire at Gillette Stadium, particularly when one Roger Goodell just happens to be in the building, as he was in a surprise appearance Thursday night.
Cyrus Jones was up for the challenge though.
That's how you do preseason football, Jacksonville; by discovering the dregs.
Enjoy your Cinderella stories for the next three weeks though.